The developer of Live Performer, Leonardo Chiantini, contacted us with some brief details about the app and it made us sit up and pay attention. While many of us are focused on using Ableton Live, Apple's Mainstage or [insert your preferred DAW with live performance features here] there are benefits to using a streamlined app designed specifically for live performance.
And that's where Live Performer (Mac only) comes into play. It's designed as a cross between a plugin host utility with inspirational qualities. For example, Live Performer automatically saves the MIDI session just in case you hit the perfect chord progression and forgot to press record. MIDI Out sync is supported. It also includes built in chord detection, scale detection and highlights the keys being triggered. Live Performer is currently able to record the input audio and process it over a 4 effect plug-in rack.
Live Performer is currently in BETA, which means it's free to download and try out.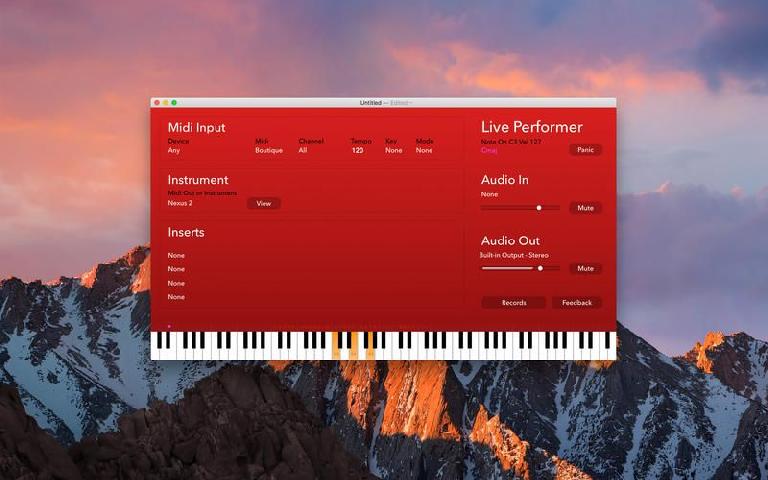 Here's the details:
Live Performer is an AU Host for macOS with immediate action. Live Performer is a single instrument rack with audio unit support and up to 4 + AU Effect Inserts. This is the actual feature list your feedback is welcome.
MIDI
Input by Keyboard, Mouse/trackpad or Midi Keyboard
Live Chords Detector
Live Key hi-lighter
Midi Monitoring
Midi Instrument Out
Host Tempo Sync
Transpose
Velocity Override
Audio
Host compatible with AU Instruments
Host compatible up to 4 Units Effects
Multiple Sample Rate
Low Latency Buffer Size
Independent volume control for Input and Output
Planned Features:
AUV3 Support
Advanced Midi Log View
Metronome
Midi Recording
Audio Recording
Touch Bar Support
Menu View for Midi Logs
In Key keyboard
Nebula, the makers of Live Performer, are loking for C++ Objective C developers with some experience and passion for Audio projects. Do contact them.