In today's blog, I'm going to share some social engineering technology. Yes. Soft synths rock. Yes. The latest VST sounds great. But how will that help you get the freaking guest list figured out for tonight's gig?!
Perhaps you play in a club once in a while. Perhaps you promote events all the time. Perhaps you sit in your studio 7 days a week, and the DJ who you produce tracks with always forgets to put you on his guest list. Pretty rude, too, considering you engineered and arranged all his tracks!
The secret to mastering a guest list.
First of all, get your name on the list as early as possible. If you wait until the day of the event, or worse, until the night of the event, to call and have your name added to the guest list- you're a jerk.
Producers and musicians are very busy the day of a gig. I rehearse all day before I play a set. I'm working on arrangements, warping tracks, in the flow rehearsing. Last thing I need is 5 phone calls, asking for comps, then have to track the promoter down, who's busy himself chasing down sound guys, cleaning up venues and decorating, sitting in dark rooms wondering how to pay DJ's less and charge Clubbers more... you know. Busy people.
With that being said, as a musician, I get 90 percent of my calls the night of the gig. Since I found it nearly impossible to retrain everyone else, I figured out a way to keep the hassle down.
I came up with a clever way to handle my guest list without having to sweat the last minute add-on's.
What I do is create fake names.
Yep. Simple, and brilliant. Say I get 5 comps from the promoter. I come up with 5 names, and put them on the list and turn that in a week ahead of the event.
I use sequential names, A. Adams, B. Adams, C. Adams....
As the pleading phone calls and texts come in on the night of the gig, I simply say "Yes you're on the list. As A. Adams."
Next Call. "Yes Mom, you're on the list. Tell them you're B. Adams at the door..... No I'm not ashamed to have my Mom at a show, I just use code names.... Don't say that Mom, I love that you're coming out... Yes you can tell everyone you're my Mom."
Sheesh. You get the point though.
Sometimes, when you're well known, its a good idea to be put on the list as a code name, as my friend Bryan Foley taught me.
What happened, you see, is that I go to my friend Art Cruz's new party at the Dragonfly club called RITUAL. Great party, always solid DJs, cool club, legal, its a great place to hang on a Friday night. I walk in, and I tell the List Mistress, "I'm on the List. DJ Wolfie. "
List Mistress: Ohhh! You're DJ Wolfie, Really? ?Me: Yep. ?List Mistress: Oh, because you're already inside. I've already let DJ Wolfie In.
Me: Ohhh really? What did he look like. ?List Mistress: Go-tee, brown hair. ?(this is like telling someone where your camp is at Burning Man by saying, "it's near an RV and there are some car port shade structures out front")
Me: Who was he with?
List Mistress: A bunch of Do Lab guys. He was kind of a pretty boy type.
Me: Aha hahahahaha..... reeeeeeallly. I think I might just know who that is.
List Mistress: Go on in.
Straight to the back area. Pumpkin's rocking it proper. I find Bryan Foley. and I say to him: ?"Hey, DJ WOLFIE, how You been?" Foley: Dude! So sorry, I didn't know you'd actually be coming out tonight....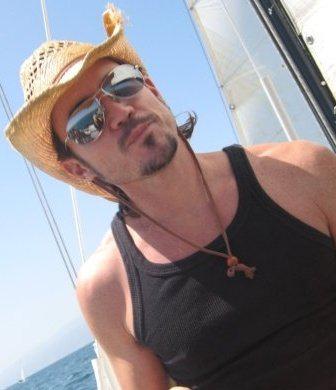 Bryan Foley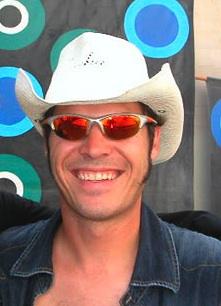 DJ Wolfie
I find the whole thing completely hilarious. Like, I've seen Bryan work so hard on so many setups, build so many stages, carry so many of his band mates drums, pack so many 40 foot stake-beds to the top, then be the one driving them to the site.... Really, unless you're there for set up or break down, you have no idea how hard working Bryan is. So I told him: Dude, I'll give you my comp any day of the week. You've earned it.
Of course when I get to The KING KING for the next Do Lab Party I'll be letting the door person know Im on the list as "BRYAN FOLEY." And the next time I go to Ritual, I'm going as "DJ Coyote". Hmm. I hope Bryan doesn't read this.