After developing some of the most innovative and forward thinking audio processing tools in the world, Unfiltered Audio is reaching for new heights with their very own first synthesizer. LION is an extraordinarily deep synth that features an easy to use interface and provides everything you need for quick patching, endless experimentation and intuitive sound design.

Under LION's hood is a dual-oscillator architecture where each oscillator comes with 26 modes. These modes range from classic to modern and all the way up to purely experimental. Pick and choose from FM synthesis, subtractive or additive waveforms, superoscs, noise or variations on each!
Each algorithm lends itself well to extensive modulation and also provides an easy path for stereo spread at the core synthesis level. What really takes LION to the next level and sets it apart from all the other soft synths out there is the 'Drift' mode and Unison variation. It's quite simple to program full and lush sounds with just the oscillators, all before you start reaching for any external effects.

All within its single-interface GUI you have a powerful ability to craft sounds that feel as though they were produced by a large chain of plugins, tabs and automation. Instead of spending time watching tutorials to learn the intricacies of a synth, you can now focus on the music by harnessing LION's immense sonic complexity and versatility.
The Power Lies Within
Continuing with the success of Unfiltered's previous hits BYOME and Triad, LION features a stacked BYOME effect row which provides a streamlined way of creating FX chains and manipulating them further with the modulation from the incoming MIDI notes. For example you can control the filter cutoff knob with the last MIDI note value. Or why not apply modulation to any of the 40+ effects with large variety of onboard modulators? The possibilities here are endless as creating fresh sounds that simply can't be reproduced in any other synth is not only possible, but readily attainable!
Furthermore, LION is also rather unique in the way that it integrates the mixing facilities within its workflow. The mixer offers distinct modes for combining the two oscillators in wildly creative ways. The default algorithm acts as a standard crossfader while more experimental modes such as Bitwise operations, Bidirectional Sample & Hold, Ring Modulation, Min/Max, Wave Terrains, and direct comparison operators create non-standard relationships between the two oscillators, all leading to truly amazing sounds.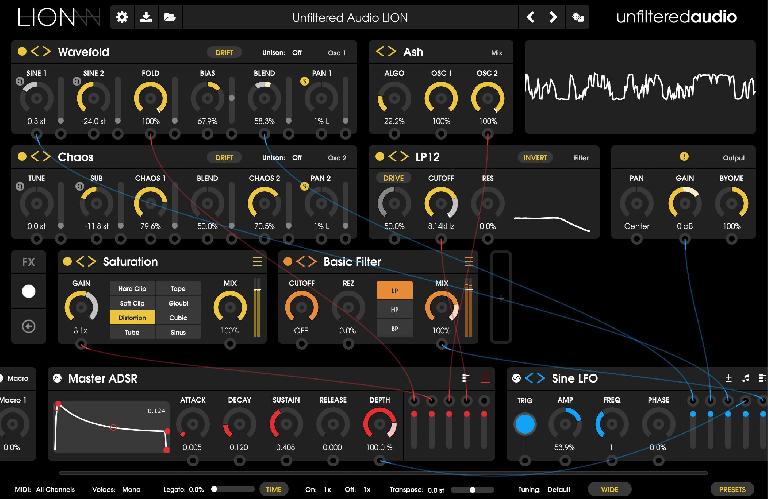 Finally, LION takes Unfiltered's concept of "serendipitous sound design" and expands on it with a refined version of the randomization engine that is found in BYOME. Aside from browsing through hundreds of presets in search of inspiration, you can take advantage of the scalable randomization engine. This essentially lets you set it up at 5%, then scroll through the presets and hit the randomization button and you can right away hear dozens of variations on any of the factory or user-created presets.

Try LION in August 2019 and get a new perspective on what is possible in the world of modern synthesis.
FEATURES
Over 20 unique oscillator modes, each with an optional, unique stereo algorithm
Per-voice modulation
Eight unique mixing algorithms for smashing together two oscillators
A complete BYOME row for unlimited, modular effect processing
Intuitive UX through carefully crafted single-page design (No Tabs!)
Modulatable unison depth for every oscillator control
A new tag-based preset browser
Full MPE support with modular routing
Full microtuning support (via TUN files)