Geert Bevin, software deisgner for Roger Linn's MPE instrument, Linnstrument, has informed us that the BETA version of Linnstrument firmware 2.1.0 version 2 has been released. He's also provided an insight into what's new since version 2.0.2.
"There's LOTS of exciting new stuff, in particular touch animations!"
New Features
Support for 14 different velocity-sensitive animations around played touches, hold Per Split -> Played color for configuration. The animations are Octaves (standard), Crosses, Circles, Squares, Diamonds, Stars, Sparkles, Curtains, Blinds, Targets, Up, Down, Left, Right, Orbits
in Assign Switches, permit "Sustain" to be reassigned to any CC.
in Assign Switches, permit "CC65" to be reassigned to any CC
additional Panel/Foot Switch options by holding Tap Tempo: Legato, Arpeggiator latch, Preset -/+, Pitch slide on/off
in Global Settings > Assign Switches, permit a unique CC65, Sustain and Tap Tempo (customizable) assignment for each of the 4 switch assignments.
allow channel pressure to be one of the advanced configurable options for lowrow CCs and CC faders.
added support for negative row offsets and inverted guitar tuning.
added support for a configurable start value for relative Y.
added support for reversed splits.
if Channel Per Row is held, enable "reverse channel order" mode, and light the button in the accent color.
added song position pointer support to the step sequencer.
blink Global Settings button while using internal tempo and Arpeggiator is on.
touch sensor prescale can be configured by holding Calibration together with Pressure Snsitivity > Medium.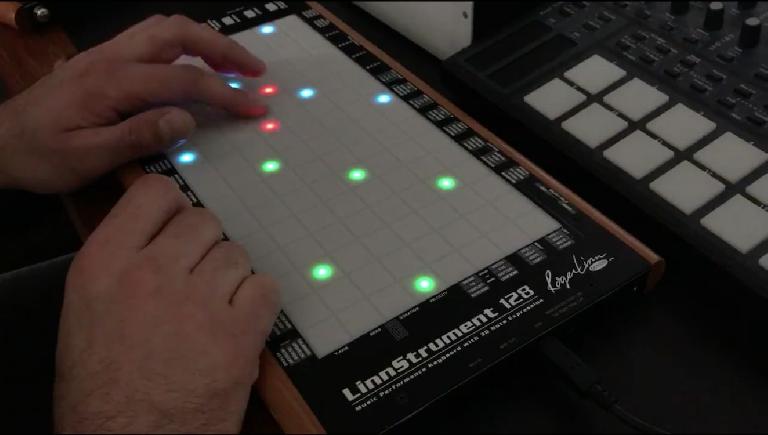 Improvements:
better handling of playing the same notes on identical channels, this improves expressive playing with monophonic sound sources.
when synced to MIDI clock, LinnStrument is now not automatically sending MIDI clock anymore.
MIDI clock sync is more reliable.
the split being active is now stored with each preset, this was missing before.
when changing MIDI Mode, send a X, Y and Z message each with zero value, in order to avoid bias in the newly-selected mode.
added calibration data validation with auto-reset to defaults upon boot in case of problems.
incoming MIDI handling is more reliable.
when the sequencer is started or stopped through MIDI, the settings are not automatically stored anymore in order for SPP support to allow for quick repositioning.
sensor sensitivity is now by default 75%.
Bug Fixes
there were small inconsistencies in quantized pitch bend ranges, fixed.
the arpeggiator switch function that wasn't properly tracking the currently focused split, fixed.