New Beginnings
In late 2004, a company from Bordeaux, called JazzMutant, publicly presented a prototype of a revolutionary device '" a multitouch screen for music control called Lemur. Ten years on, Liine is proud to present Lemur on an entirely new platform. As the Lemur family spreads from the original hardware tablet to iOS, and now Android too, music control is accessible to a new generation of passionate users.
Lemur is a MIDI and OSC controller toolkit which allows you to build the controller you want and perform the way you feel.
Android is a vast and open platform, mirroring Lemur's own open-minded philosophy. Let Lemur be the perfect solution for music control on your Android device.
Connectivity
Lemur Android supports OSC and MIDI over Wi-Fi. If your device is tethered you can use the USB cable connection for maximum reliability. See the feature comparison chart for full details.
Lemur Editor and Daemon are available for Windows and OS X, these are tools that allow you to connect to Lemur on Android and iOS. The Lemur Editor 5.2 update now allows you to use a custom resolution to fit your device.
Compatibility
Android is a vast platform and Liine had to choose which devices to support from the very beginning. Lemur is officially supported on Nexus 7 - this means that if you buy it for this device, Liine are committed to getting you up and running. It has also been tested on various Android 4.2+ devices with positive results. The list of officially supported devices will grow in the near future.
Feature Comparison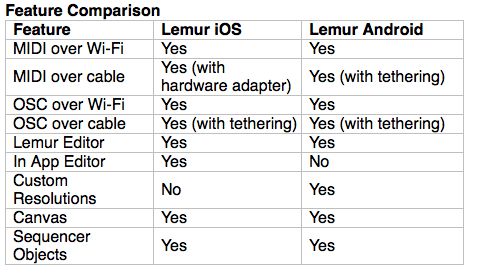 Lemur iOS vs Lemur Android
Every 90 Minutes
Recently Jay Smith, a friend and pioneer in the world of music control, was diagnosed with ALS (Lou Gehrig's disease). Jay is the CEO and founder of Livid Instruments and has recently founded the 90 Foundation to support research to find a cure. Now that the ice bucket challenge is fading from our social media feeds, continuing support is more important than ever. Liine have made a donation, perhaps you could consider it too. Visit http://www.every90minutes.org/ to learn more and find out how you can help.
Countless artists, from the underground to the pop charts, trust Lemur in the studio and on stage. Users of Lemur include artists such as Björk, Plastikman, CHVRCHES, Glitch Mob, Sub Focus, Max Cooper, Barker & Baumecker, Orbital and countless more.
For more information and updates visit http://liine.net or contact info@liine.net