We're thrilled to be partnering with world-famous Musicians Institute providing the tech to enable them to deliver their first online courses worldwide.
Starting 17th April 2017 MI Online will be rolling out four new BETA courses for musicians and producers. The prices for these 10 week intensive courses are already very affordable thanks to this being the BETA. So sign up now. You won't get these prices again.
MI Online Reveal New BETA Online Learning Courses
We talked to the trainer, Mark Cally, for their new course on harmony and theory fundamentals to find out more about him and what you can expect to learn.
Ask: Tell us how you got involved in the world of music theory? What's your background?
Mark: When I began studying guitar seriously I was fascinated by jazz music. I had spent my childhood listening and playing rock guitar and I quickly discovered the complexities of jazz meant I needed to raise my game when it came to technique and understanding how music worked. My limited understanding of music theory was woefully short of what I needed to prepare myself for playing more complex musical styles.
For me it was like a fish to water. I loved learning the details and intricacies of music theory. The more I learned, the more ideas I had for how to relate it to my instrument. Music theory opened up the unlimited possibilities of being a creative musician. Since then I've also learned classical theory and studied music history. All this leads to a richer understanding of where music theory came from, how it developed and where it may be headed in the future.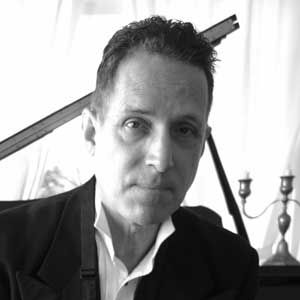 Why is it important for musicians to have an understanding of theory?
Music theory is merely an understanding of the structure of the music we play. It's like lifting the hood of your '55 Corvette and knowing what makes it run.
You can appreciate the corvette for it's classic lines and old world charm, but if you want to be a mechanic and really get your hands dirty, you're going to need to be able to take that car apart and put it back together. Music theory allows us to deconstruct music and use that knowledge to construct our own music.
What kinds of musicians will benefit from studying the courses you teach? Are they more targeted at a particular instrument, for example?
The course relates equally to all musicians of varying instruments. Music theory is not biased to one instrument or another. While I often show examples on the piano, each student is prompted to explore their own instrument. I do ask if a student's instrument is monophonic such as voice or flute, that they spend time practicing on an instrument that allows them to understand harmony such as piano or guitar.
Can students of any experience sign up, or is some existing knowledge of theory a requirement?
With the course we start at pretty much rock bottom so very little knowledge of music theory is needed. I find even if students have studied basic theory before, running over the basics sets a good basis and gets everyone on the same track. I do however expect students to master the very basic concepts of music theory in a short time so we can move to more challenging material.
How does a knowledge of theory fit into today's more technology-based musical landscape?
Today more than ever before, music theory is a necessary part of a musician's education. We are expected to perform and produce content almost instantaneously for clients. Competition via the internet has made us all expect everything the moment we ask for it.
As a professional musician today, we need to have the knowledge and experience to perform and produce music at the highest level we possibly can. Musicians today are more highly skilled and better informed than any generation previously.
Can you share one of your favourite tips or pieces of advice from the courses? Maybe something that will give students a flavour of what they're going to learn.
One thing I've found most useful to beginning students is knowing their key signatures. I see many students skip this step and then fall apart when we move to more complex concepts. Knowing and understanding key centers is at the root of western harmony. We cannot understand chord substitution, key modulations or improvisation theory without knowing the key signatures. Key signatures inform our melody and harmony, two of the bedrocks of western music.
About The MI Online Harmony & Theory Course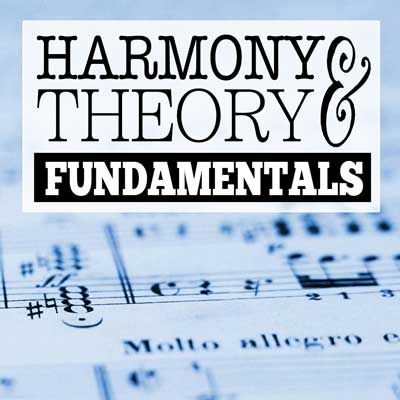 The ability to understand and recognize key centers, chord changes, and time signatures is essential to the contemporary musician, songwriter, and producer. The basics of harmony and theory can be found everywhere: in the chords of pop songs, in the notation of the most beautiful melodies in every genre and era, and in the time signature of each drum beat heard around the world.
In Harmony and Theory Fundamentals, you will explore how these basic concepts are applied to music notation (for pitch), including major scales, key signatures, intervals, triads, and major scale harmonies.
Gain knowledge of harmony and music theory online in 10 weeks with a rich and dynamic content mix of video lessons, weekly live lectures, multimedia quizzes, and more.
Learn and master the very basic elements of harmony theory and music notation, including:
Basic symbols and notation
The musical alphabet
The construction of the major scale
Key signatures and key centers
Triads
The harmonized major scale and diatonic harmony
Chord families
Through live lectures and virtual classrooms, MI Online provides real-world, artist-driven, and authentic learning opportunities available to anyone—from anywhere. MI Online is the online content provider of Musicians Institute.