LayR Is One Of The Most Impressive Polyphonic Synths For iOS To Date
Synths for iPad and iPhone are no longer seen as 2nd class citizens. Moog Model 15 and now the impressive LayR from Living Memory Software are mobile synths well worth considering.
Living Memory Software have, seemingly out of nowhere, just released a multi-timbral polyphonic synthesizer for iOS that could already be one of the synths of 2017. It's huge. It's easy on the eye. It's hugely impressive. And, it's an iPhone / iPad synth.
As its name suggests, you can create rich, complex sounds by layering upto 100 instruments! Andy from Living Memory Software contacted us about LayR last month with the news and we've been holding onto it excitedly waiting for it to hit the App Store. Well, it's here now!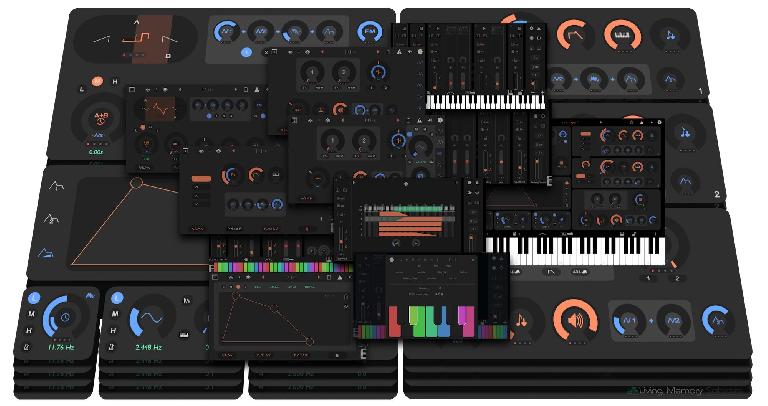 Here's more about LayR from the official press release:
LayR is a massively polyphonic, multi-timbral synthesizer for iPad and iPhone, optimized for modern 64 bit devices delivering up to 256 voices of rich, multi-layered and textured sounds.
LayR's primary sounds are called Performances: A Performance is a set of Instruments where each instrument is a set of Layers and each Layer is a complete synthesizer. A performance can consist of over 100 instruments each with it's own MIDI channel and crossfading keyboard span. Voices are assigned to each layer in each instrument until the audio engine runs out of available voices. This means that with normal playing technique it is possible to create extremely complex texture on each note or even to have a single insane monophonic instrument equivalent to 100 synths all playing at once!
Every Layer has a dual oscillator which can morph with modulation between two shapes and phase states, two rich and warm state variable filters and a mixer to blend the oscillator with filters in any serial/parallel combination. For modulation (Frequency, Amplitude and Phase) there are two aux oscillators ranging from DC to audio frequency switchable to optionally follow keyboard pitch and restart phase when a note is started. 2 loop-able ADSR envelopes ranging from fractions of a millisecond to 100 seconds, a volume level ADSR and a random level generator with a smoothing filter. With stereo delay, reverb and EQ on the output section LayR excels at not only emulating normal analog synth sounds but also at creating ambient textures with extremely long evolution cycles.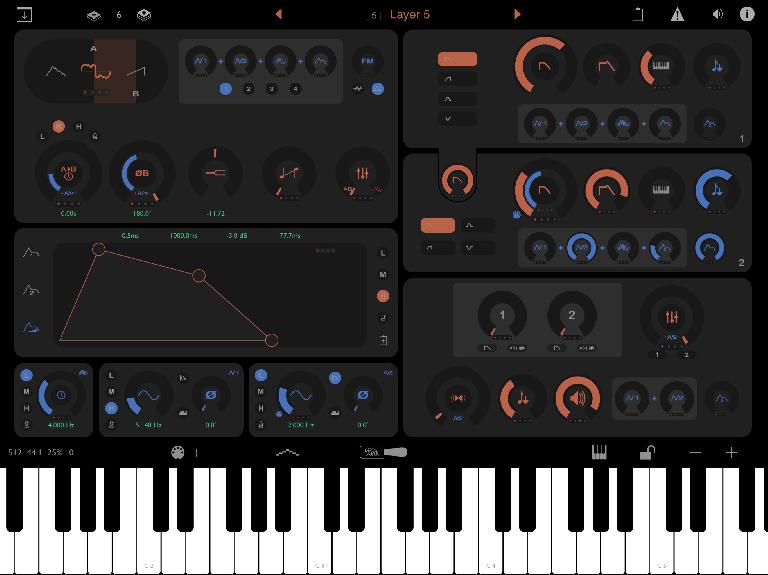 Focused at keyboard players looking for a mobile synth that can be reliably used live on stage it is equally at home in the studio. LayR is provided with an extensive selection of usable instrument and performance presets which can be loaded using MIDI bank select and program change messages in the same manner as hardware synths. There is also an 8 channel arpeggiator with a 16 step event sequencer for creating exciting polyrhythmic patterns. Full IAA and Audiobus compatibility means LayR can be used with hosts and other music apps on iOS.
Main Features
Optimised 32 bit Audio Engine.
Up to 128 Voices ( 256 on iPad Pro ).
Multi-Timbral with 8 individual stereo instrument outputs + full mix output. • Multi Channel Arpeggiator with 16 step event sequencer.
Stereo Delay, Reverb and EQ on output section.
Ranged MIDI control for all parameters.
AudioBus and Inter-App Audio compatible.
Performance and Program preset import & export via iTunes.
Performance and Program preset sharing via iCloud Drive.
Built-in Help