LayR is a multi-timbral synth for iOS that really should be better known than it is. It is powerful, sounds great and is so deep, we had a hard time believing it is an iOS synth. You can read our full review here: https://ask.audio/articles/review-layr-the-new-king-of-synths-for-ipad-iphone
The impressive LayR has just received an update from Living Memory Software. Now at version 1.0.4 LayR comes with some excellent, evocative new presets created by Brice, Ableton Link improvements and some handy bug fixes.
LayR 1.0.4 is free to download from the App store for existing customers... and at time of writing it should be available (keep checking if it's not).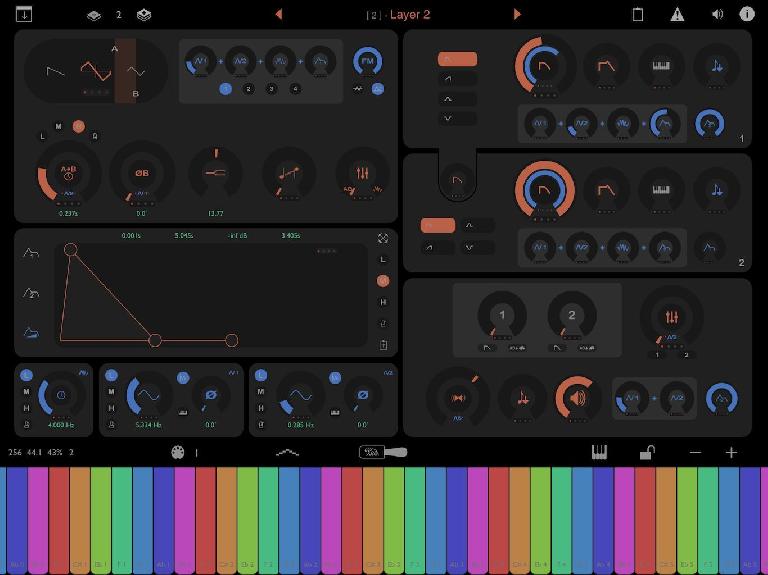 LayR 1.0.4 Features:
Cinematic: A full new bank of wonderfully evocative Performance presets by Brice.
Ableton Link for arpeggiator. Link can be enabled/disabled in settings.
MIDI Output port: Enabled with an option in settings, defaults to off.
MIDI Virtual Destination Chooser: To send MIDI to other apps. Only available when the MIDI out port is enabled. MIDI Controller Templates: Tap the new MIDI icon at the top of the Layer Editor view.
Sends MIDI controller from assigned dials when MIDI Out is enabled, (on the Instrument channel).
"Pickup" Mode for MIDI controllers. Option in settings.
Channel Pressure added to the list of assignable MIDI controllers.
AudioBus 3: Audio and MIDI.
Settings has an option to stop Master Tempo being set when Performances are loaded.
Manually loading a performance or instrument makes that bank current for MIDI program select. Group and assign on iPad is now high enough to accommodate 8 rows instead of 7
New Shortcut: Double tapping on a dot in the link/assign view selects or deselects the entire column. New Shortcut: In Preset Selector Views, long press on bank names to rename banks.
Bug Fixes:
Fixed: Crash when starting mono-legato voices in 64 voice mode.
Fixed: Potential crash when rapidly changing presets via MIDI Program Change.
Fixed: Preset Files stored on iCloud Drive can now be loaded by tapping on them or selecting "Open In..." Fixed: Layer volume sliders now show MIDI icon when assigned to a MIDI controller.
Fixed: MIDI controller assignations no longer seem to disappear after deleting another instrument.
Fixed: Possible crash caused by corrupt UI after launching from an IAA host.
Fixed: Layer strip name label resizes font to t width.
Fixed: MIDI Assign view rendered incorrectly if a layer has a really long name.
Fixed: Tempo was not always correctly set when loading a performance.
Fixed: Arpeggiator stops if IAA host doesn't provide beat clock.
Fixed: It's now possible to select LayR as a MIDI destination from inside other apps.
Fixed: Issue with jittery response with dials and sliders when moving very slowly.
Fixed an envelope bug that could cause loud clicks with some settings.
Improved voice stealing in attempt to reduce clicks when max polyphony is exceeded.
Changed the wording of the "Import" button to "Append" in the Load Performance view.