Living Memory Software has released LayR Version 1.3 to the App Store. This release of the multitimbral synthesizer fixes all known bugs and introduces a new feature: The Macro. The update is free for existing users.
The Macro Panel is a level above the instrument mixer and is used for globally adjusting parameters in the entire multi- instrument Performance, taking LayR's MIDI control to a whole new level.
Changes / New Features
Macro Control Panel: A new panel for changing assigned synth parameters globally across an entire performance.

Link Assign Panel now has an extra section for assigning Layer parameters to Macro controls.

You can now assign any MIDI controller to Instrument Volume Sliders. ( defaults to cc 7 ).

Load Preset panel now updates it's selection if a MIDI bank or program change is received while it's visible.

New option in settings: Don't Start Voices When Volume is Zero: Prevents voices being started if Instrument or Layer volumes are zero.

New option in settings: "Multi Out: FX Only in Stereo Output", converts the IAA Stereo Mix output to an effects return if any of the 8 aux audio outputs are in use.

Dials will now always show at least 1 degree of coloured arc unless their value is equal to zero.

Increased fall time for peak hold metering in master strip.

Updated PDF manual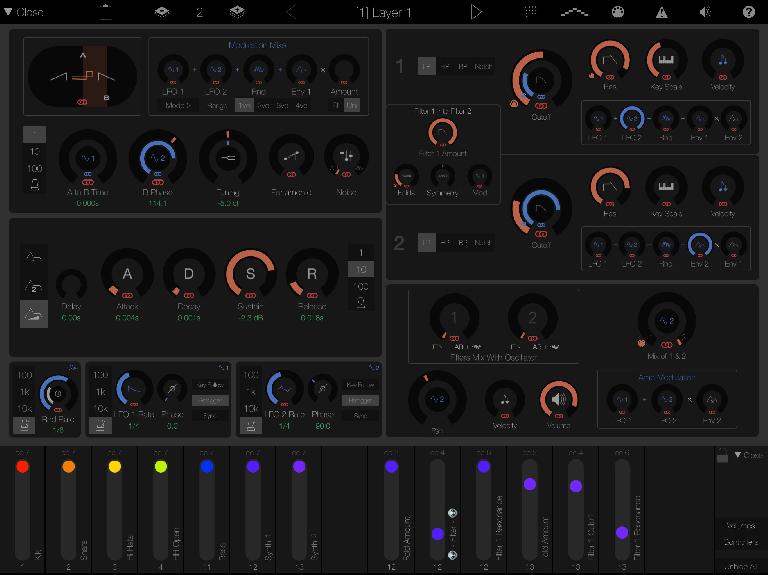 Bug Fixes
Fixed a common crash during audio unit initialisation.

Fixed crash when long pressing on A to B range buttons.

Fixed: Potential crash when saving performances if poly aftertouch is assigned.

Fixed: Audio Unit now respects all persistent preferences set in the IAA app.

Fixed an audio spike when an AU is loaded in a certain state from a host. Could cause a loud reverb explosion.

Fixes a rare problem where an AU host could start to load a preset before the Audio Unit had completed initialisation.

Fixed: Current bank is now properly set when selecting a bank in the load preset panel.

Fixed a state where MIDI controller values for the CC Mixer would fail to be loaded from a saved preset.

Fixed: UI crash when tapping on AB-Range modifier tempo button after previously setting time to maximum ( 100s ).