Kreasound is an internet site dedicated to both novice and experienced producers. Complete and open-format projects, templates and audio files are available to download, revealing the secrets of the compositions of talented artists. These files can be appropriated and reworked to create new versions. Kreasound also proposes samples and presets for sale, an e-mastering service, and more recently, remix contests.
Kreasound makes available, for both beginners and professionals, the projects and templates (Ableton Live, FL Studio, Logic Pro etc.) used to create final sound files, mostly for EP and LP releases, of the extensive musical catalogue of the artists represented on the site (techno, deep house, EDM, etc.) The templates and projects can be purchased, as can the samples and presets (Sylenth1, Serum, Massive, etc.) Each artist has a detailed profile including biography, home studio description and social networking.
Kreasound is the first web site to propose both a centralised directory of all remix contests available on the web and to provide remix contest hosting.
A remix contest consists of inviting amateur and professional music producers to propose their own version of a track by giving them access to the original individual sound files. As of the 22nd of August 2016 and the removal of SoundCloud Groups, free hosting solutions for remix contests have become rare. Kreasound is the the first web site to offer not only free remix contest hosting, but also to provide a directory of all remix contests available on the internet. In this way, the platform attracts musicians and producers looking for remix contests, and provides visibility for the organising artists. This serves to both engage the existing fanbase and to attract new fans. Labels can also be benefit from these services by creating their own contests, and by being listed, hosted and presented at the head of the list.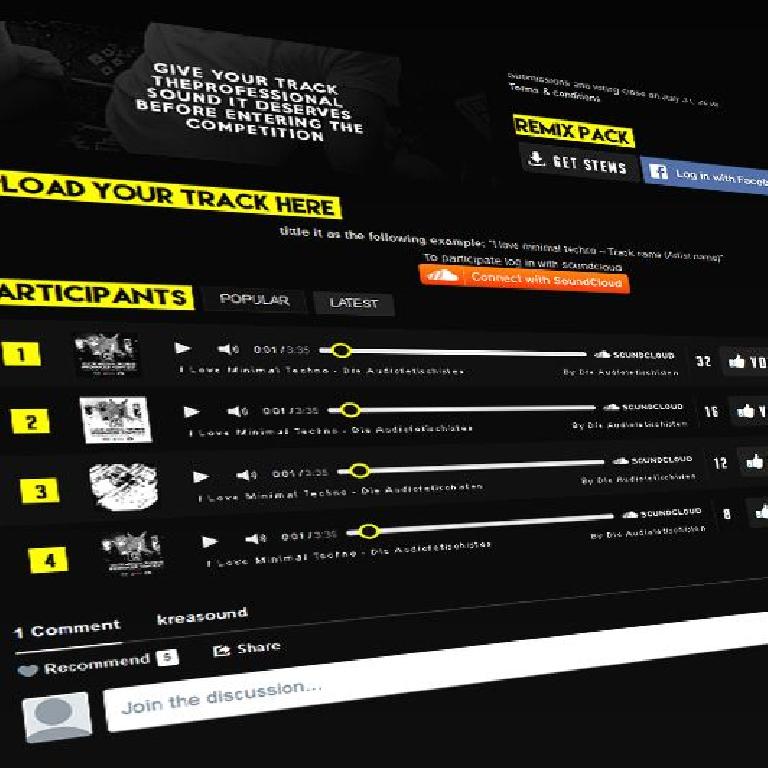 The free basic service includes :
the creation of a contest via a simple and rapid online form
a playlist including the remixes of all participants
the submission of remixes via the participants' SoundCloud accounts - voting for listeners' preferred remixes
a comment zone
The Premium service introduces additional options such as:
more SoundCloud followers by obliging participants to follow the artist on SoundCloud in order to access the remix stems pack
contest pinned to the top of the Remix Contest page to increase exposure
prizes for winners provided by Kreasound's partners
visuels created by Kreasound
contest statistics: number of views, number of stem pack downloads, localisation etc.
Kreasound works with artists and labels to propose new means of remuneration
It has become imperative to find alternative revenue streams for the sale of recorded music. Kreasound allows independent artists and labels to sell their open-format sound and project files and so generate additional profit. The average sale price of a template/project is 19 euros. Kreasound can accompany the organisation of contests, which is a great way to promote the label's artists. Labels can group artists to benefit from advantages on premium tariffs.
Web: https://www.kreasound.com