Melville, NY – January 7, 2020–KORG is proud to announce the next step in digital synthesis with wavestate. Featuring a dramatically expanded Wave Sequencing engine, the wavestate delivers astonishing, ever-changing sounds with extensive hands-on control.
Here's the official Wavestate launch video from Korg:
Here's an overview of the Wavestate from Guitar Center:
And, unsurprisingly, Loopop is here with the first full-video review within minutes of the official announcement:
In the early 1990's KORG's legendary Wavestation introduced the world to Wave Sequencing, transforming raw samples into patterns and sounds that no one had ever heard before. The accompanying Vector synthesis also gave musicians a new level of control allowing for four-way crossfading of sounds and parameters.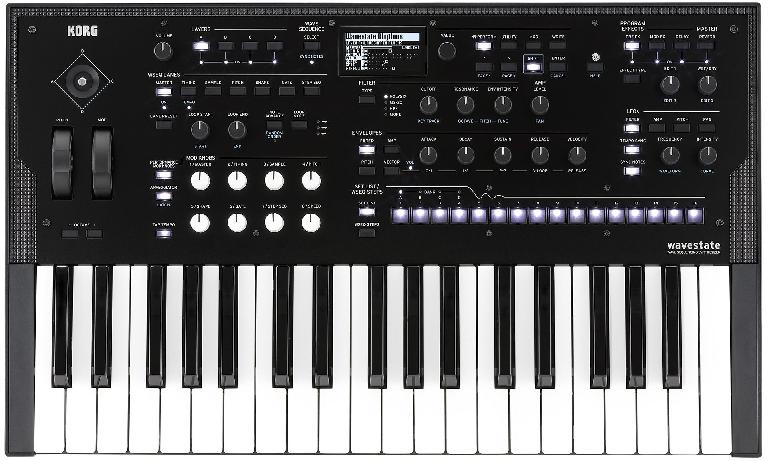 Far from a nostalgic reissue, the wavestate is designed from the ground up for a new generation of musicians, producers, and composers; taking cues from sources as diverse as modular synths, groove boxes, and algorithmic composition. Bursting with knobs and controllers, the wavestate invites users to explore all the basics; filter, envelopes, LFO;s, and effects at their fingertips with dedicated front-panel controls. A front-panel button, marked bya "dice" icon, generates new sounds via intelligent randomization.
Wavestate combines Korg's proprietary Wavesequncing 2.0, deep modulation capabilities, plenty of polyphony (64 notes) and up to four parts and 14 effects simultaneously; the most in this category. The compact form-factor, with 37 full-size keys transports easily and fits neatly into any stage, studio, or desktop setup. Six GB of PCM delivers over 700 sounds and 240 performances, plus there are 1,000 Wavesequences to explore and storage for over 10,000 performances.

To help users get the most out of wavestate, eight hardware Mod Knobs provide musicians with instant access to the most effective sound parameters for any sound or performance; inviting customization and exploration of the sonic possibilities.