Korg Resurrects Vintage Mono/Poly Synthesizer (For iOS)
Korg have revived one of their classic analog synthesizers and brought it to Apple's iOS platform. The 4VCO Mono/Poly is now record for iPad and iPhone at a fraction of the price of the original.
Without further ado let's jump straight into the new, features, spec and video demo of the iMono/Poly from Korg released for iOS just a few hours ago!
The Mono/Poly analog synthesizer appeared in 1981 at the same time as the acclaimed Polysix. Not only was it a fat-sounding four-VCO monophonic synthesizer, it featured a revolutionary design that allowed it to also be used as a four-voice polyphonic synthesizer, which helped cement its legendary status.
The long-awaited "KORG iMono/Poly" iPad/iPhone app completely reproduces all features of the original Mono/Poly. Four VCOs and a rich array of modulation allow a wide range of detailed sound design. New functionality such as two multi-effects units and eight virtual patches are also provided. In addition, the seamless integration that you expect from KORG's iOS apps will fit perfectly into your music making process. The Mono/Poly has been reborn for today's world, bringing you a unique and legendary sound.
* Due to differences in CPU speed of iPads / iPhones, iPad 3rd gen/2/iPad mini/iPhone 4s are not supported, only iPad Air/iPhone 5s or later is recommended.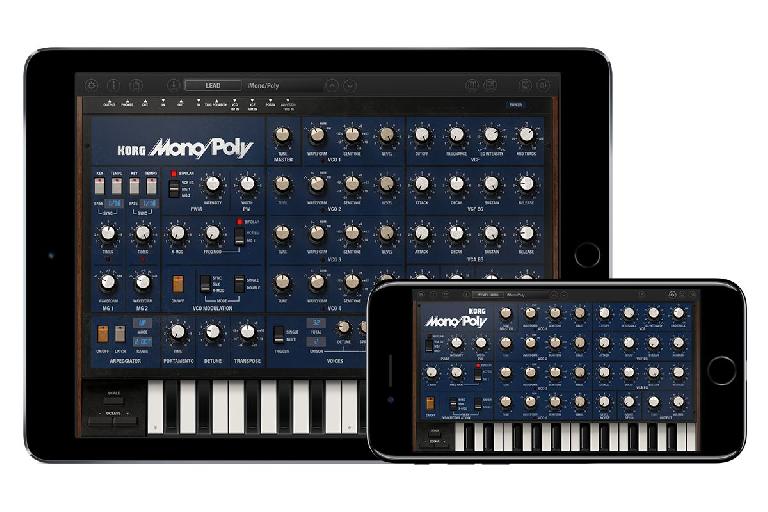 iMono/Poly Features
Deep 4VCO sound. A complete reproduction of the classic Mono/Poly: The Mono/Poly synthesizer featured four VCOs, a dedicated envelope generator for the VCF, and also sync and cross-modulation, earning it a reputation for its detailed sound-shaping potential and its distinctive character.
Powerful virtual patches, and the latest presets to catch the scene: Eight virtual patches provide the ultimate expansion of the Mono/Poly's distinctive sound-design potential. Two multi-effect units are also provided, allowing you to create complex and broad-ranging sounds with complete freedom.
Quick access to all panels: Although iMono/Poly provides a vast number of parameters, it's designed with a screen structure that provides quick and seamless access to all of them. With a single tap, you can rotate between the main synth & key assign screen and the virtual patch & effect screen. There's no need to open individual screens for specific functions, or to move back and forth between them.
Produce music in conjunction with KORG Gadget: iMono/Poly can be used in conjunction with "KORG Gadget," the music production DAW app that has won numerous prizes within Japan and around the world. When you install both apps, iMono/Poly appears as the "Montpellier" gadget within KORG Gadget.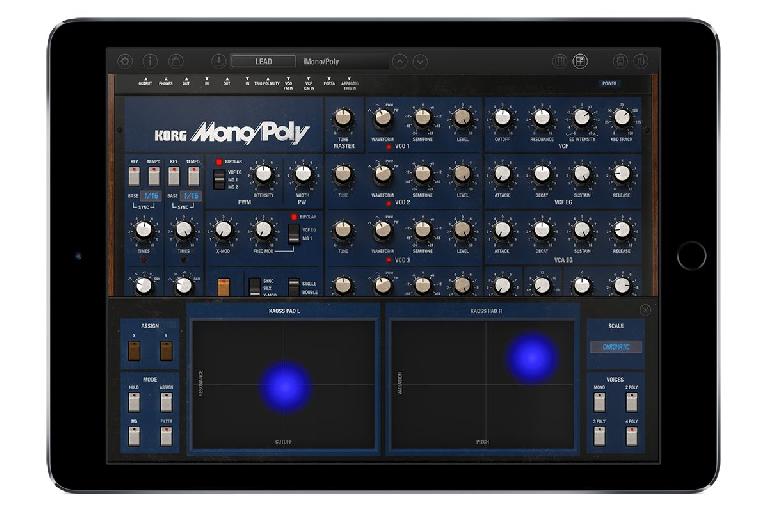 Spec
Sound Generator: Analog modeling synthesis (CMT)
Maximum Polyphony: 32 voices
The Number of Parts: 1 part
The Number of Sounds: 128 sounds (preset) / 128 sounds (In-app purchase contents)
Templates: 20 types
Effect: Two multi effects
Sound Edits: 8 virtual patches / 159 modulation sources / 35 destinations
Interoperation with KORG Gadget: Usable within Gadget as the Montpellier gadget
MIDI: Performance via external MIDI keyboard, Program change, Core MIDI, Bluetooth MIDI
Performance Functions: Virtual keyboard, Kaoss Pad (Touch Scale function)
Others: Inter-App Audio, Audiobus 3 support