Korg Releases Gadget for Mac, Already Too Popular
Within hours of the release of Korg Gadget v3 for iOS its new bigger, more flexible brother is here, Gadget for Mac. And if early signs are anything to go by it's a popular collection of instruments!
As soon as we had reported on Korg releasing Gadget v3 for iOS we knew that Korg Gadget for Mac was only hours away from availability. But, we didn't predict that demand would be so high for this incredible synth collection it would bring down the Korg store.
"Currently, the KORG Shop is experiencing heavy access. Please wait for a while until the sale of KORG Gadget for Mac resumes. Thank you for your patience."
But, that's what's happened. So if you're looking to make the purchase now you might need to wait. Don't wait too long though. Korg Gadget for Mac is currently available for a limited-time 30% discount launch special.
So, what is Korg Gadget for Mac, and how does it differ from its iOS sibling? Well, Gadget for Mac comes with 31 Gadgets (instruments, tools). Note that the Milpitas gadget will be available in the next version.
"It comes with the complete collection of gadget instruments, and also lets you use them as plug-ins in any DAW. A unified single-screen interface that fully utilizes the large display of the Mac makes music production workflow intuitive. Inter-operation with the iOS version via iCloud, powerful functionality for exporting to Ableton Live, and many other new included technologies bring you additional production possibilities and creative enjoyment. Providing numerous instruments, yet simple to operate and easy to use, it's a completely new concept in DAW software that could have only been created only by the renowned musical and audio instrument manufacturer, KORG.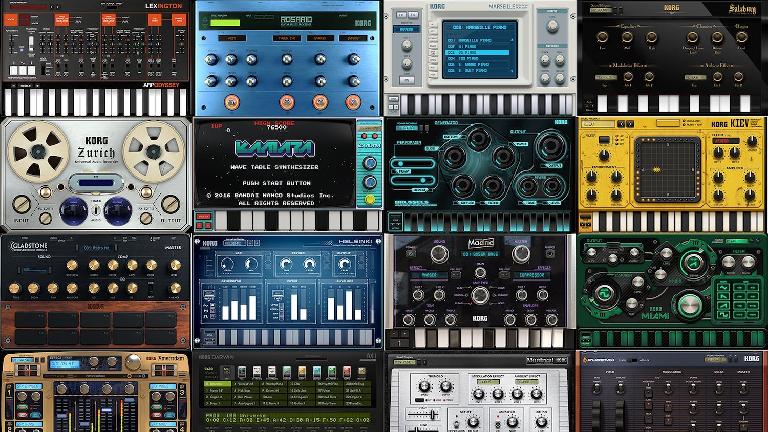 Korg Gadget for Mac 1.0 Main Features
31 Gadgets
Unlimited Songs
Unlimited Tracks
Master Effects: Reverb, Limitter
Insert Effects: Compressor, Side Chain, EQ, Filter, Auto Wah, Phaser, Flanger, Decimator, Delay, Reverb (Total 10 Insert Effects)
Supports playing from an external MIDI device
MIDI over Bluetooth
Upload to Allihoopa
Export as MIDI file
Ableton Project Export Compatible
Upload to iCloud
Upload to Dropbox
Export to iTunes
Ableton Link Compatible
Korg tells us that, "In addition to a wide range of synthesizers that each emanate their own powerful personality, there's a lavishly high-quality piano that's suitable for professional use, a sampler that will accelerate your inspiration, a realistic acoustic drum machine, videogame sounds developed in cooperation with Bandai Namco Studios, and gadgets that provide software incarnations of classic instruments of the past including the KORG M1, WAVESTATION, and ARP ODYSSEY, all available for immediate use."
Like Gadget for iOS, Gadget for Mac features "two new audio track gadgets: the general-purpose Zurich can be used for recording sources such as vocals and acoustic instruments, and Rosario is optimized for guitar recording with a variety of effects and amp types provided. These gadgets elevate KORG Gadget into the realm of a true all-in-one production studio. In addition to recording audio, you can also import existing audio files.
"Also provided is Recife, a new type of drum machine gadget with high-quality samples and 16 pads. For both audio and preset sounds, it features a high degree of freedom and widens your creative potential."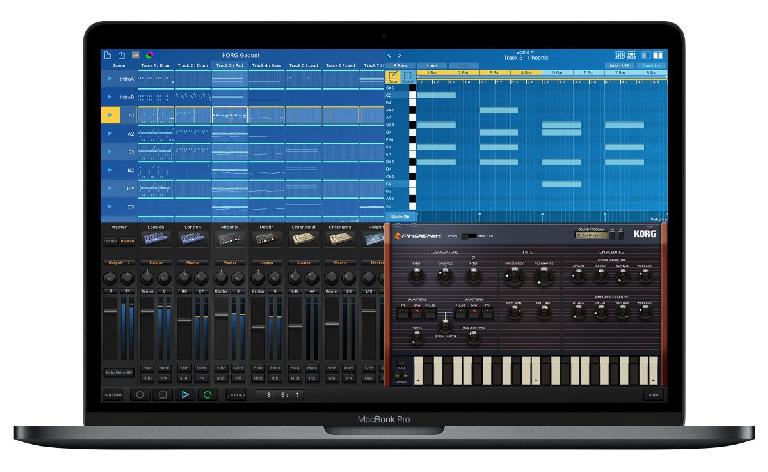 Korg have introduced a four-way split screen for Gadget for Mac which " unifies all steps of the entire process: creating the song, sound design, effects, and mixing. The editing functionality has also been improved to allow more detailed editing, and shortcut keys have been added to provide an ideal operating experience. There's also support for the "Touch Bar" that's featured on the new MacBook Pro."
And of course you can use all 31 Gadgets as individual plug-ins (AU, VST, AAX), so Gadget for Mac is like having a completely new collection of high quality instruments for whatever DAW you're working on. Korg are working on the NKS format (for Native Instruments Kontakt). We're told this should be available in the next version.
There's also good stuff for Ableton Live users. Ableton Link is supported and Gadget songs can be exported as project files for Ableton Live! That means "each of KORG Gadget's tracks can be loaded into the appropriate tracks and scenes of Live".
There's plenty more to be excited about, so it's no surprise that in the early hours of its release demand had temporarily crashed the Korg shop site in the UK.