In this 3 minute video tutorial on the arpeggiator in Korg's minilogue synth, Matt Vanacoro starts with a sustained sound (yes, sustained) and in poly mode adjusts the gate to trim/extend the envelope of the sound without changing the EG pararmeters.
Matt assigns the gate to the pitch bend slider. He shows how to do this and then demonstrates how to chop up or add portamento to the arpeggiated pattern. And it can all be done from one slider without needing to mess with the amp envelope.
If you have a Korg minilogue, then it's worth trying out this tip. If you don't, then this tip and the programming techniques shown in the rest of the videos might even persuade you to buy one!
Watch the entire course here. https://ask.audio/academy?nleloc=course/2022/programming-the-minilogue&sess_id=inu2hpnlkvsbjg4aamj33mses0
Korg minilogue 201: Programming minilogue
Analog synthesis, whether on a modular or with a keyboard synth like the minilogue, requires that you know what you're doing… especially when it comes to signal flow! There's a difference between a knob tweaker and a sound designer: Sound designers know "how and why" their patches work. This knowledge gives them the ability to quickly create and modify any sound that they can imagine.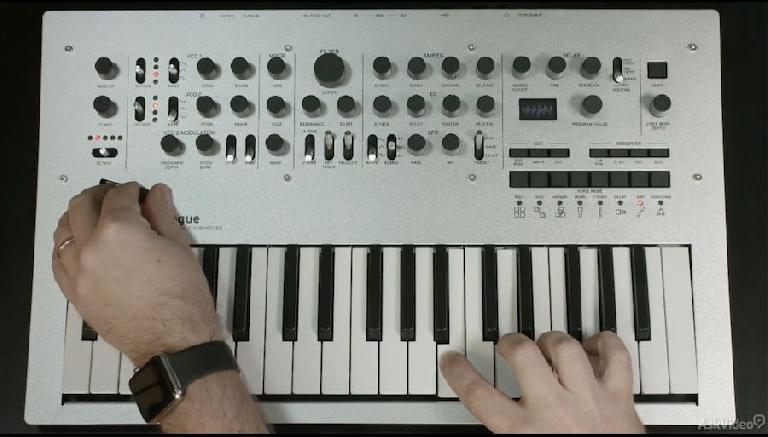 This course, by Matt Vanacoro, covers all of the programming possibilities that the Korg minilogue has to offer. It ensures that as you explore YOUR minilogue, you'll have the fundamental skills needed to extract the most imaginative sounds possible.
So learn the ins-and-outs of this awesome Korg analog synth and get well on your way creating presets that are unique, powerful and entirely yours. Happy programming!