Korg KR-55 Pro Is A Hardware Drum Machine With Real Grooves, A Mixer & Recorder
When you think "drum machine" and "Korg" you probably wouldn't imagine the KR-55 Pro. It can do a lot for those wanting authentic sounding drum grooves for their tracks or performances.
Melville, NY – January 18th, 2018 – The KR-55 Pro is a simple to use, comprehensive rhythm machine, with real recorded drum grooves and mixer/recorder functionality. Equipped with Korg's "Real Groove Technology", which uses actual data recorded from professional drummers at various tempos, the KR-55 Pro contains technology never seen before in a conventional drum machine.
Packed with 24 high-quality rhythm styles, each fine-tuned to accurately reproduce the sound and experience of playing with a percussionist, this rhythm machine can provide simple, straight-forward drum tracking for musicians of any genre. Each style includes multiple patterns, providing accompaniment for endless recording, thanks to the sophisticated chain function.
"For musicians who want the organic sound of a real drummer, without the hassle of programming a drum machine or having to deal with an unreliable drummer, nothing beats the KR-55 Pro," says Nick Kwas, lead Product Specialist at Korg USA.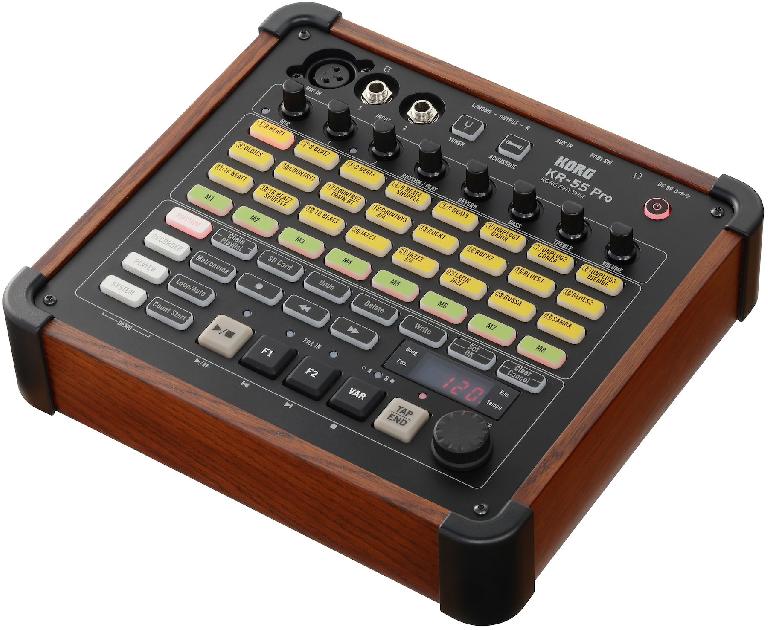 The KR-55 also includes an audio player function that can play back audio files from an SD card. The Acoustage, Korg's virtual surround technology, creates a personal acoustic stage, an experience unattainable from previous systems. Utilizing the Acoustage on the KR-55 Pro turns the rhythm machine into a high-quality listening system.
KR-55 Pro Main Features
24 built-in drum/percussion styles that were recorded live using KORG's proprietary "Real Groove Technology."
Each rhythm style includes a rich variety of patterns: two variations, basic, fill-in 1, fill-in 2, and ending.
Use the chain function to create a rhythm structure for an entire song, and play it automatically.
A rich array of input jacks includes one XLR mic input, two guitar/bass inputs, and a stereo AUX input, allowing multi-channel mixing.
A high-quality reverb effect and equalizer are provided, giving you the freedom to shape your sound.
You can perform along with a rhythm style, and record the combined result as an audio file on an SD card.
Multi-track recording is supported, allowing you to produce more sophisticated tracks.
The tuner function features a large meter for good visibility. You can also tune while hearing a guide tone.
Acoustage technology delivers a spacious sound.
The unit can be powered on six AA batteries, allowing up to seven hours of use.
A separately sold foot switch lets you control the unit with your foot.