(MELVILLE, NY'"November 12, 2014)'"KORG USA, a leading global manufacturer of electronic musical equipment and accessories and a forerunner in mobile musical apps, announces the Module for iPad, a high quality mobile sound module that offers a new style of performance and production.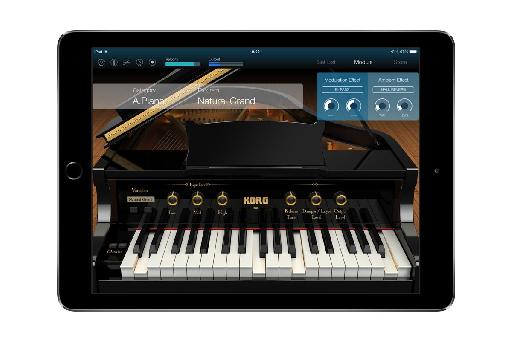 Ideal for performance and music production and integrating iOS technology, the KORG Module is a high-quality sound module app for iPad that contains a sound library over 1 GB. It features five dedicated sound engines containing high-quality sounds, a convenient set list function with PDF image score viewer and music player, as well as the ability to record performances, and share song sketches on SoundCloud.

The KORG Module allows the user to play studio-quality keyboard and grand piano sounds anywhere, utilizing an iPad and an external MIDI keyboard. It can also be used with the KORG Gadget music production app.

Operating Requirements
OS iOS 8.1 or later

Device iPad Air 2, iPad mini 3, iPad Air, iPad mini 2, Fourth-generation iPad, Third-generation iPad, iPad 2, iPad mini

Devices and approximate polyphony iPad Air 2: 72 voices, iPad Air, iPad mini 3, iPad mini 2: 64 voices, Fourth-generation iPad: 48 voices, Third-generation iPad, iPad 2, iPad mini: 32 voices

*The polyphony will depend on the sounds and on the latency setting.
Required Free space 1.2GB Expansion Sound Libraries - SYNTHOGY Ivory Mobile Grand : 2GB, - KORG Wurley Electric Piano : 120MB

*If used with an expansion sound library, it is recommended that the Module be used with an iPad that has a high storage capacity.

Specifications
Sound Generator NATIVE ENGINE

The number of Programs 90

Module Five types: ・Acoustic Piano・Electric Piano・Organ・Clav・Multi

Master Effect Modulation effect, Ambience effect, Usable simultaneously

MIDI Play using an external MIDI keyboard, Program change, The damper pedal can be used to switch the rotary speed, Virtual MIDI, MIDI over Bluetooth

Interoperation with KORG Gadget Usable in Gadget as five types of Gadget

Set List Functionality Change programs for each song you perform, View images or PDF scores, Use the internal camera to capture memos, etc. Edit text to create memos, Load text files, Load and play songs from the library of the Music app

MIDI Player Adjust the playback speed of songs, Load and play Standard MIDI Files,

Audio Recording Upload to SoundCloud, Upload to Dropbox, Export to Mac/PC via iTunes file sharing

Velocity Curve Dynamics can be varied by your playing on a MIDI keyboard,

Others Inter-App Audio, Audiobus 2 support

* All product, company, and standard names are trademarks or registered trademarks of their respective holders.
* Appearance and specifications of products are subject to change without notice.
Web: http://www.korg.com/us/products/software/korg_module_for_ipad/
(Korg Module for iPad will be available on iOS App Store end of November 2015.)