Rumors of the Prologue from Korg have been flying around since late 2017. Today, despite a brief leak of some photos by an international distributor, Korg have officially announced their next generation multi-voice programmable analog synth. In fact, there are two models of the Prologue: 8 and 16.

Here's all the details of the new Korg Prologue that will be available to buy later this month.
Melville, NY – January 18th, 2018 – In 2015, Korg released the Minilogue; a four-voice polyphonic analog synthesizer that took synthesis to the next level by offering a beautiful user interface and supremely usable sounds, at a price point unlike any other in the industry. Following its success, 2016 brought us the Monologue; a programmable, powerful and groundbreaking monophonic analogue synth, with a unique sound and further technological advances. Today, Korg has unleashed the ultimate multi-voice, multi-timbre, multi-engine polyphonic analogue synthesizer: the Prologue.
This fully-programmable, fully-featured professional synth is Korg's long-awaited full-sized polyphonic analog flagship, equipped with a full 49 or 61 keys, powerful discrete circuitry, a newly developed open- source multi engine, and stunning DSP-based effects. The Prologue is available in either 8 voice (49 key) or 16 voice (61 key) models with multi-timbral zoning options, as well as multi-effects presented with an intuitive interface, improving on its predecessors, plus Korg's best full-size synth action, also found in Korg's popular Kronos workstation.
"The features, power and one-of-a-kind architecture that Prologue offers result in a completely unique polyphonic analog synthesizer, capable of producing an expansive range of sounds that are simply not possible on any other synth," says Director of Technology at Korg USA, James Sajeva. "Korg's best-selling minilogue and monologue synthesizers have definitely set the mark for analog synthesis, but the Prologue raises the bar even higher and we're ecstatic to introduce this state-of-the-art product to the world," Sajeva ends.
The new prologue is a two-timbre synth that allows two different programs to be played simultaneously. In addition to layer and split, the Prologue provides four voice modes: Poly, Mono, Unison or Chord, allowing the user to freely combine the 16 or 8 voices for performances. The dual effects section includes Mod and Delay/Reverb, each with areas for user-created algorithms.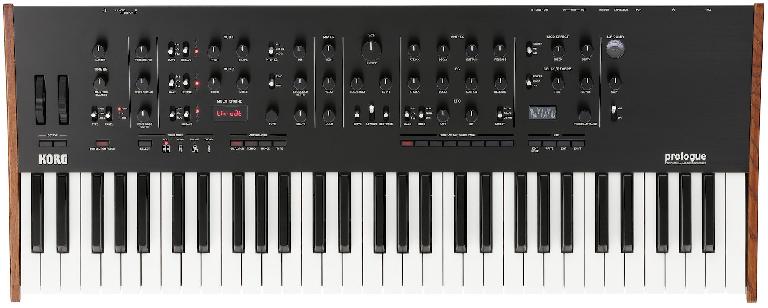 Perhaps the most impressive component to the new model is the user-creatable oscillators and effects, for a never-before-seen level of customization and sonic possibilities. Users can program their own oscillators and effects or download fresh and exciting code created by others to use on their own Prologue.
Korg's Prologue will make its debut at the 2018 WNAMM show at the Korg USA booth; #8802 in Hall B, with exclusive demonstrations planned throughout the show.
Prologue Main Features
16/8-voice analog synthesizer circuit.
Newly developed multi-engine equipped with three types: noise, VPM, and user.
High-quality digital effects.。
An open API (Application Programming Interface) for user-created oscillators and effects。
Newly developed L.F. COMP. (Low Frequency Compressor) analog effect (prologue-16 only).
Bi-timbre support.
Voice modes that allow voices to be flexibly recombined.
Arpeggiator equipped with a variety of types and range settings.
Program Sort allows rapid access to 500 programs.
Japanese-made high-quality natural touch keyboard.
Oscilloscope function shows the waveform visually.
Tough and stylish body made of aluminum and wood.
Sync with another groove machine to enjoy jam sessions.
Lineup includes a 16-voice 61-key model and an eight-voice 49-key model.
Price: Korg Prologue 8: $1499.99 | Korg Prologue 16: $1999.99
Available: January 2018