(MELVILLE, NY'"November 28th, 2014)'"KORG USA, a leading U.S. distributor of multiple lines of musical instruments and accessories, has partnered with littleBits to expand distribution of their SYNTH KIT. The SYNTH KIT shares the form factor of littleBits' ever-growing library of electronic modules, which snap together in near-limitless configurations to help users invent their own imaginative, functional devices.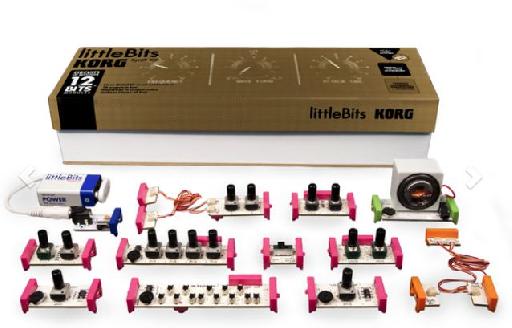 littleBits and KORG Inc. collaborated on the product in 2013, when the littleBits SYNTH KIT debuted. KORG USA is now helping to expand the distribution into the MI channel, said James Sajeva, brand manager for Korg USA.

For the first time, the littleBits SYNTH KIT enabled curious hobbyists and musicians to easily explore the iconic synthesizer instrument; allowing them to build their own sound machines (with signal generators, modifiers, modulators and controllers) and put on their own performances - all with little to no engineering or musical knowledge.

Here's one of many videos available showing the littlebits Synth Kit in action:
More information about the SYNTH KIT and its specs may be obtained at: www.littlebits.cc