Editor's Note: Within a matter of hours of the campaign going live on Kickstarter, KordBot has already reached over 25% of the goal. The limited rewards are going to go like hotcakes....!
22 February 2015–ISLA Instruments (AYE­la) have announced the launch of their much­ anticipated KickStarter campaign for an advanced MIDI controller named "KordBot".
KordBot is a music production assistant that combines a MIDI chord generator, arpeggiator and step sequencer in a single unit. It was developed in order to fill a gap in music hardware offerings as perceived by founder Brad Holland, who decided to design the unit he wished he could find on the market.
KordBot enables users to quickly and easily play thousands of chords on any polyphonic musical system which 'speaks' the language of MIDI (M​u​sical I​n​strument D​i​gital I​n​terface). It is capable of sending and receiving signals over a 5­pin MIDI connection, USB or Bluetooth, enabling users of tablets, phones, computers or any other MIDI compatible software or hardware to make music. It boasts 32 pre­programmed, popular chord types (including inversions for each chord), as well as being able to store up to eight user­created custom chord types.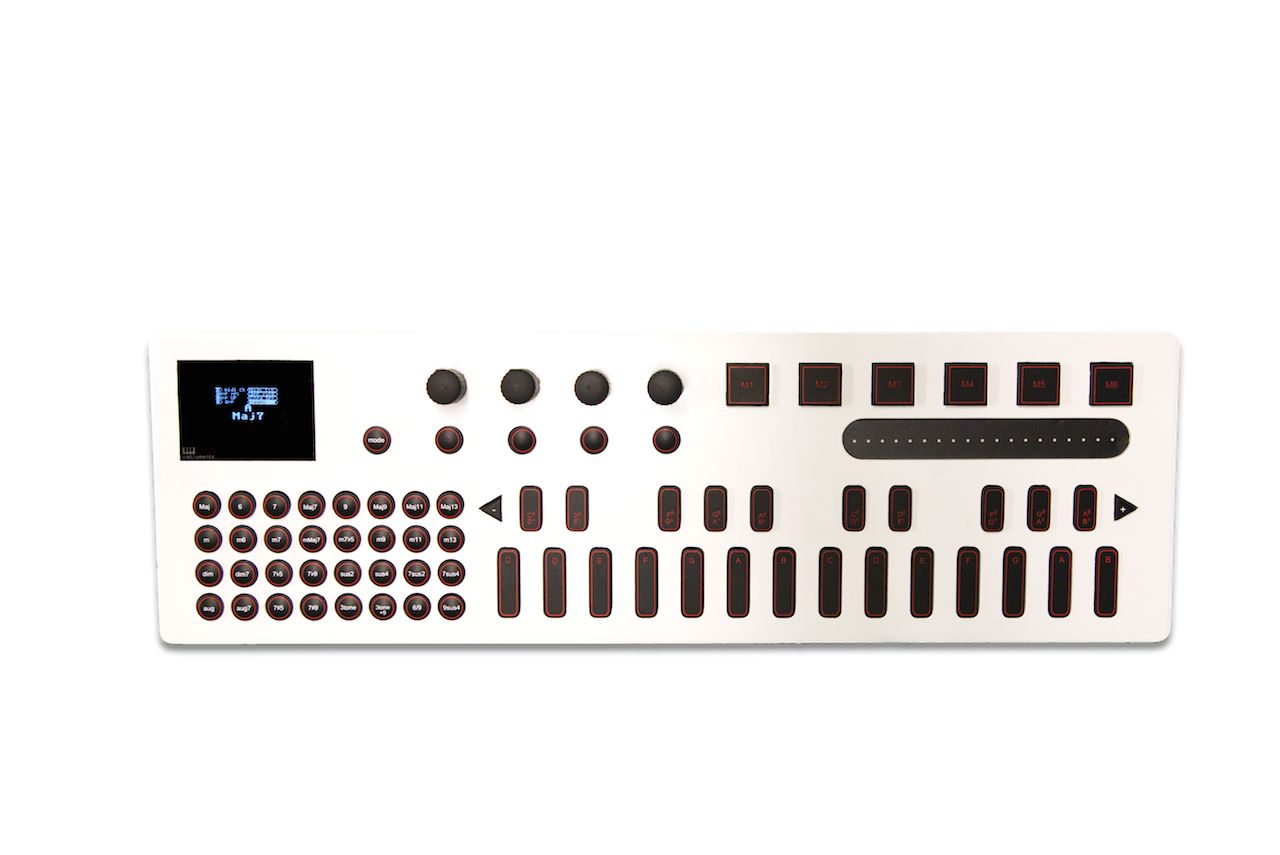 For creating fast ideas, 'Song Builder' mode lets KordBot automatically pre­select the seven harmonicallyrelatedchordsofascale knownasa'diatonicprogression'.Thesearestandardchord sequences available from fourty­nine scales and scale modes, such as Major, Minor, Penatonic and
Blues scales, Lydian, Phrygian, Aeolian and Locrian modes and more. Exotic scales are available as well, such as Pelog, Hungarian Folk, Balinese and Oriental. Up to four scale types and key signatures can be selected, accessed from the four chord modifier rows on the left side of the unit. The resulting diatonic chord progressions of each row then form a sort of 'musical palette' for inspiring song ideas with the push of a few buttons.
Other KordBot features are the unique chord 'strum' feature, where users can slide across the built­in ribbon controller to strum the notes of the chord. Speaking of which, the ribbon controller is also both pressure and location sensitive, allowing 2 axis control of sound parameters during user­configurable MIDI Continuous Controller commands (MIDI CC). This means 2 separate real­time MIDI CC parameters can be manipulated at once, such as pitch bend and vibrato levels.
The advanced Arpeggiation unit includes 'humanisation' and 'swing' functions to vary note velocities and/or note/chord start times and lengths. The arpeggiator has all the usual up/down patterns as well as the ability to store user­created patterns. It may also be syncronised to an external MIDI clock if desired.
Kordbot is not only just a tool for the studio, It's a truly powerful learning device ­­ KordBot's illuminated keyboard displays each note of the chords played. This is a great way for users to quickly learn how to play the chords themselves and for quick reference lookup of chord fingerings.
Support KordBot on Kickstarter here: https://www.kickstarter.com/projects/islainstruments/kordbot-midi-chord-generator-arpeggiator-step-sequ?ref=project_link
Feature & Specs
Chord Generation
KordBot contains 32 built-in chord shapes along with inversions.
Users can also input their own chord shapes.
Song Builder Mode where KordBot will automatically pre-select all harmonically related chords in a given key and present them to the user for quick access.
A ChordSpread rotary control expands the amount of notes used in the chord
Humanisation functions to vary note velocity and starts of notes.
Chord Strum mode - Use Ribbon controller to strum notes of a chord.
Arpeggio
Access to the same functions as chord mode.
Standard arpeggio patterns up/down/updown and many different patterns including the ability to enter user patterns.
Variable note length
Sync to an external MIDI clock
Strum / Repeat / Latch modes
STEP SEQUENCER (currently still in development)
32 steps
Up to 4 sequencer channels
Each step can play a single note, rest , chord or midi CC
MIDI MODE:
Use as a normal MIDI controller, 32 chord modifier buttons become note on/off buttons (can be used for launching clips in Ableton, etc.)
All controls, including the pressure and location sensitive ribbon controller, can be assigned to MIDI CC
memory pads can be used as drum pads.
USER INTERFACE
Two Octave illuminated keyboard (chord fingerings are presented to user)
32 'Chord Modifiers' illuminated (8 reconfigurable for user defined chord types)
Four rotary controllers with push buttons for settings change
Six Chord Memory pads, illuminated
128 x 64 OLED Display
Four-inch force and location sensing ribbon controller, assignable to midi cc or used for the 'strum' feature.
CONNECTIVITY:
Standard MIDI 5 pin DIN IN/OUT
USB host midi interface / power
SYNC in/out for classic hardware
Sustain pedal input
Bluetooth MIDI
DC input jack (for MIDI only use)
Rechargeable Lithium Polymer battery (if stretch funding goal reached)
DIMENSIONS:
Width: 14" / Depth: 4.5" / Height: 2.5"
Weight: 600gms (approx)
About The Inventor, Brad Holland
"I've been making music for almost 20 years and I'm reasonable at playing the piano, but have never known much in the way of musical theory. Because of this, I find it hard to come up with new chord progressions during the writing process. I often find myself stuck playing in the same key or repeatedly using the same basic chord shapes that I'm comfortable with.
"I've always dreamed of a device that would help me break out of my comfort zone and discover new chords and voicings that I wouldn't normally use. So, I designed one!
"Now, Instead of just settling with a basic chord shape, I can play around with 100s of variants of a simple C chord and choose something that sounds far more interesting than just a major triad. I find entering notes into the piano roll a real buzzkill when I'm in production mode and so having a piece of dedicated hardware in front of me makes the writing process much quicker and more importantly, a lot more fun.
" KordBot has also greatly improved my playing because the separate notes of each chord illuminate on the keyboard showing me the correct fingering. KordBot doesn't just play the chord for me but it also teaches me how to play the chord. So, it's a great educational tool as well as being a great compositional aid."
History Of KordBot
Work started on KordBot in late 2014, when Brad Holland started building prototype ideas to output preset chords over the MIDI protocol and his imagination quickly ran away with him. After a while,it became clear that his own programming skills couldn't keep up and so he sought assistance from someone more experienced in software development.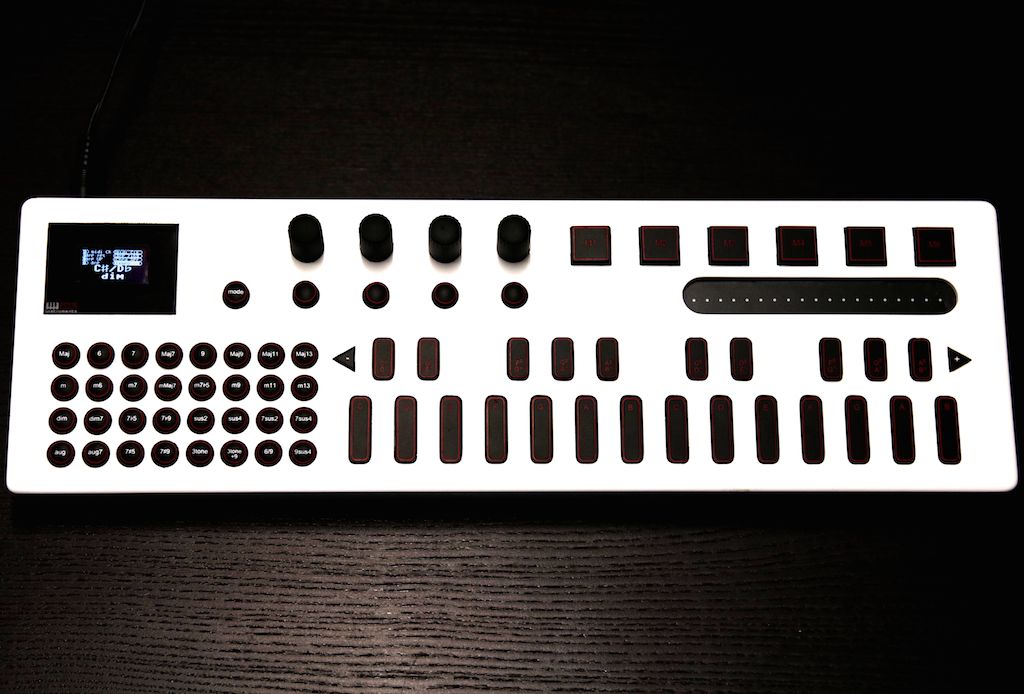 After several online meetings with programmers from various different disciplines, he was beginning to despair with the whole situation and then received another application from a man called Bill Behrendt. Brad explains: "What struck me about his application was that he had experience in both coding AND music. We got talking and he mentioned that he wrote a few books on the subject of music and computers in the early 1980s and started reeling off a few titles, one of them being 'Music & Sound for the Commodore 64' that title seemed very familiar to me and so I found myself quickly google image searching the book, and then it dawned on me!"
Brad continues, "A sudden rush of memories hit me like a ton of bricks. I was a Commodore 64 fanatic and at the age of about 12 was heavily into computers and making music. It turns out that very book was like a bible to me as a kid. I found it quite amazing to say the least that my life would lead me, some 25 years later to the very guy that helped to influence me into much of this in the first place. I don't think of myself as a superstitious man, but it sure seems like the stars aligned to make all this happen."
So here's where Brad finds himself now, about to launch a product that he has been dreaming of for years, built upon a chance internet meeting of two like-minded guys that unbeknownst to them, already had a lot of history together.
Web: https://www.kickstarter.com/projects/islainstruments/kordbot-midi-chord-generator-arpeggiator-step-sequ?ref=project_link