Kontakt 5 saw the addition of a new internal bus structure for instruments. On the surface this may not seem very exiting but it sees a radical shift in the way you can sub mix and effect Groups in Kontakt.
Why is this so special? After all, you've always been able to route Groups to different outputs in Kontakt. Trouble is when you do this, the Group bypasses the global insert effects and goes straight to the Kontakt mixer unprocessed.
Till now, the only way you could sub mix and process various combinations of Groups in an Instrument differently and 'easily' was inside the Kontakt mixer. You would otherwise need a very good working knowledge of KSP scripting to control all your Groups simultaneously!
The new Bus architecture seeks to rectify this. You can now sub mix and effect combinations of Groups as a whole before they hit the master 'Insert Effects' or the Kontakt mixer. This makes everything a whole lot more flexible. It also means you can build more complex Instruments that deal with more than one category of sounds as each 'category' can have its own Bus with its own set of Insert effects.
This is why you'll find most Kontakt instruments up to this point are very specific to one 'sound' with generic (Master) Insert Effects that effect the whole Instrument.
Buses At Work
The prime example of this new 'Bus' system is Studio Drummer. This is the first Kontakt instrument that utilizes this feature, and to great effect. Here's why!
Let's take the Snare channel. This is comprised of around 70 Groups, each Group contains multiple Zones that deal with velocity layering and Round Robin triggering.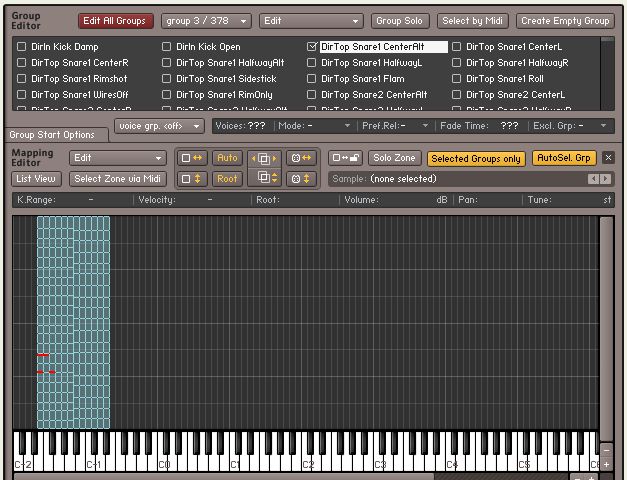 Within these 70 Groups, there are three sub categories of Groups. Top Mic, Bottom Mic and Bleed. The balance of these sub Groups is controlled via KSP scripting. Each sub Group is controlled by a Fader in the interface.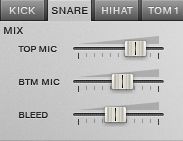 All 70 Snare Groups are then routed or 'sub mixed' into their own Bus (There are 16 Busses available). In this case the Snare Groups are going to 'Bus 2'. You can see this in one of the Snare Groups output routing.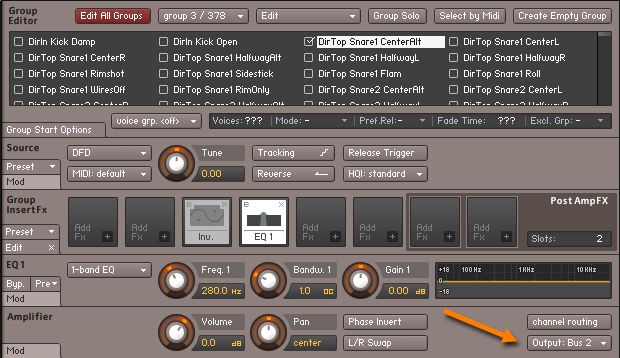 In the Instrument Buses panel, we can see the Snare signal in Bus 2. You'll also see all its associated Ambience samples coming in on Buses 10-12. All Groups relevant to each set of Ambient samples (OH, Room, OH Mono) have their own Bus too. These are seen in the interface as a Mixer Channel.

The most powerful aspect of this is that each Bus has its own set of insert effects and send controls. You can see the Insert Effects for Bus 2 here.

These are represented in the instrument with a nice user interface, again using KSP scripting.

In fact pretty much the whole Mixer interface is controlling parameters at the Bus level.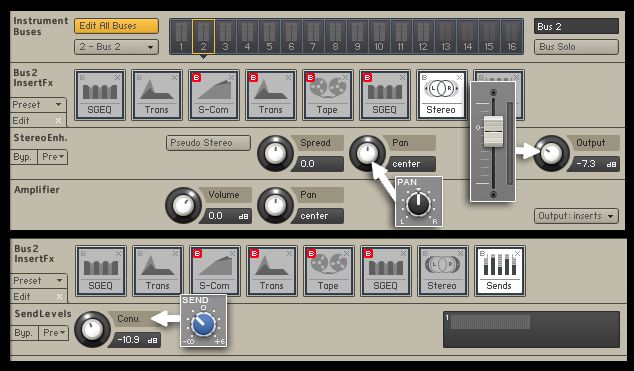 Compare this to the interface of the first incarnation of Abbey Road 70's Drums where the interface has similar controls but manipulates everything at the Group level. There is also no effect processing for the channels as it would mean duplicating effects over hundreds of Groups.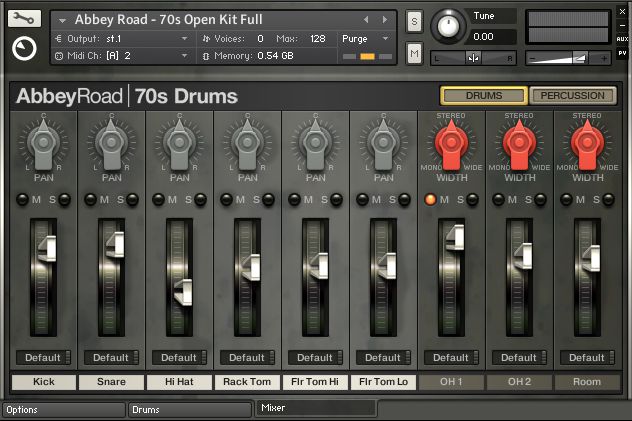 You'll be pleased to know all Abbey Road Drum libraries have been updated to fall in line with Studio Drummers interface.
Lastly we have the Bus output assignment. This is controlled by the 'Channel Output' section. Currently the Snare channel is routed to the 'Master' fader.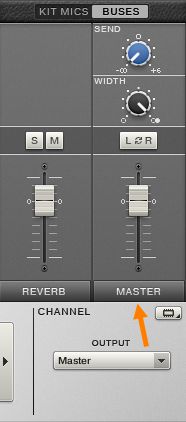 The Master fader is actually the 'Global' instrument Insert Effects.

If I change the setting in the interface, you can see the routing is now changed for the Bus.

This will now show up in the Kontakt mixer on st-2. This channel now bypasses the global 'Kit' effects on the Master channel but retains its unique Mixer channel (Bus) effect settings. This means you can bring each mixer channel into your DAW 'pre effected' by Kontakt.
You're going to be seeing a lot of new Kontakt 'product' built this way. Flexible routing and complex user routable effects chains. I can't wait to see what developers come up with!