There's a lot of emphasis on the synth and sample side of Komplete 10 Ultimate. With great synths like Massive, Absynth, FM8, Reaktor and Kontakt, it's easy to forget that Komplete 10 Ultimate comes packed with a vast amount of really creative sound processing tools too.
In fact some of the most 'out there' effects you'll find are made using the FX engines from the synths that come with Komplete 10 Ultimate. Here's a round up of some great tools for warping your sounds plus a few hidden gems!
Driver
Driver is a super cool distortion and filter plugin that is capable of doing subtle processing all the way to some really tooth enamel stripping effects.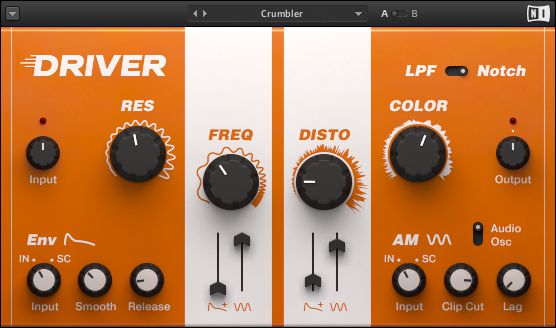 There are four basic sections. The Filter features the usual Freq and Res controls and can be switched between a LPF or Notch mode. On the right side is the Distortion module which has an amount knob and a Color knob which controls the tone of the distortion.
Both these effects can be controlled by the two modulator sections. The first is an Envelope Follower which can be driven by the current channel audio or the Side Chain Input.
The second is an AM (Audio Modulation) section which can be used in two modes. The first is via the incoming audio or Side Chain, the second is via a built-in Oscillator. You could think of this mode like an LFO although it goes well into the audible frequency range (26 Hz–15 kHz).
The thing about Driver is it's really easy set up quick patches from scratch and is extremely versatile. The AM section is killer and can produce some really extreme effects that are hard to find in other plugins. Take a listen!
Supercharger GT
Supercharger is a really nice Compressor with a twist. Billed as a 'character compressor' it features a 'Saturation' stage for adding anything from subtle harmonics all the way to outright distortion! The 'Character' control is like an EQ stage that adds emphasis to certain frequency ranges. Put all this together and you have a very nice sound shaping tool!

I put this plugin somewhere in the region of Soundtoys' excellent Decapitator plugin. You can add a nice bit of warm tubey grit or completely smash the hell out of something with it. What's not to like about that!
Absynth
If you've never tried Absynth as an effects plugin you're seriously missing out! As a synth, it's pretty hardcore but it's no slouch as an effects processor too! This is because each of its three oscillator sections can be used as Audio Inputs. This therefore gives you access to everything that Absynth has to offer as a synth, but on incoming audio.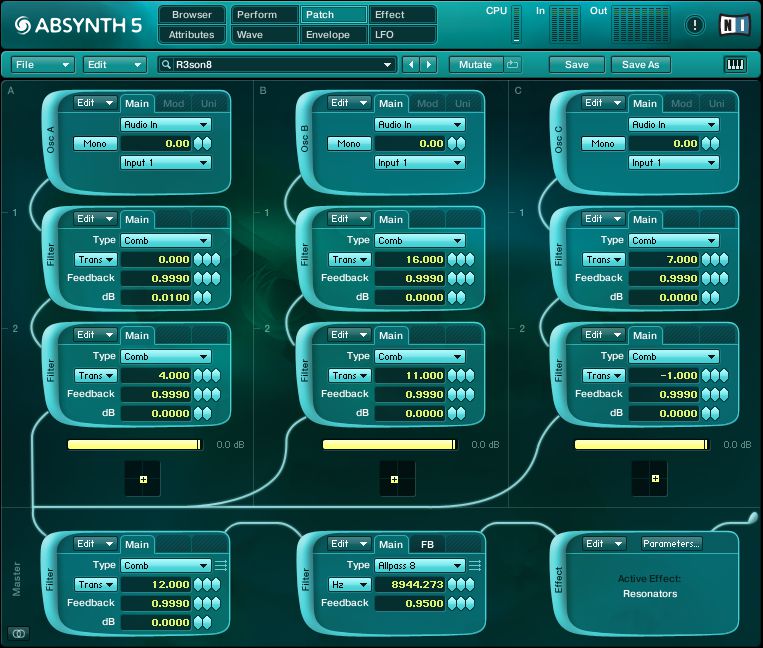 Filters, Waveshapers, Effects and of course Absynth's complex Envelope section (which can be triggered via audio signals) give you a seemingly endless amount of creative scope when it comes to effects.
Of course, all of this is fairly complex to get your head around if you're not familiar with programming Absynth. There are however a bunch of great presets to get you started which can be tweaked easily in the 'Performance' tab. You can also hit 'Mutate' to get a whole bunch of new patches!
Worth investing some time getting to know Absynth as it's a unique and powerful plugin.
Reaktor
If you thought Absynth was a beast, then Reaktor is the monster that eats beasts for breakfast. Let's forget the fact that you could actually build any effect imaginable from the ground up using Reaktor's modular toolset and instead focus on the insane amount of content that comes with the program.
You'll find everything from simple modulation effects, guitar amps, delays, vocoders all the way up to crazy slicers and dicers amongst the included stock library. It's worth delving into this as there's an Aladdin's Cave of stuff inside the 'Instruments' and 'Ensembles' folders.
The supplied 'Player' ensembles are packed with effects goodness too. Tim Exile's The Mouth and Finger are fantastic and jam-packed with cool effects. It's new addition Molekular is really something else!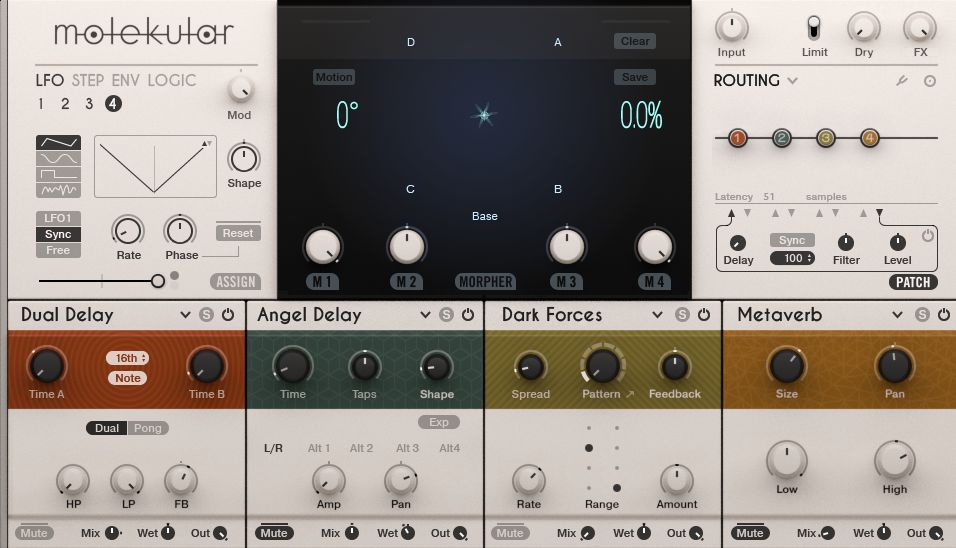 It has to be one of the coolest effects processors ever made. It churns out new and awesomely bizarre sounds no matter what you throw at it! There's some clever people at NI!
Oh, and don't forget the huge library of content generated by the Reaktor community that's available online too! Phew!
Guitar Rig
Guitar Rig 5 is so not only for guitars! It contains just about every effect you can think of! Modulation, Pitch, Delays, Filters, Reverbs, Distortion, EQs, Compressors and more! All of which can be automated, modulated and sequenced in series or parallel to create some majorly cool stuff!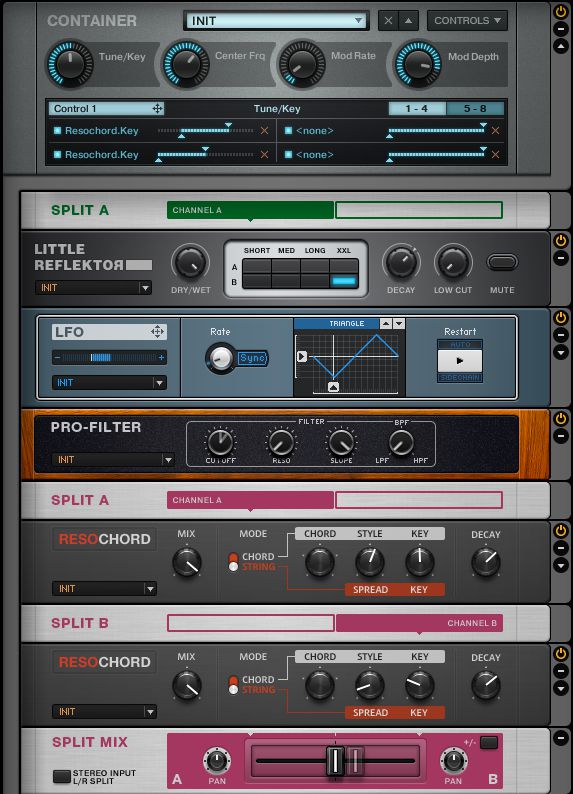 Chuck drums into it, synths, vocals! It's all good! It has a great convolution reverb with loads of weird sounds and Traktor's 12 has some very simple but creative tricks up its sleeve!
This modular effects rack is great for most basic effect scenarios all the way up to complex sound design jobs. Oh, and it sounds great for guitar amps too!
And the rest!
Let's not forget that you also get a whole host of great EQ and Compressor plugins with Komplete 10. Solid Mix Series, Vintage Compressors, Premium Tube Series and the Transient Master are pretty much all you'd need for a great mix.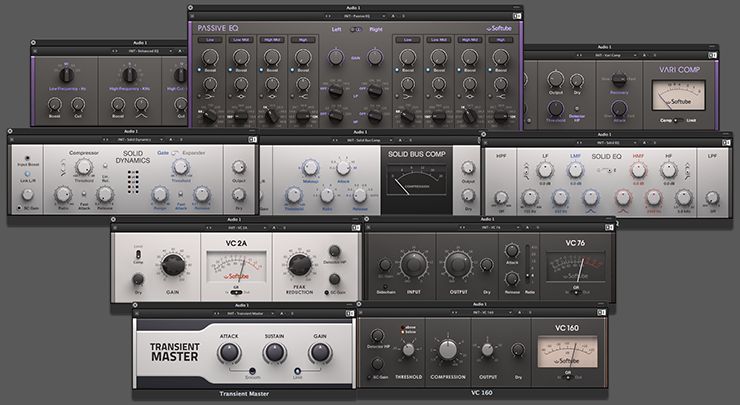 Then there's the RC 24 and 48 reverbs which are superb, and the new kid on the block Replika which is a really killer delay with loads of nice options.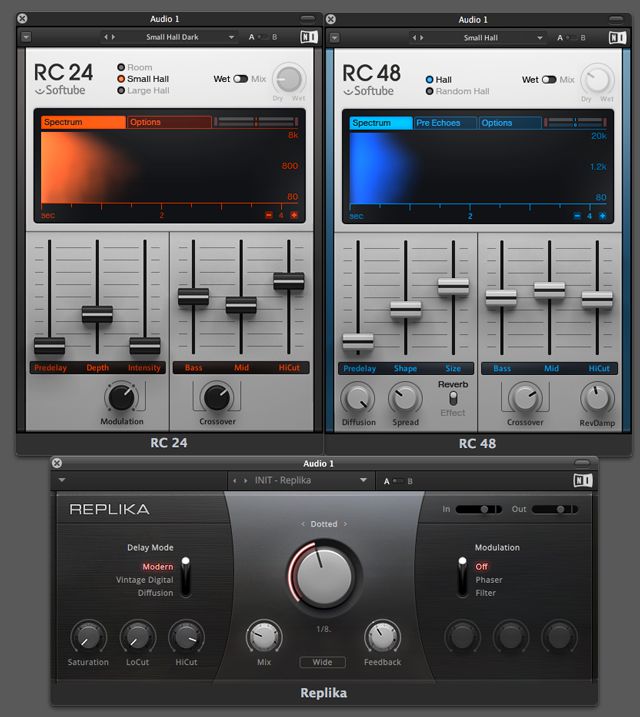 Being that Komplete 10 Ultimate is so vast, it's actually a bit easy to forget how many cool features it has to offer in the effects department, with many of the flagship synths doubling as FX too. There's a lot of bang for the buck!
There are so many cool sounds waiting to be uncovered it could take you a lifetime to find them all! Probably why Komplete 10 Ultimate is the best deal you're ever going to find when it comes to creative music software!