Joué Is An Expressive, Modular MIDI Controller From The Co-Inventor of The JazzMutant Lemur
The Joué is an expressive, modular MIDI Controller, but probably not in the way you might imagine. Created by the original JazzMutant Lemur co-creator, Joué has unique features that promise so much.
We were contacted today by Pascal Joguet, the creator of a unique new modular MIDI controller/instrument called the Joué. The buzz words, "MIDI", "controller", "expressive", and "modular" don't do it justice though. Joué appears to be a controller that is truly flexible and will fit the needs of those wanting to play drum pads, pluck or strum a stringed or fretted instrument, play the keys, DJ or mix levels, and so much more.
The focus of Joué is on natural gestures and high velocity sensitivity which would normally not be found on digital controllers or instruments. If we had to compare the Joué to a similar product it would probably be the ROLI Seaboard RISE, though Joué looks more compact. The form and function for both encourage expressive playing and performance. But there's something about the Joué that helps it stand apart from the Seaboard. Joué is a modular MIDI controller.
It's not a case of attaching or fixing different parts to the Joué though. It's all about placing modules on top of the Joué to transform its functionality. There's a pressure sensitive sensor that you can place modules on. We're talking modules like piano keys, strings, drum pads, and others. They appear to be flexible rubber mats that provide an "analog feel" but having not seen this in person we'll have to wait for more info from the Joué team before confirming.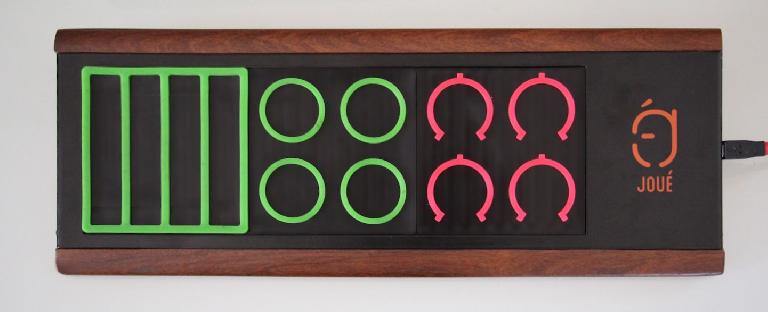 We're not sure yet on the convenience factor of rummaging around your studio for the desired module. "Have you seen the guitar strings module anyone?" But this is certainly an interesting take on customizing a controller so it behaves and responds to the virtual instrument you're controlling the way you'd probably want to play the real instrument.
You may remember the original JazzMutant Lemur released back in 2005. It was years ahead of its time featuring a touch screen for controlling music instruments. It was used by many high-profile artists from Bjork to Daft Punk, Nine Inch Nails to Richie Hawtin, Hot Chip to Richard Devine. And the creator of the Joué is the co-inventor of the original JazzMutant Lemur.
Here's what Pascal from Joué says about their new expressive music controller:
"Joué is an innovative and evolving instrument simplifying digital music playing. It offers beginners and professional artists a unique level of expressivity and spontaneity.
Joué is made of wood and is equipped with a pressure sensitive sensor on which magic modules are placed. Modules like piano keys, guitar strings, drum pads or 3D control surfaces offer an infinite playground for musicians.
"Joué connects to smartphones, tablets or computers using a USB cable. When touched, magic modules send data to your favorite DAW or virtual instrument using MIDI protocol.
"Thanks to the high sensitivity of its sensors and to the unique texture of the modules, Joué offers a completely new playing experience. It allows natural gestures such as vibrato, bending, finger drumming and high velocity sensing normally reserved to traditional instruments to being used with digital and electronic instruments.
"Each module can be configured using the Joué editor software. Once the module is tuned, the configuration is stored in the module itself allowing exchanges during a live performance."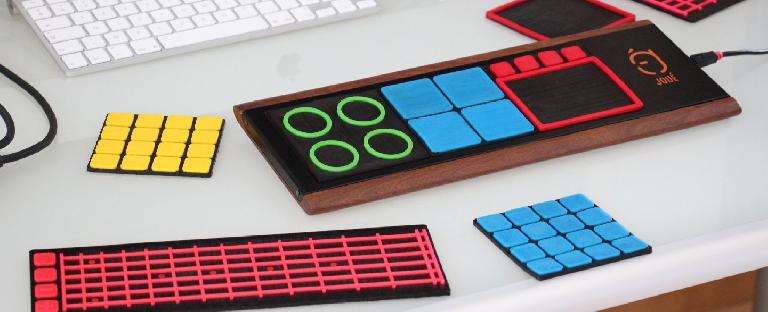 There's no word on pricing or availability yet, but well either update this article or publish again with more details as soon as we know more.