iZotope's VocalSynth2 And Creative Suite Bundle Are Available Now
VocalSynth 2 brings a wealth of new voice synthesis tools, and the new Creative Suite bundles many of iZotope's best-loved processors for a tempting price. Here are the details.
iZotope has added two new products to its impressive lineup of instruments and effects, and they're available now. VocalSynth 2 is a powerful, multi-stage voice processor and synthesizer and iZotope Creative Suite is a collection of many of the company's groundbreaking plug-ins and instruments - Iris 2, Trash 2 Expanded, BreakTweaker Expanded, Stutter Edit, DDLY, Mobius Filter and it also includes the aforementioned VocalSynth 2.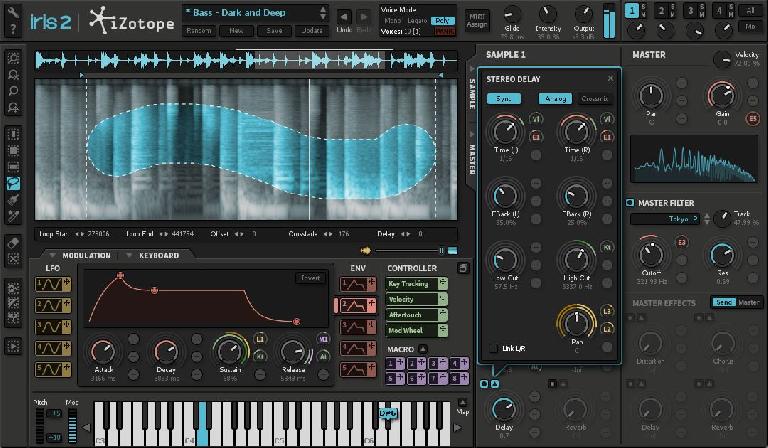 VocalSynth
VocalSynth lets you take a mix through past, present, and future vocal sounds with five vocal processors including Vocoder, Compuvox, Polyvox, Talkbox, and now Biovox: a brand new effect based on the sonic qualities of the human vocal tract. iZotope has re-engineered VocalSynth to sound better, perform better, and provide a better result faster.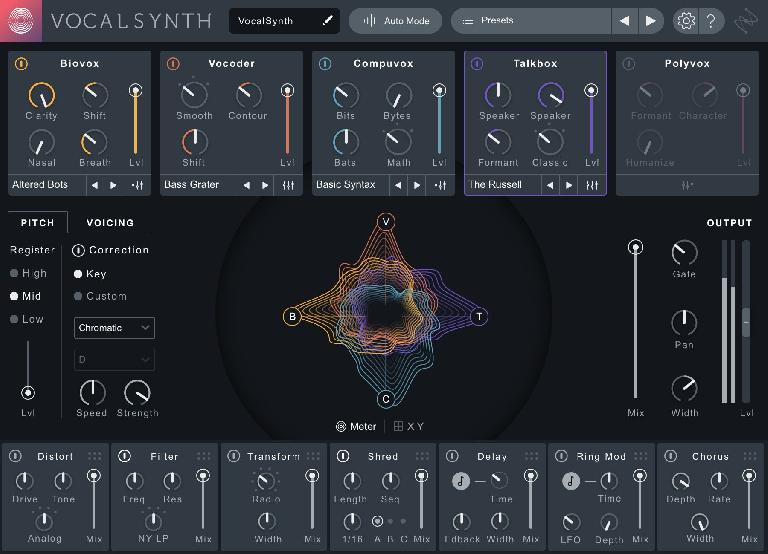 New and updated effects can be found in the stompbox section including: Chorus, a commonly used vocal effect in vocal production and Ring Mod, a new ring modulator with a hint of tremolo. The Shred effect also offers extensive improvements that make it more powerful for chopping, slicing, and achieving beat repeating effects.
"In its first iteration, VocalSynth was a go-to for getting the creative vocal effects emusic producers know and love inspired by decades of vocal production styles ," says Kim Pfluger, Product Marketing Manager at iZotope. " VocalSynth 2 builds on this by incorporating user feedback and pushing boundaries into a fun, new space of what vocal plug-ins can do to shape new sounds in vocal production."

The latest module in VocalSynth 2, Biovox, is a completely new effect based on a physical model of the human vocal tract, whose shape is continuously changing according to the input vocal signal providing a relatively neutral, clean-sounding modulation. Biovox is built to sound great across multiple genres with vowel replacement which makes cleaner-than-human, modern phrasing possible.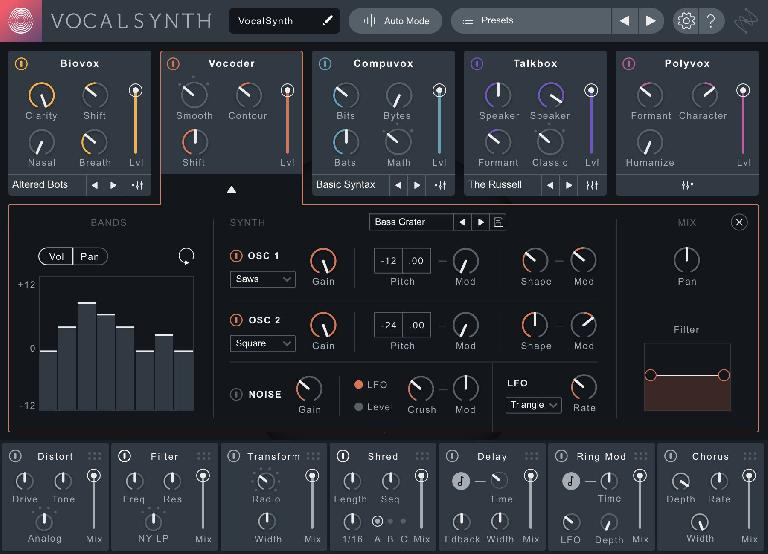 Inter-plugin communication was first introduced in Neutron 2 and Ozone 8 allowing iZotope plug-ins to communicate across different tracks in a mix.VocalSynth represents the next step in this journey. Now users can explore even more creative possibilities with the ability to better understand the context of a track in a larger mix. VocalSynth will be visible in Neutron 2's Masking Meter and Visual Mixer as well as in Tonal Balance Control.
VocalSynth 2 Key Features
Biovox: Using scientific modeling of a human vocal tract, adjust human vocal characteristics like nasality, vowel shapes, and formants for a smooth, textural vocal treatment to any audio signal.
Stompbox-style effects: VocalSynth 2's effects include two brand new pedal-style effects: Chorus and Ring Mod with a unique tremolo effect. Now drag to re-order all seven effects including an improved Shred with sequencer as well as Distort, Filter, Transform, and Delay.
3 ways to play: VocalSynth 2 is built to be flexible, giving you three ways to interact and create: Auto Mode, MIDI Mode, and Sidechain Mode.
Inter-plugin communication: Use VocalSynth 2 within Neutron 2's Visual Mixer and Masking Meter, as well as Tonal Balance Control for a bird's eye view of your music production at all times.
Extensive sonic enhancements to the Vocoder module as well as Talkbox, Polyvox, and Compuvox that improve usability, CPU utilization, and sound quality.
• Reimagined interface with deep control: VocalSynth 2 includes a brand new, modern interface and the addition of advanced synthesizer controls for each individual module. Paired with a fluid, evolving visualization, VocalSynth 2 is primed for hours of creativity with you at the helm.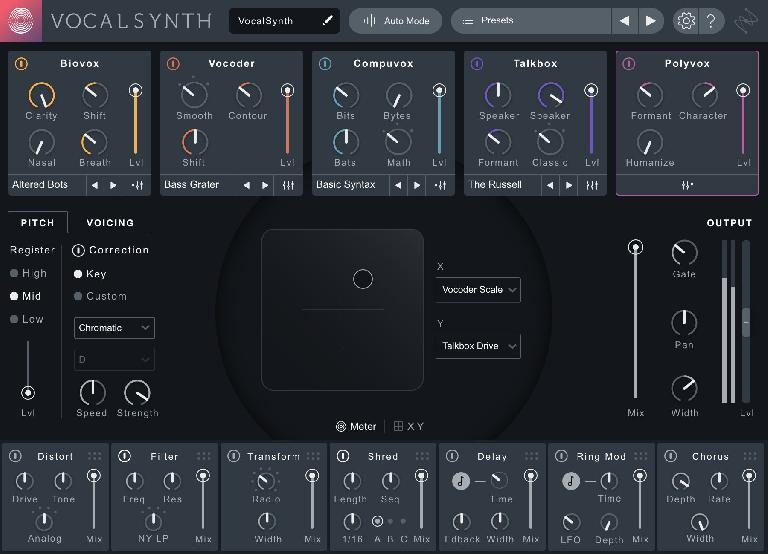 Pricing And Availability
VocalSynth 2 and iZotope Creative Suite are now available at www.izotope.com and select retailers. VocalSynth 2 will also be available Rent-to-Own through Splice for $9.99/per month.

All new products are on sale now through June 28, 2018:
• VocalSynth 2 is available for $149 USD (reg. $199), £139.00 (reg. £179.00), €149.00 (reg. €199.00)
• iZotope Creative Suite is available for $349 USD (reg. $499), £319.00 (reg. £449.00), €349.00 (reg. €499.00)