iZotope, Inc., Cambridge, MA – Feb 4, 2019 - iZotope, Inc., the experts in intelligent audio technology, today reveal their involvement in the newly released, remastered version of the era-defining drama, Baywatch, on Amazon Prime. RX 6, iZotope's flagship Audio Repair plug-in, was used by Warner Brothers audio specialist Brook Dillon to restore audio from every original Baywatch episode for the re-release on the streaming platform. Core modules of RX 6 like Dialogue Isolate and Spectral Repair were critical in the restoration process, given the lack of stems, and were instrumental in giving the audio a new, polished sound while still matching the original mix.
Restoring dialogue and replacing music from decades-old TV audio without stems is a daunting challenge for any post-production specialist, and with the unique nuances of Baywatch's audio such as wave crashes, beach ambience and special FXs. Brook was faced with a complex editing/mix task.

"We were replacing older unlicensed music with new music. If there were stems, I would pull out the old music, mix in the new music, and not a problem. But, in most of the episodes I worked on, there were no stems, so I had to remove the entire piece of audio, "said Brook. "So, I was working with new music and nothing else. Dialogue had to be stripped and any pertinent fx's, BG's or foley had to be added back in."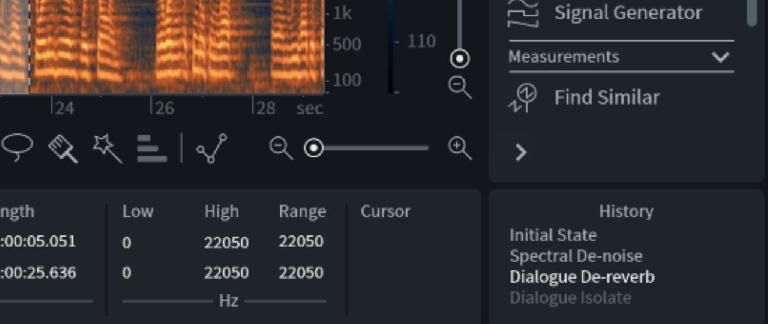 Armed with RX 6, Brook employed the following strategies to restore and revitalize Baywatch's original audio.
Dialogue Isolate
In order to retain the original integrity of the dialogue and mix, Brooks was able to use dx-solate to remove as much of the music as possible and then then cut out pieces of effects, music, and ambiance between the dialogue in order to make it a raw file. A second pass through Dialogue Isolate--or more if needed--served as the catalyst for further fine-tuning the dialogue. During this process, Brook would re-eq the dialogue between isolation passes to help ensure the dialogue sounded of similar quality to the dialogue in the original mix.
Noise Reduction and Cleanup
After working through Dialogue Isolate, Brook used Spectral De-Noise for general noise reduction and cleanup. For particularly thorny areas general de-noising couldn't tackle, Brook delved deeper into the process by masking problem moments with other effects.
Strategic Use of Presets
Presets were integral to Brook cleanup strategy, augmented with modules like de-wind, de-noise or spectral repair depending on the issue he faced. Using presets when working with dialogue from older media helped him get to a good starting point to tweak dialogue and achieve the precise vocal nuances desired. "iZotope delivered isolated dialogue from a full mix, which I could then apply to a remix with confidence and transparency."