Ive wurde ganz in Izotope Iris bekommen in letzter Zeit und seinen erweist sich als ein nützliches Werkzeug für die Manipulation von Drums und Loops sein.
Der Hauptgrund Ich mag Iris ist, dass es erinnert mich an MetaSynth. Die Möglichkeit, Teile des Frequenzspektrums mit Photoshop fast wie Werkzeuge auszuwählen ist eher kühl für mich.
Nun, obwohl Iris ist bei weitem nicht so mächtig wie MetaSynth, wenn es um tatsächliche Bild zu Ton Betrügerei kommt, hat es einen großen Vorteil und das ist die Fähigkeit, Ihre Frequenz Auswahlmöglichkeiten über ein MIDI-Keyboard on the fly zu spielen. Dies alles summiert sich zu einem ungeheuer kreatives Werkzeug.
Loop-Composites
Also die Hauptsache Ive mit gespielt ist Compositing-Schleifen. Jetzt im nicht sicher, ob Izotope für das bedeutete, aber es hat einen ziemlich guten Job davon. Weil Sie effektiv können Sie die Sounds, die Sie nicht wollen, visuell, (sagen wir einen Kick) und vollständig entfernen Sie sie aus einer Schleife es öffnet sich eine ganze Menge Spielraum für eine Zusammenlegung Schlaufen zusammen. Dies ist etwas, das Sie kippe gerade tun mit einem normalen EQ.
Heres ein Beispiel dafür, was ich meine.
Fügen Sie in einem Loop
Um eine Schleife hinzu ziehen Sie sie einfach auf die Iris-Schnittstelle. Ive habe dies der Probe 1 Fenster (es gibt 3 zur Verfügung).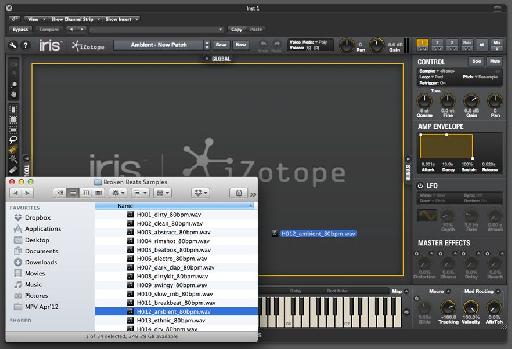 Wirst du sehen das Frequenzspektrum in der Schnittstelle.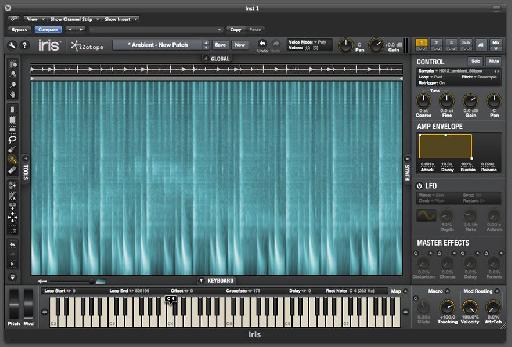 Das Root-Schlüssel für die Probe (C4 in diesem Fall). Alle Ihre Schleifen sollte der gleiche sein Tempo und haben die gleiche Wurzel Schlüssel zugeordnet. Heres meine RAW-Schleife.
[Audio id = "14856"]
Wählen Sie die Tritte
So, jetzt kann ich gehen in und wählen Sie die Kicks mit dem Zauberstab-Werkzeug. Richten Sie für die hellste Farbe. Ein Klick wählt die wichtigsten Frequenzen in diesem Bereich.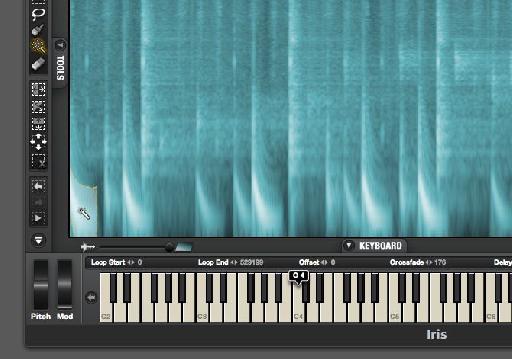 Der Clou ist, wenn Sie wieder auf Iris werden alle Frequenzen harmonisch zu Ihrer ersten Auswahl im Zusammenhang, wie der Klick im Kick wählen! Schön!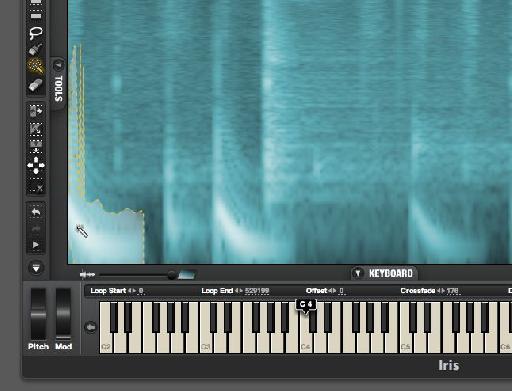 So krank, gehen Sie durch und wählen Sie alle Informationen Kick.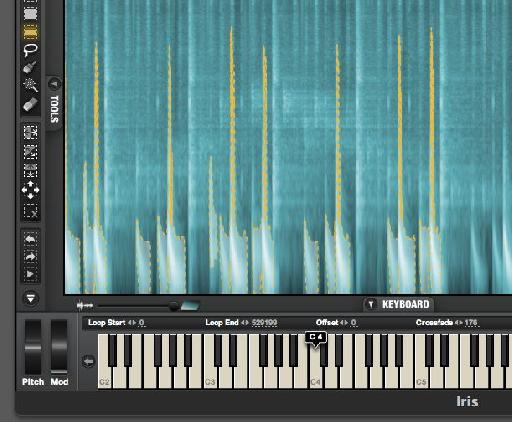 Wenn ich C4 auf der Tastatur spielen hört man nur die Tritte.
[Audio id = "14853"]

Das ist ziemlich clever!
Ich kann immer abperlen irgendetwas in das untere Ende Ich möchte nicht mit der vertikalen Auswahl-Werkzeug. Ich sage, roll off, seine eher eine Scheibe!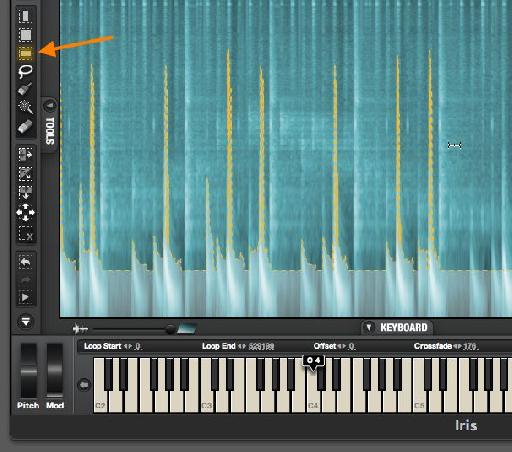 Kehren Sie die Auswahl
So jetzt habe ich nur die Auswahl invertieren und Im mit allem anderen überlassen, dh keine Kicks!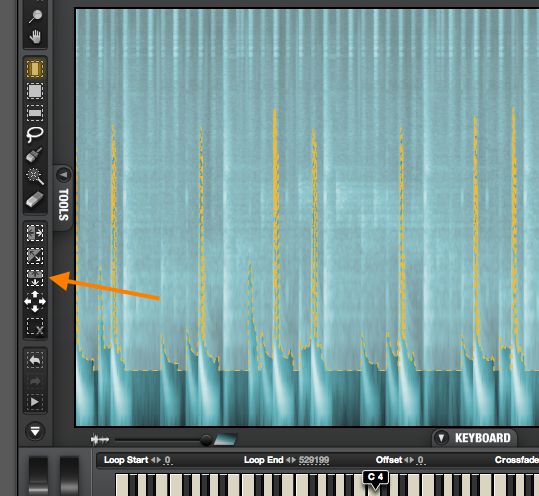 [Audio id = "14858"]
Fügen Sie eine weitere Schleife
So, jetzt Ill fügen Sie eine weitere Schleife in Beispiel 2. Heres die Raw-Schleife.
[Audio id = "14857"]
Heres das Spektrum.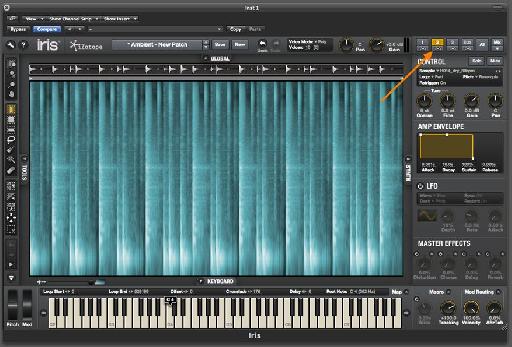 Ill gesetzt den gleichen Grundton (C4) und da sie beide das gleiche Tempo sind wir sollten jetzt eine schöne Composite.
[Audio id = "14855"]
Go Crazy!
In Probe 3, Ill fügen Sie eine weitere Schleife und dieses Mal einen mehr verrückt Auswahl mit dem Lasso und Pinsel Werkzeugen. Das gibt mir eine extremere gefiltert Element.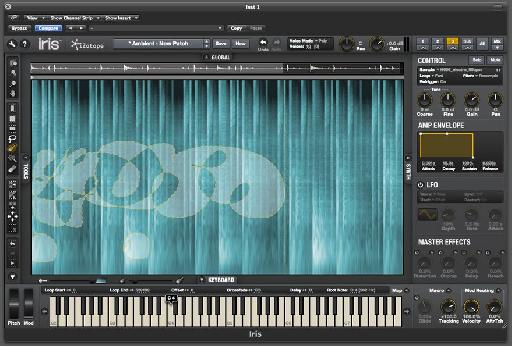 [Audio id = "14854"]

Mit einigen zusätzlichen Effekten aus der Mix-Fenster bekomme ich ein recht interessantes Ergebnis.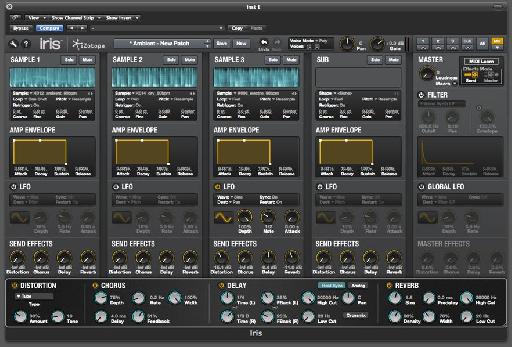 [Audio id = "14859"]

Die Zukunft von Iris?
Iris ist so ein lustiges Werkzeug zu benutzen, und Sie können einige wirklich interessante Sachen aus ihm heraus. Wie Sie sehen können, ist es auch durchaus ein mächtiges Werkzeug zu Korrekturmaßnahmen.
Id gerne etwas mehr Bild-basierte Funktionen (beginnend mit einem Kontrast-Steuerung!) In Iris zu sehen. Die Fähigkeit zu verwischen, würde verschmieren und verwischen be awesome! Vielleicht das ist einfach nicht möglich, obwohl? Immer noch ein tolles Stück Technik aber!