The iZotope Creative Suite features innovative, and inspiring software tools to invigorate any music creator. Out later this month, VocalSynth 2 will feature across the board improvements to the original Vocal Synth, including a new module, new and improved effects, deeper control and customization, and inter-plugin communication capabilities.
Here's a teaser demo video of Vocal Synth 2:
Two exciting updates to iZotope's creative product line: VocalSynth 2 and the iZotope Creative Suite, featuring seven of our innovative software tools. VocalSynth 2 will introduce users to Biovox a brand new module that models the physics and sounds of the human vocal tract. Biovox is great for adding character, breathiness, and shape for a little secret something you can't get anywhere else. This update will also include two brand new effects: Chorus and Ring Mod: a ring modulator that doubles as a unique tremolo-like effect. With this update VocalSynth 2 will join Ozone 8 and Neutron 2 in being inter-plugin communication enabled giving users the ability to see VocalSynth 2 in Neutron 2's Masking Meter and Visual Mixer as well as in Tonal Balance Control.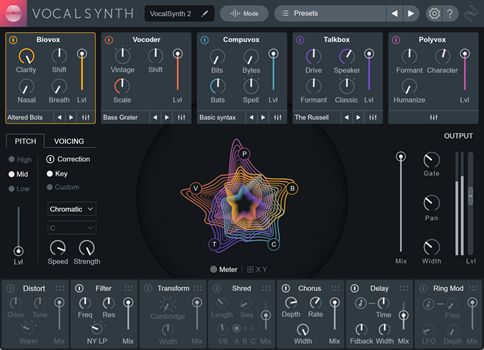 iZotope Vocal Synth 2.
VocalSynth 2 and the Creative Suite both offer creators unique tools to help their mixes standout. This unique collection of creative products are designed to inspire, elevate, and aid exploration.
Available: Beginning May 10th
(iZotope customers will be able to purchase the Creative Suite and VocalSynth 2 prior to availability and will then receive automatic updates upon the release later in May.)