Here's what our friends over at the prolific Isotonik Studios have been cooking up with certified Ableton trainer, Mark Towers...
Our love affair with the AKAI Fire is well publicised, it's unique 16 x 4 button matrix breaks the paradigm of 8x8 grids and lends itself beautifully to step sequencing. We've already released our defining control surface script for it, known as Crossfire from the creators of ClyphX Pro, nativeKONTROL which comes with a Push 2esque Step Sequencer, Note Mode, Drum Mode and Session Mode. What we haven't shouted about much is the fact that it comes with a set of MaxforLive abstractions that enable to build your own devices that interact with this budget friendly controller (you can now buy one without having to pay for the Fruity Loops software that it was originally bundled with).
Ableton Certified Trainer, Mark Towers saw the potential and has come up with a 16 pattern Euclidean Sequencer that you can get hands on with. Whilst you can also use this MaxforLive device with the mouse it really comes to life when you're pushing buttons!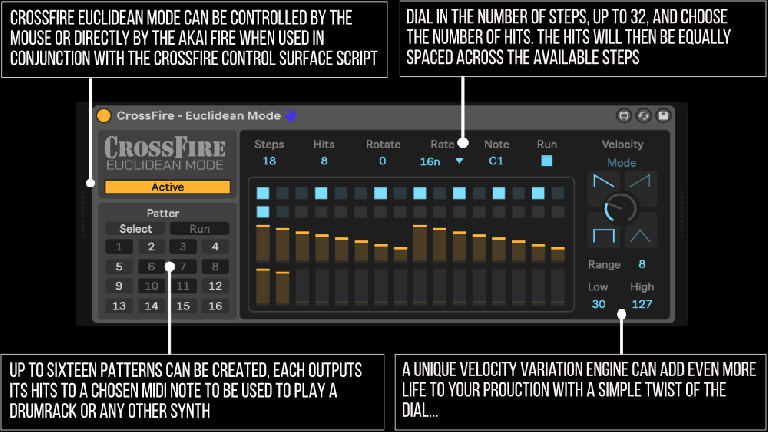 The joy of this sequencer is just how simple it is in operation, it's automatically mapped to the first 16 notes of Ableton Lives Drumrack (you can edit the notes it outputs of course) so you can just drop it on a MIDI track and get to work setting the length of step and number of hits for each of the 16 patterns.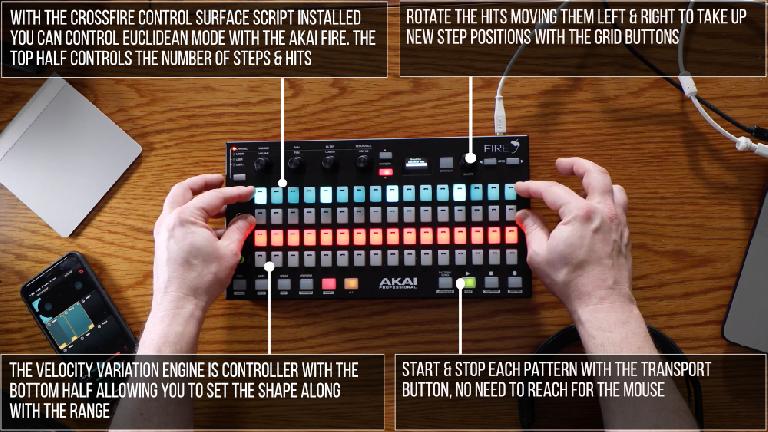 If you don't want a particular pattern to have it's first hit on the first step then you can use the rotate feature to shift the hits left or right
Play with Polyrhythms by changing the number of steps in each pattern to be different and have an ever evolving and mutating beat
Change the rate of how quickly the steps are played for even further randomness
Use the Velocity Variation Engine to add life to your high hats by morphing through four velocity shapes and defining the range over which they'll repeat
Controllable via the mouse or directly from the AKAI Fire as an extension to the Crossfire Control Surface Script from nativeKONTROL