Is The Fingersonic AnalogFusion The Best Of Analog And Digital Worlds In One Synth?
With 6 analog voices, an analog bass engine and a totally separate digital synth engine with 6 voices as well as advanced I/O for studio integration, AnalogFusion has us all excited...
It feels like the analog monophonic synthesizer market has been well and truly ressurected with machines like the Behringer Neutron, IK Multimedia UNO, Arturia MiniBrute, Roland SE-02 and Moog Mother-32. But what about hardware polyphonic synths? There appears to be a growing appetite for playing more than one note at a time as can be seen with the recent Moog ONE, Dave Smith Instruments OB-6, and of course the hybrid analog/digital Dreadbox and Polyend Medusa.
Here at Ask.Audio we are big fans of independent Italian hardware synth designers Fingersonic - you can read our review of their EXP1 synth here: https://ask.audio/articles/review-fingersonic-exp1-synth. And now the company has announced its newest product - and it's bigger and better than even we could have guessed.
AnalogFusion is a no-compromise instrument with two completely separate analog and digital synthesizer engines. You decide whether to create warm analog sounds or pure digital sounds, or layer them.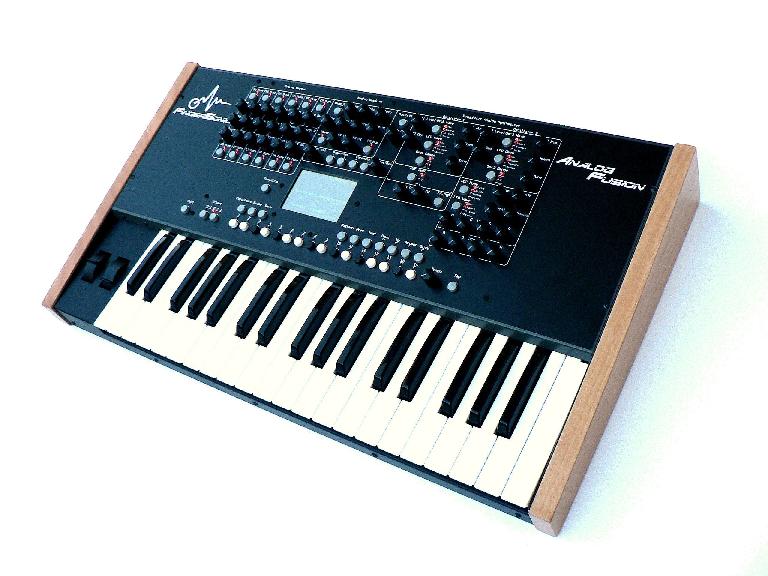 Discrete Analog Circuitry
The polyphonic analog synthesizer engine (6 voices) was developed to provide all the features you could dream of and would usually find on prestigious vintage synthesizers. Each voice is composed of 2 oscillators (3 waveforms: Saw, Pulse, Triangle) with Pwm, 3 lfos, hard sync, ring modulation, multimode filter, white and pink noise generators. The Oscillators are detunable. All the analog circuitry is made with discrete components, no FPGA or ASIC.
Analog Or Digital - Get Both!
In addition to its pure analog synthesis section, AnalogFusion also offers a complete digital synthesis engine capable of doing Virtual Analog (2 oscillators, multimode filter, 2 enveloppes, 3 LFO), FM (6 operators with multimode filter for each voice) or wavetable synthesis. A dedicated drum section is also present with 10 instruments.
Analog/digital layer mode
A layer mode allows you to stack the analog and digital synthesizers, a perfect fusion to create incredibly fat sounds!

Specifications
Analog Synth Engine
6 x 100% analog voices
2 x oscillators per voice (SAW/Square/PWM/Triangle/Noise)
3 x Hardsync mode and Ring modulation available
3 X lfos (SAW/Square/PWM/Triangle/Random) to modulate pitch, filter and PWM
Multimode filter LP24db/LP12db/BP/HP
Analog Bass Engine
1 x additional pure analog voice dedicated to Bass
1 x oscillator (Saw/Square)
1 x 24db VCF
Digital Synth Engine
6 x digital synth voices configurable as:
Virtual analog or
FM 6 operators or
Wavetable synthesis
10 parts digital drums
Sample rate 44,1Khz
Bit depth 16 bit
Channels: 1 stereo
Sequencer/arpeggiator
Integrated easy to use 14 parts sequencer
3 x arpeggiators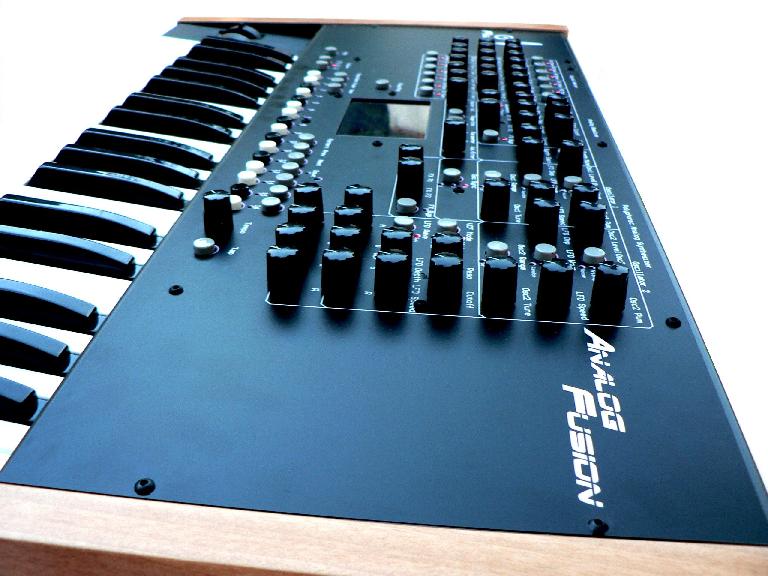 Complete and professional connectivity
The presence of USB, MIDI and CV/Gate allows the instrument to be interfaced with the widest range of instruments and devices and become a key part of your studio. In addition to the MIX and HEADPHONES plugs, separated audio outputs are available for each part of the synth (analog synth, analog bass, digital synth and drums) allowing you to record their raw ouput and apply your own external effects for example.
We reached out the makers of FingerSonic who are not yet in a position to release details about the price. What price tag would you like to see on the AnalogFusion? We're very much looking forward to seeing and hearing this synth in the flesh - keep an eye on Ask.Audio for more news as it becomes available!