The most useful music controllers available are arguably popular because of their tactile nature. Whether it be responsive velocity sensitive pads, rotary knobs that cry out to be turned, ribbon controllers or all physical elements that provide haptic feedback, they all make the process of making music more satisfying than using a mouse or trackpad… or even a touch-screen.
But what about the future of the humble MIDI controller, sequencer or music machine? Looking around us at Maschine, Ableton Push, Elektron's Overbridge points towards a future where hardware and software work closely together to provide flexible user experiences not possible with just one or the other.
That's great… and while customising the interface of software is awesome, the number of buttons, knobs and whatever you have on your corresponding hardware controller remain fixed. But, imagine doing away with this static layout and having a dynamic collection of controls that you could design for every synth, plugin, or collection of hardware machines instead. MIT have designed a new interface called Materiable that changes shape and allows you to touch physical simulations of mathematical models.
What does this have to do with music controllers? Well, imagine a Launchpad Pro 2 or Ableton Push 3 or (insert your favorite controller or control surface here) mapping so accurately to the software or DAW that it actually looks like what you've created on the screen. In short, it can change shape! The bonus is Materiable has motor-driven blocks (they call them pixels) that respond to your touch and provide haptic feedback.
Materiable doesn't just respond to hands and fingers. As the proof of concept video above shows you can use other parts of your body to interact with the 24x24 blocks, which here mimic materials like water and foam. You can also use other objects to interact with Materiable (see bouncing balls) and imagine designing a city scape (think Sim City from the late 90s) where you can adjust filter cutoff by pressing through one building model to another. Another use could be for the blocks to display track levels or EQ dynamically while the musician continues to tweak or program a drum sequence. Possibilities are literally endless...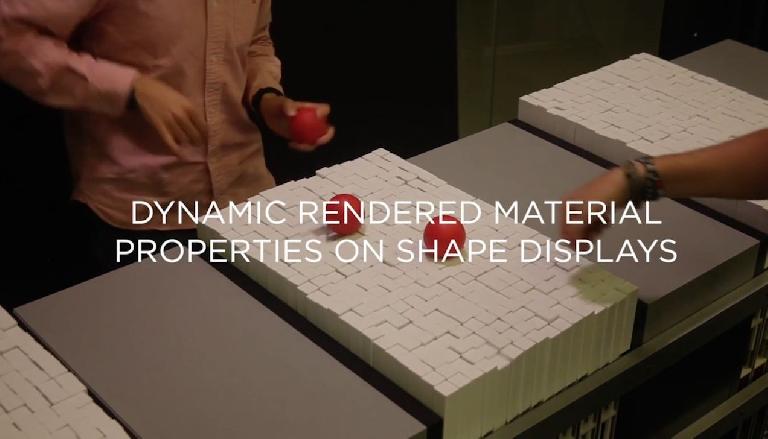 Or you could use other physical objects like balls to trigger clips, effects, etc. in your music software.
Of course, applications for this technology stretch beyond the music industry, but wouldn't it be fun for concepts from Materiable to be used in our favorite music controllers? We could be looking at an entirely new way of programming, sequencing and playing in the studio, and of course performing on stage. Instead of getting hands-on with Ableton Live, Logic Pro or the latest and greatest Moog synth… We'd be getting "Hands-in" (sic).
[Via: Engadget]
Web / PDF: http://tmg-trackr.media.mit.edu/publishedmedia/Papers/598-Materiable%20Rendering%20Dynamic%20Material/Published/PDF