Is Denon's Prime 4 The World's Most Powerful DJ System?
Denon DJ introduces Prime 4, a 4-Channel Standalone DJ System with 10-inch Multi-Touch Display and Dedicated Zone Output. Could it be the most powerful DJ system ever?
Just when you think DJ controller hardware can't get any bigger or more fully-featured, along comes another absolute best of a controller system to prove you wrong. Denon has announced the introduction of their new Prime 4, 4-Deck Standalone DJ system with 10-inch multi-touch/ gesture display, dual-zone output, pro-mixer section, powerful performance pads, dual mic channels and a 2.5-inch built-in SATA drive bay.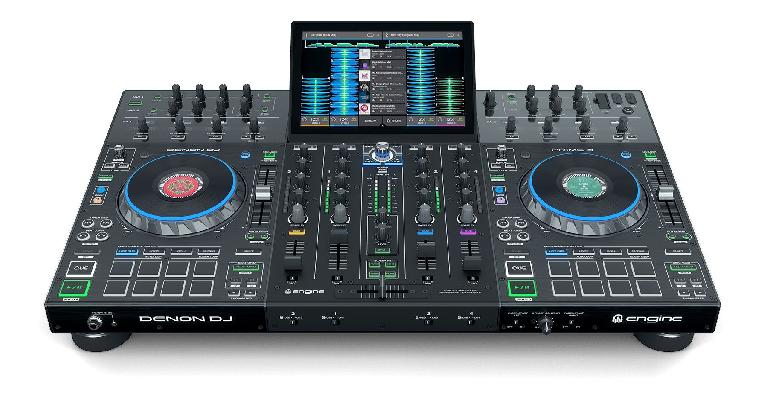 From Touchscreen To Mainstage
Prime 4 features a glorious 10-inch multi-touch/gesture display for the most advanced DJ music library interaction experience available. DJ's can touch, feel, move and play their music with the elegant swipe of a finger for the ultimate, technology driven tactile experience. Prime 4 will deliver that Mainstage experience to any DJ, and in any venue or gig scenario!
Unrivaled Creative Energy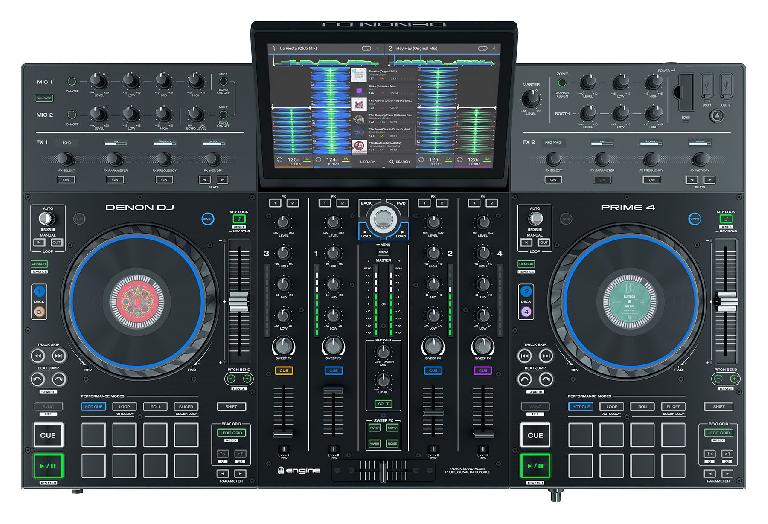 Prime 4's eight performance pads bring the most advanced and easy to use creative expression for DJ's to hot-cue juggle, remix tracks, roll and slice up their tracks for dancefloor and crowd energy. Never seen before on a standalone DJ system, Prime 4 combines class-leading timestretch for DJs to radically mix any track tempo and genre, with real-time musical pitch shifting, matching musical keys with just the tap of a finger!
Two Rooms – Different Music!
Another industry 'world's first' is Prime 4's independent Zone Output, empowering DJs with the ability to send a full playlist of music to a completely separate room or location, all while the DJ rocks the dancefloor in the main venue. Also, keeping the music flowing, Prime 4 can access literally unlimited music files and media sources with no less than four USB inputs, one SD and also a built-in SATA drive bay – A DJs full gig/music set can also be recorded 'live' to any connected media source!
Command Audio & Visual Effects

Prime 4 empowers DJs to manipulate 14 on-board, pro-club DJ Effects, with three quick access parameter adjustments for instant gratification 'in the mix.' DJs can quickly access and manipulate single encoder, dual-function control too for Sweep FX and Filter, across all 4 channels. In addition, any DJ in any venue now has total command over impactful visual elements with lighting and video control via Denon DJ's StagelinQ connectivity and Denon DJ partners Soundswitch, Timecode and Resolume applications.
Built to Last – Built to Perform!
Prime 4 is built on the legacy of 25+ years of superb Denon DJ audio engineering and manufacturing excellence, with rugged metal build quality and detailed, pristine 24-bit Denon DJ audio. Nothing sounds, looks or performs like the Prime 4 standalone 4-channel DJ System. With no existing 'feature-comparable' competitor unit on the market right now, the Prime 4 is affordable DJ technology that is light years ahead of any existing product.
Key Features
4-Deck standalone Engine Prime DJ system
10-inch HD multi-touch display with gestures
Dedicated XLR Zone output provides music to a separate room
Built-in 2.5-inch SATA drive bay to store music onboard
6-inch rugged metal jog wheel with HD central display
(4) assignable input channels for external media sources
(2) dedicated XLR inputs for microphones with individual control
StagelinQ connection for Event/Pro DJ lighting and video control
Plays uncompressed audio formats (FLAC, ALAC, WAV)
Crisp 24-bit Denon DJ legacy audio
(4) USB and (1) SD media inputs for music playback • USB keyboard support
Coming soon | Serato DJ Pro control enabled