Ear training is an important skill to develop as a musician and producer. This is especially true if you play in a band or ensemble. I remember being in concert band for years as a flutist and working on fine-tuning my intonation. Nothing sounds worse than 10 out of tune flutes playing together. As I developed my ear, I often had a hard time deciphering whether my pitch was sharp or flat, because the difference between where I was and the exact pitch was so close.
InTune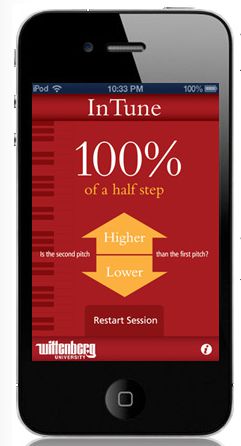 InTune App.
The 'InTune' iPhone app developed by Wittenburg University seeks to help musicians cultivate their fine intonation skills with a simple exercise. Two pitches are given that start a half-step apart and listener chooses which pitch is higher or lower. When you guess correctly, the next two pitches given are a percentage of a half-step. The more you get correct, the closer the two pitches become. You get three mistakes before having to start again. The best score I got was 2% of a half step. I've been trying it with my students too to see what scores they get. All in all, they've got great ears!
This App is most useful to musicians who play in orchestras, concert bands, or any dynamic acoustic ensemble. The starting pitches are the same every time and I think this intonation game could benefit from providing half steps at different frequency ranges or using actually instrument samples to target specific musicians. The tone sounds a bit like a hearing test, but has enough overtones in it to help you figure out the direction of the pitch. This is a very fun and useful App for all music students.
Quiztones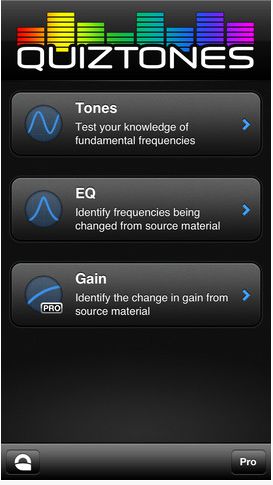 Quiztones App.
There's another great App to help with ear training for music engineers and producers in mind called Quiztones. Quiztones uses test tones labeled in Hertz. The App intends to train mix and mastering engineers (and any producer for that matter) to decipher different frequencies from 100 Hz all the way up to 8 kHz by playing a tone and then offering a multiple choice of which tone is played.
The intended result is to fine-tune our ability to hear an unwanted frequency spike in our mix or sound and use the EQ to correct it properly. The best part about the app is an 'EQ' section where you can play music from your iTunes library, or an assortment of music and instrument samples they provide and try to hear which frequency is boosted by the App in the mix. There are three choices of difficulty for the challenge, with the hardest test being able to hear a -8 dB to -10 dB cut in the mix from the source material of a frequency rather than a boost.
There is a lot to practice here and the App is also easy to use and well designed. The Pro Version has an additional section called 'Gain' that tests your ability to identify changes in gain from source material. Even though we have many spectrum analyzers available, everyone can benefit from developing the ear more.
Round Up
There is still a lot of potential for ear training Apps for iOS. InTune and Quiztones are both very useful and effective for developing musicianship. As more come on the market, I think we'll see Apps that test our ability to hear intervals, chord progressions, keys and more...
Download InTune for iOS here.
Download Quiztones for iOS here.