With the combination of a premium Triple Sensor keybed and our exclusive Virtual Hammer Action Technology, the portable Nord Piano 5 delivers an exceptional playing experience.
THE NORD PIANO EXPERIENCE
The Nord Piano 5 ships with an amazing 9 Grands, 9 Uprights, 10 Electric Pianos plus Clavinet, Digital Pianos and both a Marimba and a Vibraphone. Even more pianos are downloadable for free from www.nordkeyboards.com.

Two independent Pianos and Sample Synths
The Piano and Sample Synth sections of the Nord Piano 5 each contain two independent Layers. The two Pianos and two Sample Synths can be used simultaneously in a variety of split or Layer configurations. Combined with the versatile effects routing, a wide range of combinations can be achieved - from classic ensemble settings to rich soundscapes.
Virtual Hammer Action Technology
Our unique Virtual Hammer Action Technology in conjunction with the physical hammer movements delivers outstanding authenticity and dynamic response resulting in a keyboard action that handles dynamic playing with amazing control at any velocity level.
Highlights
73-note Triple Sensor keybed with grand weighted action NEW
88-note Triple Sensor keybed with grand weighted action
Nord Virtual Hammer Action Technology
Advanced Layering (2 Pianos + 2 Sample Synths) NEW
Advanced KB Split with optional crossfades NEW
Seamless Transitions
OLED display for excellent overview
PIANO SECTION
The powerful new Piano section features two piano engines that can be used simultaneously in a layer or a split.
9 Grands, 9 Uprights, 10 Electric Pianos and much more
The Nord Piano 5 factory bank contains 9 Grands, 9 Uprights, 10 Enhanced Electric Pianos, Clavinet, Digital Pianos, Marimba, Vibraphone and much more from the exclusive Nord Piano Library - all carefully selected for their unique character! Nord's state-of-the-art sampling technology capture the extraordinary nuances and real character of the source instruments.
Our exclusive Nord Piano Library is regularly updated with new unique world class sounds, and always free of charge. All sounds are easily replaced using the Nord Sound Manager.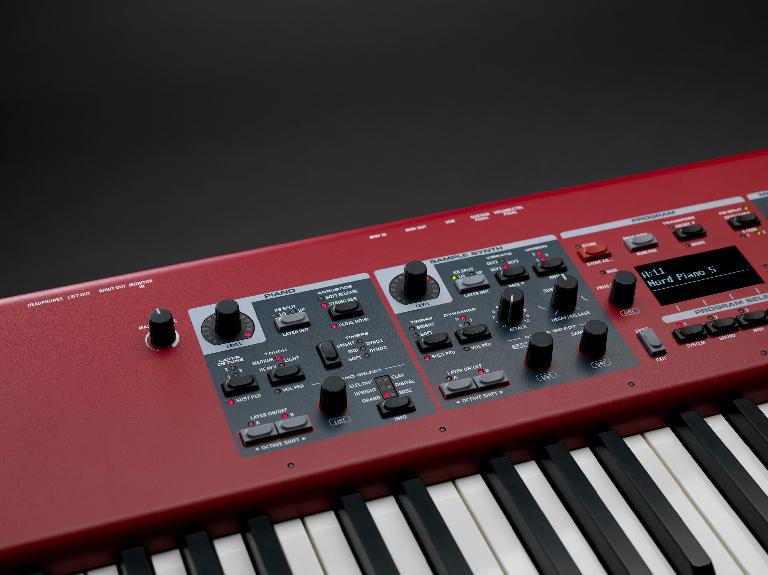 Advanced String Resonance
Our unique Advanced String Resonance accurately reproduces the complex interplay of the piano strings and also adds the rich ambience of a real piano when playing with the pedal down.
Nord Triple Pedal with Dynamic Pedal Noise
The Nord Triple Pedal includes Soft and Sostenuto Pedals in addition to a unique Dynamic Sustain Pedal. The Triple Pedal also enables our Pedal Noise feature that dynamically simulates the mechanical sounds of lifting and releasing the damper mechanism.
Piano Section Highlights
2 independent Piano Layers NEW
2x memory for Nord Piano Library NEW
120 Voice Polyphony
Creative Piano Timbre options including Dyno filter
3 Dynamic Curves to suit any playing style
Dynamic Pedal Noise with Nord Triple Pedal
Advanced String Resonance
Soft Release
All sounds are replaceable
SAMPLE SYNTH SECTION
Two brand new independent Sample Synths with greatly expanded memory for the sounds in the Nord Sample Library.
The Sample Synth Section contains a completely reworked selection of high quality sounds from the Nord Sample Library including exclusively licensed sounds from the legendary Mellotron and Chamberlin as well as a selection of samples from the Symphobia and Swing! libraries by ProjectSAM. All sounds can be quickly replaced using the Nord Sound Manager.
The Sample Synth section provides two fully-featured and independent Layers and is equipped with intuitive controls for attack, decay/release and dynamic velocity response. You can also create your own sample instruments using the unique free Nord Sample Editor software for Mac and Windows.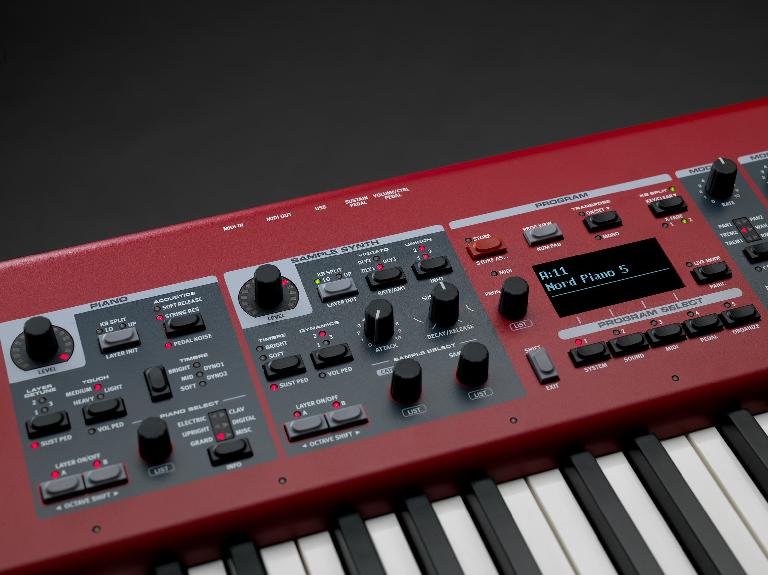 Unison and Tru-Vibrato
The Sample Synth Section has a brand new Unison feature that creatively blends several sample voices for rich, ensemble-like sounds. It also features a "Tru-Vibrato" that accurately models the unique vibrato characteristics of a wide variety of wind, brass and string instruments.
Sample Section Highlights
2 independent Sample Synth Layers NEW
2x memory for Nord Sample Library NEW
Soft and Bright filters NEW
Tru-Vibrato NEW
Unison mode for rich, ensemble sounds NEW
Attack, Decay/Release and Dynamic controls
All sounds are replaceable
EFFECT SECTION
The Effect section has a wide selection of instantly tweakable high quality stereo effects modelled after classic stomp boxes. An effect can be assigned freely to any layer in the Piano and Sample Synth section.
The Nord Piano 5 Effect section includes Tremolo, Phaser, Chorus, Pan, Wah, RM, Flanger, Vibe, EQ, Delay and Reverb. The Reverb effect has five different sizes (Booth, Room, Stage, Hall and Cathedral) for adding ambience to your sounds. The Bright and Dark modes allows for enhanced or reduced treble. The new Chorale option adds a lush modulation effect.
The Nord Piano 5 is scheduled for shipping in Spring 2021 with pricing to be announced. Nord Piano 5 is handmade in Sweden by Clavia DMI AB.
Nord is distributed in the UK/ROI by Sound Technology Ltd. For more information please call 01462 480000 or visit www.soundtech.co.uk/nord.