Portland, Oregon. March 9, 2021: Conductive Labs does it again! First it was The NDLR, an innovative Multi-part Polyphonic Sequenced Arpeggiator. This time they are reinventing the MIDI router! The MRCC (MIDI Router Control Center) is a fresh approach: one button for each of the inputs and outputs and a color OLED display means no PC needed for configuration. Simply select an input, then pick which outputs to route to. It's super quick! MIDI merging is automatic. Status and activity are displayed on a color OLED display and per-port RGB LEDs. More advanced features such as filtering, channel mapping, MIDI tools and MIDI effects are configured with an on-board graphical user interface. When your performance setup is complete, save it for recall later.
Crammed with Features
MRCC has a ton of input and output options: good old 5-pin DIN connectors, trendy 3.5mm TRS (in both MIDI A and B flavors), USB host ports to connect "modern" USB MIDI class compliant controllers and sound modules for DAW-less jamming, and a USB MIDI interface device port for your PC or Pad, great for playing several stand-alone soft synths, or connect to your DAW and plug-in instruments. There's even a CV Clock output for your modular gear.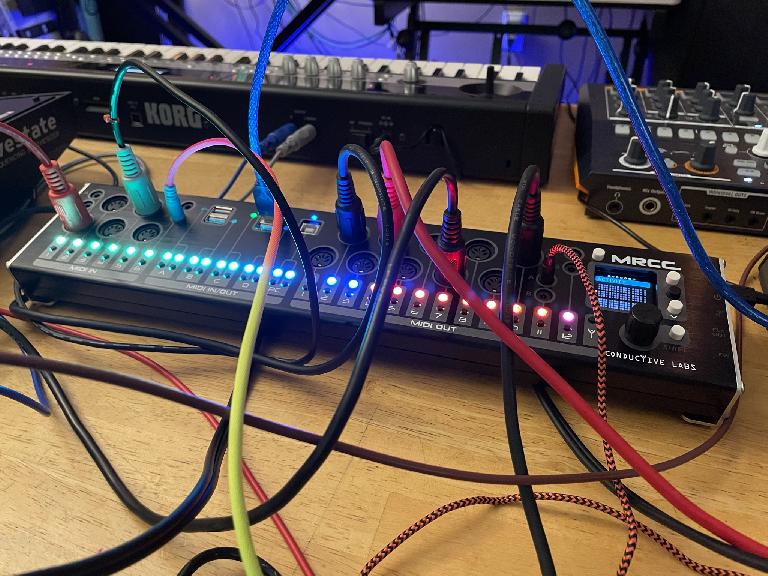 User Centered Design
The MRCC was designed for crowded desktop music spaces. Its narrow form factor and vertical connectors ensure the best use of valuable real estate. An aluminum enclosure gives it stability and durability. It will look amazing amongst your favorite gear.
Need some MIDI outputs by your rack? The optional MRCC Remote 7 is a slick way to replace a bunch of long MIDI cables with a single Ethernet cable up to 50 feet away.
We haven't forgot about those 19" racks either! 2U rack mount ears are also available.

Specs
• Inputs: 5x 5-Pin DIN, 2x1 pair2 of 3.5mm TRS, 4x USB 2.0 Host ports3, 1x USB 2.0 Device3 port (for PC or Pad connection) with 12 USB MIDI virtual inputs and outputs.
Outputs: 10x 5-Pin DIN, 2x pair2 of 3.5mm TRS, 1x USB MIDI Interface port (to PC or Pad), 4x USB Host ports.
1 1st pair, choose one of the 3 jacks; 3.5mm MIDI type A, MIDI type B or 5-pin DIN
2 Type A & B to support both 3.5mm TRS styles.
3 The powered USB 2.0 host ports provide up to 500mA per port as per USB spec, more than enough for most MIDI devices.
• Message filters - Clock, Note on/off, CC, Program Change, & Stop/Start/Continue. Filter by specific Routing, Input port, or Output port.
• Modifiers – Channel Mapping, Velocity Scaling, CC Scaling and Mapping, Keyboard Layer and Split, Transpose, Alter (Random & Probability)
• Tools - Save/Load 127 Presets, Port Labeling, MIDI Message Monitoring, & Visual MIDI Monitor
• And more: MIDI CC control for built-in Arpeggiator and MIDI Clock, CV Clock Out, & "Light Show"
motifs.
• Powered with an included International AC Power Supply with regional mains/outlet adapters. MRCC includes a power switch and stand-by button.
• Accessories
MRCC Remote 7: 5x 5 pin DIN connectors and 2x shared 3.5MM TRS Outputs in a small aluminum enclosure, connects to MRCC by a single shielded Ethernet cable (10-meter cable included).
MRCC 2U Rack Ears: replaces the desktop ears to mount MRCC in a standard 19-inch rack.