Tom Salta is an accomplished composer and producer for games, TV & film and popular artists. He has worked tirelessly over the past two decades to establish himself as the go-to guy for music for media. Most recently, Tom has focused primarily on composition for games and has accumulated a healthy list of AAA tittles with no end in sight. In this interview, we focused on his recent accomplishments in game scoring.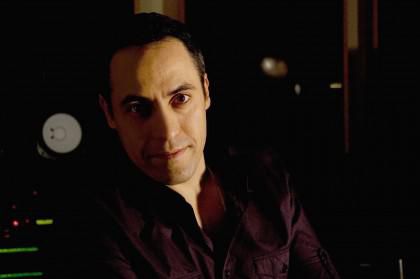 Tom Salta
Ask: This year, you won a G.A.N.G award for best original soundtrack for Halo: Spartan Assault. Were there any outstanding technical or creative challenges in being the main composer on these projects?
Without a doubt. The original sound of Halo: Combat Evolved is like sacred ground for me. I put a great deal of effort into creating a score that completely respects the legacy of the Halo sound, while at the same time creating something fresh and new that the fans would enjoy.
So, as you can imagine, there were lots of challenges. Firstly, this was the first time that I scored a franchise where the original sound was established by another composer and not just any game, but some of the most popular and recognizable music in video game history. Secondly, we had to figure out a way to bring back the familiar feeling of the original Halo games in a way that would support this new top-down shooter perspective, complete with the unrelenting action that's typical of a top-down shooter. Thirdly, we didn't have the big budget that the main Halo games had, so we had to create a big budget sounding score without the big budget. And lastly, it all had to sound amazing on those tiny little speakers in mobile devices. So, it was definitely quite a challenge to say the least.
Rumor has it there are some more Halo titles in the works that I'm involved with, but I'm not allowed to discuss any details yet…
Listen to Halo: Spartan Assault Score:
Ask: Do you try to work with live musicians as much as possible?
Absolutely. Regardless of the recording budget, I always aim to have at least some live performances. I find that's the quickest way to breath realism and life into music. Consciously or not, humans can detect that "human factor" in the music, and it helps us become more engaged and immersed in the music. For Halo: Spartan Assault, most of the live budget was used for a choir. That made a tremendous difference and was critical to the sound we wanted.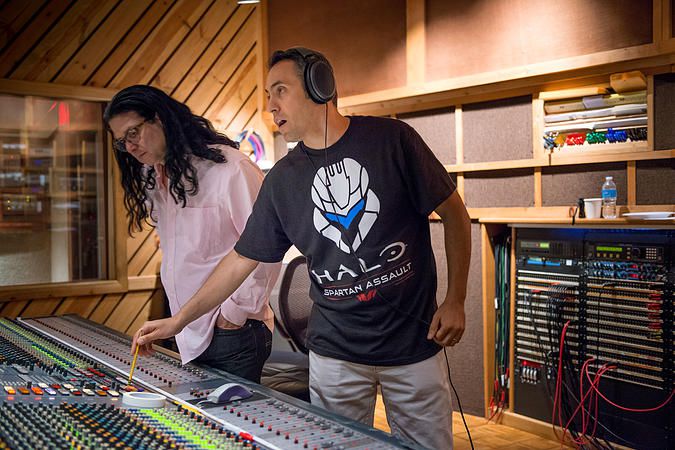 Halo Choir Session at Avatar Studios NYC.
Ask: You had the opportunity to be part of the composition team for the Halo: Combat Evolved Anniversary and Halo 2 Anniversary edition titles. What was your role and approach for those titles?
Yes, it was truly an honor and a rare opportunity to be part of the team that created the scores to these iconic games. It was especially rewarding for me because back in 2001, Halo CE was my main inspiration for wanting to get into the game industry in the first place. Having the chance to recreate the music was literally a dream come true.
On these two titles, my main role was to recreate, reinterpret and enhance all the percussion and a good portion of all the synthesized music. Although it was extremely enjoyable, sometimes it became incredibly tedious, particularly when recreating some of the very intricate, multi-layered and improvised cues. I had to go bar by bar and sound by sound to ensure I got every single detail. I know that I'm the only person that would hear some of those details, but it was a very personal mission for me to ensure I preserved that "Halo magic".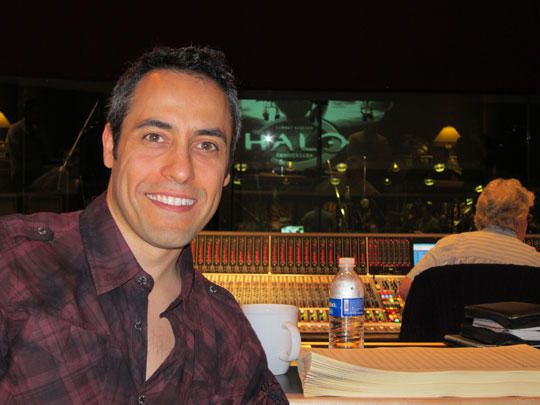 Halo CE Recording Session at Skywalker Ranch.
Ask: What are your go to percussion libraries these days?
Percussion is one of my favorite things to do so I'm always evolving and improving the sounds and libraries I use. Unlike ten to twenty years ago, there are TONS of sound libraries available to composers now. Actually, I find the dizzying rate at which sound libraries are being developed somewhat of a distraction because I can't seem to keep up with them and I tend to forget and really master some of the ones I already own!
The libraries I choose all depend on the style of music I'm doing. If it's modern, hard-edged, gritty stuff, some of the Heavyocity libraries are great. If it's epic-cinematic, I like to use the newer Hans Zimmer libraries from Spitfire as well as some ol' reliables like Stormdrum 1 & 2. Soundiron and 8Dio also have a ton of good percussion libraries.
Ask: You have worked on quite a few tracks for the Just Dance series—what you do you attribute your success in making such realistic versions of popular tunes and styles?
Oh, that's an easy one to answer. I've been recreating my favorite songs with as much detail as my technology would allow since I was in eighth grade. That's actually how I learned to produce music. All through high school I would collect synthesizers and try to recreate my favorite songs. I would obsess over trying to match every detail by reading magazines and trying to learn what gear was used. Then I would use whatever gear I had, in those days, just a few synths and drum machines, to try and match each and every sound exactly like the recordings.
So nearly thirty years later, with all the technology and sounds I now have access to, not to mention my professional network of singers and musicians, it's like a dream come true going back to recreate hit songs. I remember working on " ...Baby One More Time" by Britney Spears for Just Dance. I painstakingly recreated each and every sound in that song, down to the individual hi-hats, organs, effects, etc. I was even able to bring in the same background singer that was on the original recording. It took days of painstaking work but it came out great. Not to mention it gave me a new appreciation for the production chops of Max Martin. ☺
Ask: You also worked on the score for Tom Clancy's: Ghost Recon Future Soldier. How was your experience different from other games you've worked on?
GRFS was the first project where I wasn't the sole composer on the project. It made it a bit more difficult to create a score with a single, distinct "voice", which is something I'm a big fan of doing. Overall, the project came out very well, but it was more of a challenge to plan out thematic material and the entire score as a whole.
Ask: What advice can you give to aspiring game composers who are looking to break into the field?
I've learned that it takes being excellent at three main areas to make a career in the music business. You need to be good at music, business AND marketing in order to have a career. Networking is key and you need to understand the industry and network with the right people. In games, that means attending conferences like GDC and GameSoundCon and joining the Game Audio Network Guild (G.A.N.G.) where you can meet tons of people in every area of game audio including composers, voice-over actors, sound designers and audio directors. I'd also recommend picking up some books about game audio and checking out various social media groups.
Ask: Thanks for talking to us Tom and best of luck in 2015!
For more info, check out Tom Salta's website: http://www.tomsalta.com