In a hidden away studio in a small street in a trendy part of East London lives a team, led by Roland Lamb, known as ROLI. Roland conceived of and developed the first Seaboard, a multi dimensional instrument that looks set to change the way we play and interact with the piano style keyboard very soon.
ROLI have been featured on BBC, The Guardian and won a prestigious award at this year's SXSW. So, I was curious to check out what ROLI have been busy creating and why luminaries such as Jordan Rudess rate their approach to the next generation of keyboards so highly.

What I saw, heard and experienced didn't disappoint either!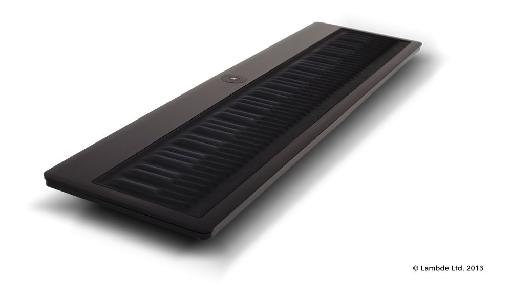 Seaboard GRAND by ROLI.
I was warmly welcomed and given a guided tour and demonstration by Jean-Baptiste Thiebaut, Head of Technology, Heen-Wah Wai, Product Specialist & Raphael Szaban, Sound Designer.
RS: Tell us about the Seaboard and how it works?
JBT: The Seaboard GRAND is an 88 notes instrument that sends multi-channel MIDI data to allow for polyphonic pitch bend. The MIDI data gets sent to Logic as a template. We use all the plug-ins from Logic, as well as 3rd party plug-ins, to create the sound. The Seaboard sends very rich data, so we have a complex setting in Logic Pro.
Heen: You can play Seaboard exactly the same as a piano. You can perform simple pitch bends and vibratos and also use the touch strip at the bottom and top to create glissandos.
RS: How does it take piano playing to a more expressive place?
JBT: On a normal piano you're limited to velocity, note off and maybe aftertouch or pitch bend with a wheel. But if you use a wheel then you're limited to playing with just one hand. With the Seaboard you can mimic more closely the dynamics or string instruments or brass or wind instruments. Just using your fingers, you can augment the intensity of each note individually and create pitch bends as well.
Heen: As you play, every note can have its own expression that you can apply to it. For example, I can play two notes and add pressure to each individually to bring out the volume or whatever effects you map it to. You can then apply pitch bend to one note without affecting the rest of the notes, unlike on a standard keyboard controller where if you're playing a chord and apply pitch bend the entire chord will be affected. The Seaboard allows you to sustain notes.
RS: What is the software I can see on the screen? Does it act as an intermediary between Seaboard and Logic?
JBT: [Points out area of the software interface] Yes and it allows us to configure some aspects of the Seaboard. You can create a very unique response to velocity using these curves. There's also the ability to configure the pressure response to amplitude, which can be modulated. Typically this will be controlled by pedals.
RS: That sounds amazing. So you can then control the response of the Seaboard in real-time during a live performance?
JBT: Exactly. The last area controls the pitch and allows you to go from a completely linear pitch response, which is great for string instruments, to a rounded pitch, which is best if you want to play perfectly in tune. We've tried to give all instruments a range of +/- 1 octave so you can easily slide along the range in a smooth way. It makes sense when you play the double bass or any string instrument where you need a very smooth curve for the pitch bend.
When you get your hands first on the Seaboard this will allow you to play in tune. It's a new way of interacting with the keyboard form factor, it's a new feel. The keys are quite different. They respond to touch in a different way to standard keys, so you have to adapt to that. We found that most people who tried, after a few hours, really got their skills back to this new paradigm. For most trained piano players, spending 2 hours is not much of an investment for all the added expressivity you have. We know there is a barrier for people to adopt it. But we believe the investment will make it worth it.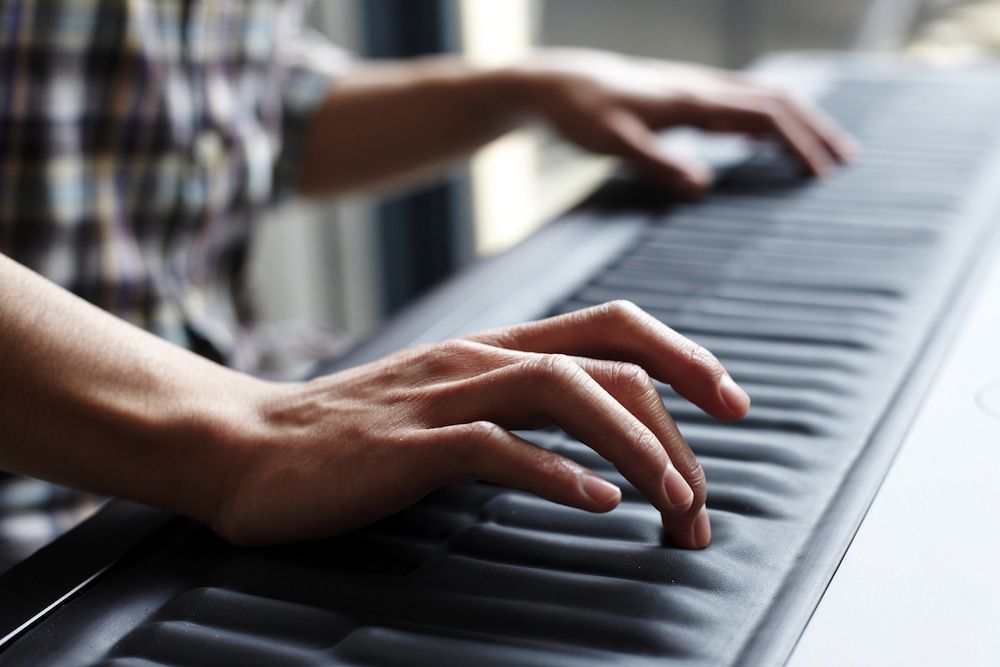 "It's a new way of interacting with the keyboard form factor, it's a new feel."
RS: How long has Seaboard GRAND been in development for?
Heen: It's been in development for almost 4 years now. This particular one [points at original Seaboard] is about 3 and half years old and was made by Roland Lamb, CEO. Since then we've been focusing on turning the Seaboard in a marketable product. As you can see with the latest iteration [points at the current model] it looks very cool and we put a lot of effort into the product design and improving every aspect of the Seaboard. The response has been improved a lot.
JBT: When I joined as head of technology I focused on getting the Seaboard to talk with existing workflows, improve the software and electronics inside and make it capable of more. Among the few projects we have, we've been developing this multi-dimensional controller protocol which is going to enable polyphonic pitch bend, and more generally to send X,Y and Z data over MIDI and possibly OSC. The idea of this protocol is to simplify the integration of the Multi Dimensional Controllers into the studio, not only the Seaboard, but also instruments like the Haken Continuum, the LinnStrument, the Soundplane, etc. We also want to make it easy for software manufacturers to implement it.
RS: What connections does the Seabord GRAND feature?
JBT: Well, the final connections may differ a little bit, but it will most likely feature 3 jack inputs for the pedals, one 12v power and one USB (and you can use the included MIDI splitter over USB). So, if you want to control a hardware sampler on stage with the Seaboard, you can. You've also got a headphones out, and 2 balanced outputs.
RS: When will it become available?
JBT: We launched it at SXSW, where ROLI won SXSW Music Accelerator award! We're expecting to ship in the summer, with pre-orders starting in May. We may also do an artist edition.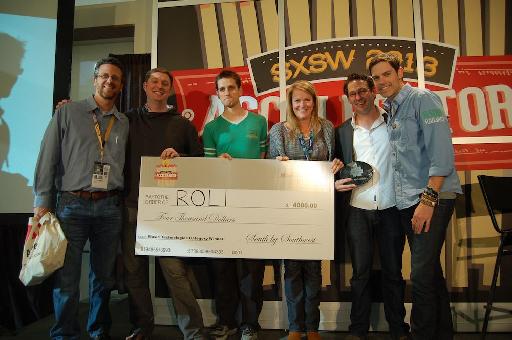 ROLI receiving the SXSW 2013 Music Accelerator award.
RS: Will the Seaboard GRAND have on board sounds included as well as being a controller?
JBT: Thanks for asking! Yes. The Seaboard GRAND will have its own sounds embedded. The first musicians we wanted to appeal to were the performers. For performers who don't want a laptop on stage, because it crashes, we wanted them to play this like a standalone synthesizer with amazing embedded sound. We have a concept of a dial which will be an endless encoder, like a clock or compass that will help you select different sound types and allow you to morph between these.
RS: For performers this is obviously going to be sought after. But, in the studio I can imagine this being an extremely interesting tool to play, record and use for generating ideas.
Heen: Yes. The way it supports polyphonic aftertouch and pitch bend gives it an edge for producers. For example, with string sounds, you have the ability to change the pressure for each note and creating swells instantly using your fingers as you're playing is amazing. In traditional workflows you'd spend a lot of time adjusting parameters in your software. The Seaboard actually saves you time.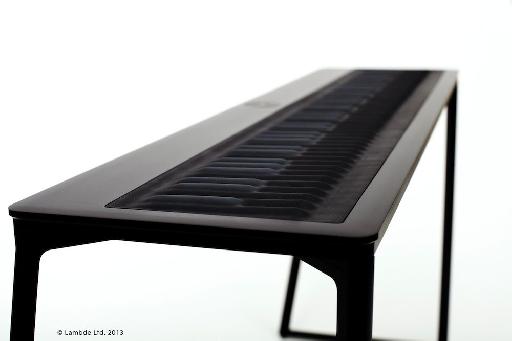 The Seaboard GRAND. Doesn't it look lovely?
RS: So it's available in summer 2013... Are there any other details you can share with us?
JBT: We're going to make 88 of these as limited editions. We'll work next on a more accessible version with a smaller number of keys. There's lots of interesting details we'll share with you closer to the time.
RS: I've heard you've got lots of high-profile users, or people that are currently testing it out.
JBT: Jordan Rudess, Vijay Iyer, and many others, some of whom we can't talk about just yet, but it's been amazing to see these wonderful players take the instrument in musical directions we've never thought of.
RS: Well, I've spoken to Jordan Rudess who is really excited. I understand he believes in Seaboard and what ROLI are doing so much that he's joined the team as Head of Music Experience?
JBT: Yes, we're very excited to have Jordan onboard! The work he's doing with us is breaking new ground.
Heen: Jordan is really interested in the way we're developing the sounds and the playability, and is communicating weekly with us via email and skype.
RS: What kind of sounds are you designing for Seaboard?
Raphael: The idea is to explore the expression possibilities. So by default you need to have sounds that deviate from the normal piano sounds. With a piano you press a key and just have velocity, note on/off and there's not much else. With Seaboard you need to explore the multiple pressure points, and pitch glide. So the sounds could be anything from bass to strings... But we can also make something timeless and unique. So, we veered towards something more hybrid, something new, which could exist but is also something new and unheard before.
It's been a challenge. To make a sound for a synthesizer is more straightforward. To make a sound which is extremely playable and explores all the possibilities of the Seaboard is an entirely different matter.
[Raphael and Jean-Baptiste very kindly demonstrated some top-secret sounds as an example of the kind of sounds being designed for Seaboard... And I was suitably blown away.]
RS: So as well as having built-in sounds, will users be able to upgrade the sounds in Seaboard, and even create their own sounds?
JBT: Yes! Definitely users will be able to upgrade their sounds. We have some exciting plans for that. We're using our own environment in which to create sounds for Seaboard. Maybe in the future we'll share that with others... Well, I can say we are going to provide a way to enable users to create content for Seaboard. I can't say who we're partnering with or how this will work just yet though. It's going to be amazing.
RS: Thank you so much for showing me the Seaboard. It feels really nice to play and I'm sure from what I've seen today the Seaboard has an exciting and promising future.