Tell us about the background of Sonivox, what you do and what you specialize in?

Musician and sound design/engineer, Jennifer Hruska, founded SONiVOX in 1993 out of Cambridge, Massachusetts. We specialize in the development of software instruments, samples and soundware instruments for music producers, composers and film-scoring talent, as well as traditional musicians. We cover a wide spectrum of music production software tools for the professional and project studio, with a diverse range of solutions from orchestral sound libraries to everyday instruments.

Tell us about some of the plug-ins that Sonivox have created.
We have a pretty large catalog with many of our plug-ins very specific to unique instruments such as our Rickenbacker bass and our Guqin (a traditional Chinese instrument). Each of these instruments are sampled at different velocities and provide extensive sound shaping parameters such as envelopes, filters, reverb and delay. We've managed to keep all of SONiVOX's plug-ins very light on the CPU, while managing a ton of exceptional content under the hood. As mentioned, we have a very large catalog of instruments to choose from, whether it's a string instrument or an orchestral instrument, a really nice grand piano, or something percussive–we have it all.

"Whether it's a string instrument or an orchestral instrument, a really nice grand piano, or something percussive–we have it all."
On the more recent end of the catalog, we have Twist, Wobble and Vocalizer Pro, which are aimed at electronic music producers and artists looking to design dynamic, signature sounds with lots of LFO action. So if you are a dance music producer, and you really want to dial in some aggressive electro sounds, you can do that; but if you want to create some lush pads for an ambient track, you can as well.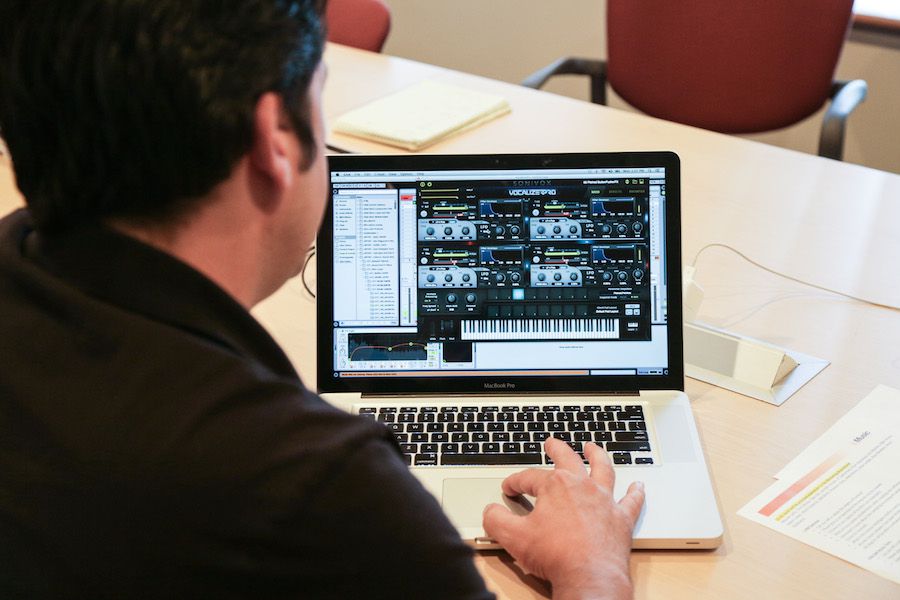 Vocalizer Pro in action.
In these instruments we have what's called Intelligent Rhythm Control, which is a feature that allows you to tighten and quantize your playing in real time. If you're not the most accurate player, you can turn this on at different time divisions and play along to your host's clock—if you're off a bit, it will lock you in. It's very good for easily laying down a lead. Even if you're not a musician, you can quickly play a few notes and get a feel for what it would sound like once you've done some post-MIDI corrections. It can be all done in real time, so it removes the whole step of going in and fixing sloppy MIDI events. For example, if you set IRC to ¼ notes and you're playing very fast, you'll only hear those notes registering in that ¼ note time division. If you've set it at 1/16 notes, you'll get more of an arpeggiated rhythmic sound. It is flexible and powerful. Instead of playing a particular pattern, you're playing what you originally wanted to play.
"Intelligent Rhythm Control allows you to tighten and quantize your playing in real time."
What's also useful is being able to turn it off and on while you're playing in real-time. If you want some humanization while playing a complicated riff, you can retain a "player" feel without getting out of control.
What are your main considerations when creating new software instruments and effects?

When we're creating new software, we take into account what we currently offer, what the market might be missing, and how far we can push the envelope when it comes to creativity. For example, spectral synthesis has a very unique sound that isn't played out. Sure, there are a million subtractive synths and analog modeling instruments with a couple of oscillators and LFOs, but the spectral sound offers a completely different experience. The spectral synth allows you to experiment with rhythmic and "FM-y" approaches, as well as wild, evolving sounds. We took the same approach with our latest instruments like Twist, Wobble and Vocalizer, where we looked at the engine and worked our capabilities around them.

"When we're creating new software, we take into account what we currently offer, what the market might be missing, and how far we can push the envelope."
Tell me about Big Bang Drums and Cinematic. What benefits are there of using these for your workflow if you want to add percussive instruments?

The workflow for these instruments is very similar and so it's easy to wrap your head around them. We start with an intuitive user interface in which you can pull up entire kits, or mix-and-match sounds from different kits. We give you access to calibration tools such as individual drum tuning, velocity settings and filters. Big Bang Cinematic is obviously more for film and game scoring, and so we added a lot of big, taiko-style drums as well as sounds with lots of ambience. In a matter of seconds, you can easily create the pulse-pounding music bed found in blockbuster action/adventure films. Simply turn on the IRC, call up some African or taiko drums, and just randomly hit your keys or pads—you'll seriously feel like your take is almost done. Big Bang Drums is more for the musician, writing in different genres: pop songs, dance music, jazz, rock. They both offer a powerful set of tools for world-class composition.
As far as the sample sets, we maintain an astounding collection of pristine instrument captures and added a variety of new, original sounds into each product. We provide a very simple and organic workflow so the user does not have to spend too much time setting up kits. We offer plenty of content with the presets alone, but we also have enough additional content to set up virtually endless custom kits.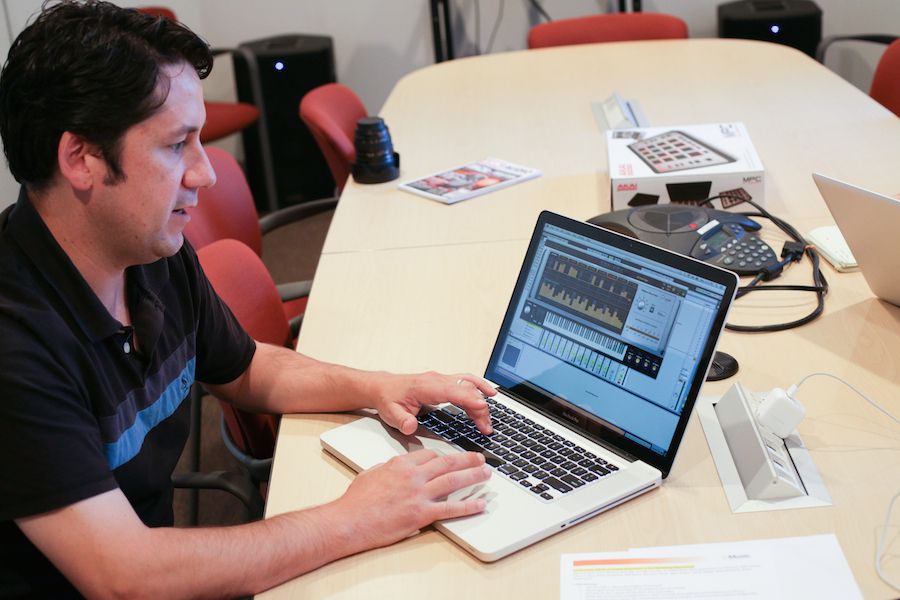 Mike Hosker, product manager, SONiVOX.
What about Vocalizer Pro? Do you think it appeals more to EDM producers, sound designers, or both?

Both. Most electronic music producers these days are sound designers and synthesists. Vocalizer Pro allows you to mangle sounds as well as create beautiful textures. It sounds great on dry vocals and can be processed in real time. It can be used in a performance setting as well as a studio sound design environment. On Twist and Wobble you've already got your sound generators loaded into the oscillator modules, but on Vocalizer Pro we're patching your own audio through as more of an effect rather than being something that has self-contained noises to trigger that spectral synth. The user has the opportunity to choose from a wide variety of filters: high pass, low pass, band pass, 4-pole, 2-pole, 1-pole. We also offer harder, squelchy filters with a lot of resonance and feedback distortion. You've got four filters going to two channels, LFOs on each one, and then your filter envelope. In addition, you've got formant filter processing and pitch-shifting. Finally, we provide snapshots for various settings for access to eight different settings for each preset. You can get very melodic results out of percussive instruments.

Tell me a bit more about Twist and Wobble.

Twist is really great for evolving, motion-like sounds. It's like having two synths–left and right–that you can detune. By changing the width of channel one and two, you create progressive, sweeping patterns with subtle phase shifting, harmonics morphing and modulation. Very cool synth!

Wobble is the same synth engine with a different take on the parameter layout. It offers grittier harmonics, especially in the lower frequency spectrum–perfect for electro and dubstep textures. The pattern generator allows the user to modulate all of the parameters available and then some. It's set up like a step sequencer with various ranges, time signatures and velocities that bring the synth to life.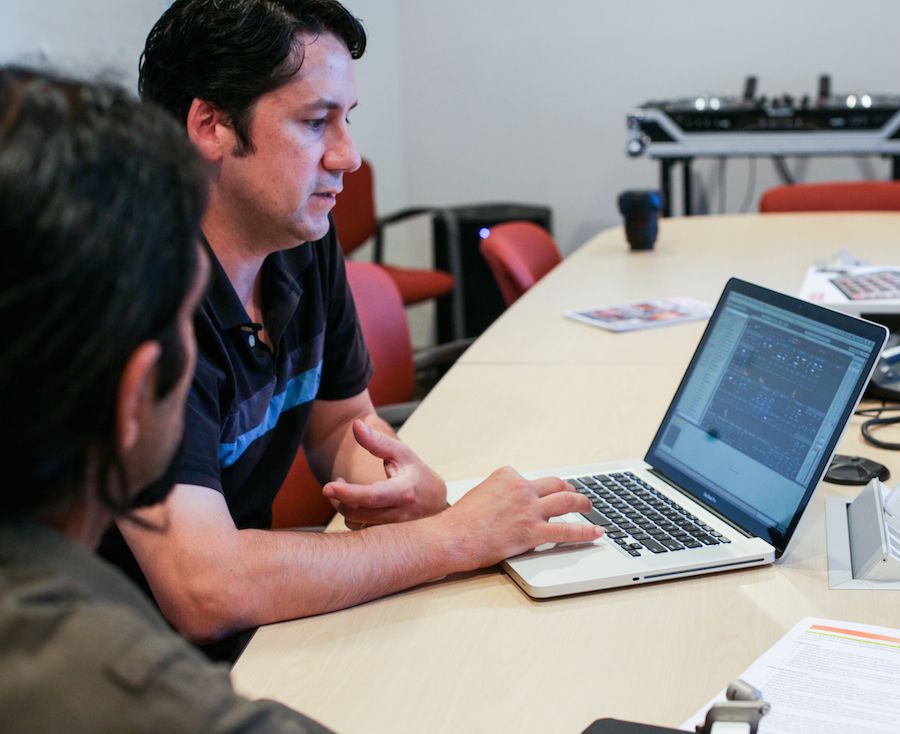 Mike explains how SONiVOX instruments have a unique and distinct sound of their own.
How has Wobble been received? It's very specific. It's rare to come across a synth which is as specific.

Wobble completely caters to electro and dubstep artists. One can easily recognize the timbre of this instrument. I can hear it as I'm perusing through different podcasts and hearing forty different tracks over the span of an hour. I'll hear something within almost every podcast where it's obvious that a SONiVOX instrument is used, particularly Wobble and Twist. They've got a very unique, distinctive sound and you know the texture right away—they really have their own character and color.

"got a very unique, distinctive sound and you know the texture right away—they really have their own character and color."
All your recent releases have been 64-bit compatible out of the box. What are your feelings on what 64-bit will do for music making?

It allows developers to do more with the instruments they are creating because a lot of these are not just CPU-intensive, but RAM-intensive as well. It's giving developers the opportunity to provide more for users by allowing them to take better advantage of the RAM available in modern computers. Especially since you can put up to 64 GB of RAM in a Mac now, and surely even more in the future.
Imagine what an instrument would sound like if it were developed to take advantage of that amount of RAM. Instead of four oscillators, you could have… I don't know, maybe 60 oscillators. You get to the point where you ask, "what are you going to do with that sound?" How will your brain react to a sound it has never even imagined before? There are different types of convolution reverbs that are RAM-heavy too, so from a sound-design perspective it's very exciting. I can envision the future in terms of developer capabilities, especially with synthesizers and effects.
What else do you have coming out from SONiVOX. Do you have anything you can talk about?

We have a variety of projects in the works, but none that we disclose at this time. You'll just have to wait and stay tuned!

Find out more about SONiVOX here: