There's something about Maschine which has captured the imagination of a new generation of music producers and musicians. Perhaps it's the ease of use and immediacy for music creation, perhaps the seamless integration between hardware and software, maybe it's in Maschine's flexibility to control virtually any instrument or DAW, or that you no longer need to stare at a computer screen and rely upon a mouse to make music?
Whatever the reason, the innovative minds at Native Instruments have created something very special. Everyone I've met who plays with it enjoys using it. And isn't that what music production should be about?
In this exclusive interview for The MPV Hub, I went behind the scenes to catch up with Matt Cellitti, Product Specialist at Native Instruments, musician and gifted trainer for macProVideo.com.
We talked about all things Maschine, Ableton Live, Native Instruments, the future of music production and, of course, his teaching methodology and excellent new Maschine training videos for macProVideo.com!
RS: Hi Matt. Great to have the opportunity to speak to you. Can you tell us about your musical background?


MC: Sure. I started in school when I was about 12 years old. We had a choice to pick an instrument in the band so I picked the trumpet. I played the trumpet for years and then graduated to baritone and tuba and then it wasn't until I got to high school that I began messing around with the guitar. And then everything really changed! By the time I was 16 I started teaching myself guitar from scratch. I picked it up fairly fast and now I've been playing it for about 15 or 16 years.

RS: So is the guitar your main weapon of choice?

MC: It is. I was in a huge shredding phase as a big heavy metal fan and so basically taught myself how to play guitar by going through every single Metallica album and just learning from scratch. So, I'd say a big turning point for me was when I was 18. I saved all this money and I was either going to buy a brand new Paul Reed Smith [guitar] or a synthesizer. The salesman convinced me to buy a workstation, so I bought a Yamaha Motif which had just come out. And that was it! I had more fun making these weird sounds with a keyboard than with my guitar.


RS: That's an unusual direction for a Metal fan!

MC: Yeah, well I was always into the symmetry of the percussion elements and rhythm of metal guitar and it goes with arpeggios and saw & square waves and all that kind of stuff. I think that's where it went to... But, I'd always loved adding as many effects to my guitar and making it sound not like a guitar so it was a natural progression, I think.

RS: Cool. So where did the music tech bug take you after the Yamaha?

MC: I was in college at that point and my college roommate had a Fostex. The big old 4-track tape recorder.

RS: Oh, yeah! I remember those huge things...

MC: Exactly! Only the right channel on that thing worked. So, I literally have a ginormous shoebox full of tapes containing guitar ideas with drum machines and synths and everything just coming out of the right channel in my car...(laughs). But once I discovered layering ideas and sequencing and creating songs I was completely hooked!

RS: So, at some point you went digital?

MC: Yeah. This was around the time when hard disk recorders were first showing up. So, I spent a large amount of money on terrible hard disk recorders. I tried to do it that way, then in 2003 I started getting in to the computer side of things. This was still relatively early on I think, in terms of how mature the DAWs were.

RS: What your first DAW?

MC: I started with Cubase and Pro Tools. I really didn't like them so much. What changed it for me was when Reason 2.0 came out. That made it much easier except obviously not on the recording audio side of things. But then I discovered Ableton Live at version 4.0. I tried 3 times to get into it. In fact, I've heard this story from so many people who try to get into Ableton and it doesn't click or make sense. Then all of a sudden one day the light bulb went off for me and the whole process of recording music in general became accelerated.

RS: I'm such a Logic head, so that as much as I love Ableton, I find myself in Logic almost without meaning to be there!

MC: (Laughs). I bounce between Live and Logic, but if I've got to get anything serious done I have to use Live.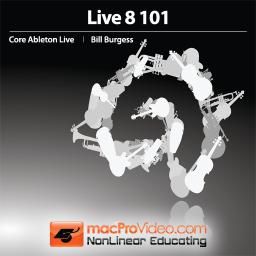 Core Live 8 101


RS: So, what musical projects are you working on at the moment?

MC: I write ideas constantly. I've been in a funk the last couple of years where I'm not finishing songs as much anymore. I constantly start new ideas. I'm just constantly busy with work these days, so when I have time to record I setup and do something quick. I am scoring a horror movie for a childhood friend of mine for free to see how it works. It's been very interesting. Lots of Absynth and stuff like that works perfectly for this project!

RS: That's a nice segue to my next question on Native Instruments! So how did you become involved with them?

MC: I come from a retail background. I've been working in NI retail since about 2003. I knew Josh Fielstra who is our Lead Product Specialist and he actually worked here in Milwaukee. When he left to go to our office in L.A. as the Lead Product Specialist, I convinced him to hire me. So, I came on about 4 or 5 years ago with NI just as a product specialist doing clinics, making store visits and training store staff. It's just really grown from there. I'm also doing international distributor training; I handle all training for Sweetwater and larger chain stores.

RS: Sounds great! I'm guessing that involves a lot of traveling and hands-on training?

MC: Indeed. At one point I was handling everything in the Midwest, about 12 states, which means lots of traveling. We've cut our territories down as we've added more product specialists now throughout the US. So, now I have a bit more free time which gives me the chance to do tutorials for macProVideo.com!

RS: So, I'm really looking forward to checking out your Tutorial-Videos on Maschine. Partly because I've never used it, and partly because I've looked at it and thought I'd really quite enjoy making music with that!

MC: I think everyone would. It's literally changed the way I make music forever. It came out over 2 years ago and was a hit from the start but has now snowballed into this huge, huge product for us. It's hands-on and easy to use without ever having to touch the mouse, or even really look at the computer. You can sit in the dark staring at the controller and feel like you're using a full-blown instrument with the sounds inside.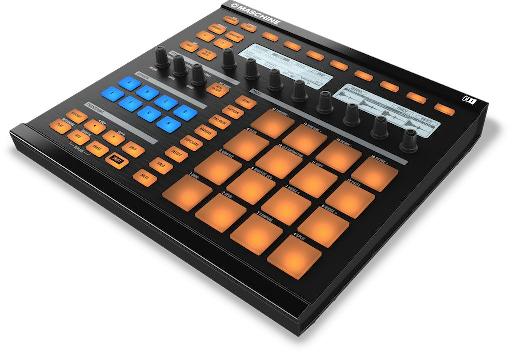 Maschine. The Ultimate controller?

RS: OK. Sounds intriguing. Tell me more...

MC: I'm telling you it's so easy and you can write a song in 5 minutes. It's never been faster. Earlier I talked about how I started with Ableton Live as it was the fastest thing to create ideas, especially for loop-based, electronic music over a normal DAW where you're working with a traditional timeline.

So, the way Maschine creates patterns and you duplicate and double it up and change it so quickly is just revolutionary for me. You've got access to all your Native Instruments plugins or 3rd-party plugins and it's so easy to sequence them. It's just great.

RS: So, it'll work with Logic's built-in Ultrabeat drum machine, for example?

MC: Yes. You can put Maschine into controller mode. It comes with a control editor that's really, really useful. You know often some companies come out with controllers and it's really impossible to map anything... But Maschine comes with a bunch of templates and of course you can create your own with visual feedback on the LCD screen. And you can map it to do anything you need. In Logic I use its built-in Mackie Universal HUI emulation. So, all my track automation, soloing modes, etc., are all there.

RS: Awesome! So, you've basically got a control surface, too!

MC: Yes! For example in Ableton Live there's the template that does the same thing as the Novation Launchpad or APC-40 where the pads will light up and you'll see there're clips inside and you can basically trigger your clips in Ableton. Then with one button push you can switch back to controlling Maschine as a plugin inside of your DAW.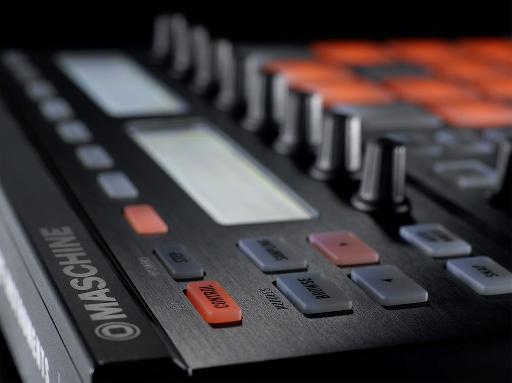 Maschine is a thing of beauty.


RS: Matt, you've completely sold me!

MC: It's easy to sell when NI make such great stuff! (Laughs)

RS: So, in your honest opinion is there anything out there similar to Maschine, or is it in a class of its own?

MC: Completely in a class of its own. I grew up on MPCs and started sequencing on hardware. And the power of the OS or software tied to how well it works with controller hardware...well, there's nothing that can come close to it. I can't stress enough that you never have to touch that mouse. It's unbelievable. You know for years my drum machine setup was a Trigger Finger and Ableton Live and Battery. These things all worked together but they don't, you know, 'work seamlessly together'