Laura Escudé, sound designer, composer, violinist and Ableton Live educator kindly took time out between live shows, tours and studio work to sit down with macProVideo.com for an interview. She talks about her current musical projects, studio setup, new Ableton Simpler Sampler tutorial-video for macProVideo.com and her beautiful album, Pororoca.
Rounik Sethi: Hi, Laura! Great to meet you. What have you been working on these past few months?
Laura Escudé: This summer I worked on the Cirque du Soleil Iris production in Los Angeles. I was there for two weeks assisting Thierry Angers, who was the Assistant Composer to Danny Elfman and key music technologist on the production. We took all of the live orchestra stems that were recorded of Danny's music and arranged them in Ableton Live in a such a way that the Music Director could have a lot of control and freedom to repeat, skip and move around in songs, all the while keeping the integrity of the music intact. We spent a lot of time editing the stems to fit with changes in the production, which had to be done in a very elegant way.
RS: And what about at the moment?
LE: Currently I'm helping the legendary Herbie Hancock design his new solo piano show, working with M83 on their upcoming tour, playing violin for a video game score and just recently my violin was on the song "Made in America" on the "Watch the Throne" album by Jay-Z and Kanye West.
RS: That's awesome! So, when did you first get into music. And when did you begin to start making music professionally?
LE: I've been playing violin since I was 6 and went to school for violin performance. Towards the end of college I discovered electronic music and took a MIDI class that was using Cakewalk on a floppy disk. Shortly thereafter I started recording violin for producers and met some people that worked with George Clinton, so I started looking over their shoulder while they used programs like Acid Pro and Cubase. After that I started writing my own music and improvising more, which at first was difficult coming from a classical background. Once I got over learning the initial technical stuff I started to make my own music.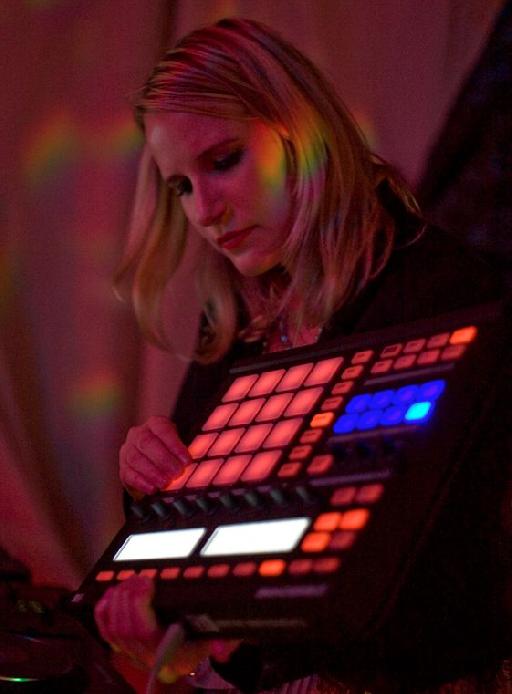 Laura Escudé performing live with NI's Maschine. (photo: Leo Der Stepanian)
RS: I understand you've been touring, consulting for and working with many big name artists recently. Have you had time to to work on your own music and sound design?
LE: Yes, this year has been great. Apart from the Cirque project I got to work with Drake, Bon Iver, Herbie Hancock, M83 and a few other high profile artists. At every other opportunity I've been working on my own music. I released an album, Pororoca, last year that I've very proud of and plan to release another EP by the end of this year of more uptempo, danceable electronic music. Aside from the music I've also been DJing and performing at various events. This year I got to perform at Google and in Krakow, Helsinki and Lisbon this past month.
RS: I've been listening to Pororoca and watching the video by Scott Pagano. The audio and visuals are truly beautiful. Can you tell us how you came to work with Scott Pagano and what the creative process of going from sound to visuals entailed?
LE: Scott and I have been friends for several years so when I released my album I hired him to do the video and the artwork. Since I trust his design aesthetic so much, I literally handed him the song and a few concept ideas around Pororoca and he delivered the amazing video and artwork a month or so later. The time and energy he put into it really made the piece shine and it was the perfect complement to my release.
[You can listen to and buy the album Pororoca here.]
Pororoca from Laura Escudé on Vimeo.
RS: It's a well-known fact that you were one of the first Certified Ableton Live Trainers ever! What technology (hardware and/or software) were you using before Ableton?
LE: Well, I come from a software background, mainly. I really started to get into making music in 2003: it started off with Acid Pro, then I fell in love with Reason and that became my software of choice. I then learned Cubase and Pro Tools, and in the past 5 years Ableton Live and Logic Pro have become my go-to apps.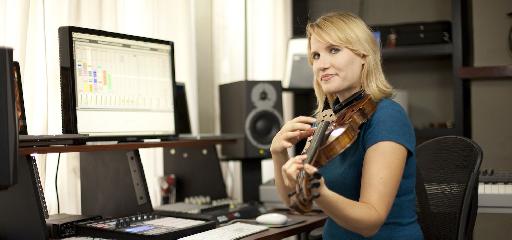 Laura Escudé in her studio.
RS: And what about now? What are your favorite pieces of hardware and software that you use in Live performance and in the studio?
LE: Now, I obviously use Ableton Live heavily as well as Logic Pro and Reason. My favorite plugins are the Native Instruments Komplete bundle as well as Spectrasonics Omnisphere. I've been really getting into the Twisted Tools samples and Reaktor ensembles. Hardware wise I'm really stoked on the new Apogee Duet 2, my Livid Instruments Ohm RGB which has all the spectrum of LED colors and my Wii controllers.
RS: A lot of artists I meet say the same thing about the Duet. What is it about the Apogee Duet 2 that you love so much?
LE: I love the Duet 2 mostly because of its ability to send 4 outputs versus just 2 on the older Duet model. When I play live shows this really comes in handy so I can separate the violin output from the electronics and mix them separately. I also really love the compact size and of course the preamps sound really great, which comes in handy recording on the road.
RS: What made you switch to and start using Ableton? What is it about Ableton that keeps you hooked?
LE: When I first moved to Los Angeles my first job was at M-Audio doing Tech Support. At the time we had to support Ableton Live as well, so I was getting questions about the software, which in turn forced me to learn it. Learning it was one of the best moves I've made! It's so fast, immediate and a fun way of working with audio and MIDI because of the non-linear Session View, which I call the Jam View. It doesn't force you into a complete composition right away, and lets you come up with ideas in a more organic way.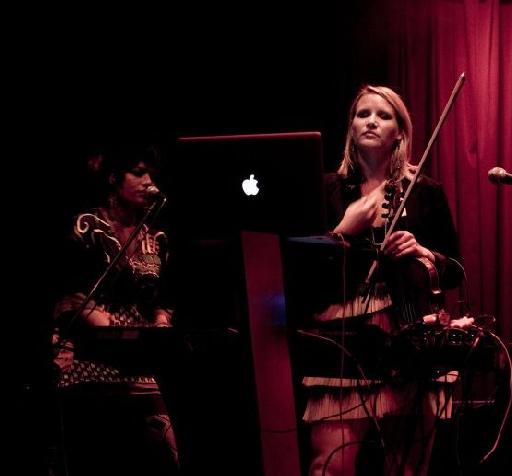 Laura Escudé live with violin and laptop. (photo: Birdie Breeze)
RS: We're really thrilled that you've created your first Ableton Live Tutorial-Video for macProVideo.com (Live 8 102: The Simpler Sampler)! What was it like for you transitioning from teaching face-to-face workshops to teaching from behind a computer screen over video?
LE: Well, I had done some tutorials before, but the process for macProVideo was certainly the most thorough and together my tutorials have ever been, mostly because of the great set of guidelines and rules that they have for making great tutorials! It was definitely challenging to be more conversational when I wasn't talking to anyone in person, but I tried to do my best in that area. I tried to think about how I could best inspire whomever was going to watch the videos and what I like hearing when I watch tutorials myself.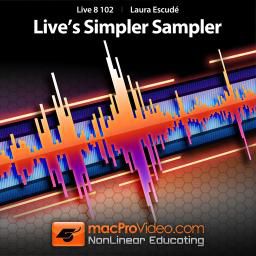 Live 8 102 The Simpler Sampler tutorial by Laura Escudé.
RS: Thanks! What have you got planned for the second half of 2011?
LE: Well, I'm touring with a major artist, I'll be able to talk more about what I'm doing later on. I'm also putting together my new EP of more dance floor friendly tracks, a DJ mix, remixes, recording some violin for video games and collaborating with several artists.
RS: There are a lot of kids (and adults!) getting into music creation thanks to software like Ableton Live! What advice would you give to those who want to make a career out of sound design, music production or DJing?
LE: The best advice I can give is to practice, practice, practice. It sounds like an old cliché, but it's really true. Don't give up if you aren't making the best music right away, it definitely takes time and a lot of patience to learn to make and perform music and to make a career out of it. The best thing you can do is educate yourself and if you're auto didactic like I am, then the tutorial videos from macProVideo.com will definitely help you out!
RS: Thanks so much for you time Laura. I really appreciate it!
LE: Thank you!
Check out Laura's Live 8 102: The Simpler Sampler here!
Find out more about Laura Escudé on her website here.
Listen to Laura on SoundCloud.