Have you ever seen Jeremy Ellis performing with his unbelievable trademark dexterity, punching pads, creating intricate beats? Believe me, you'd know if you've been a witness to such digital dexterity!
We caught up with Jeremy just prior to the release of Maschine MK II, and when he began producing his excellent video course on Finger Drumming for macProVideo.com.
Jeremy talks about his background, musical heroes, Mostly Robot (the NI super group), and how his new macProVideo.com video course reveals his personal Finger Drumming techniques and secrets.
If you have fingers you owe it to yourself to watch his course here and tap along!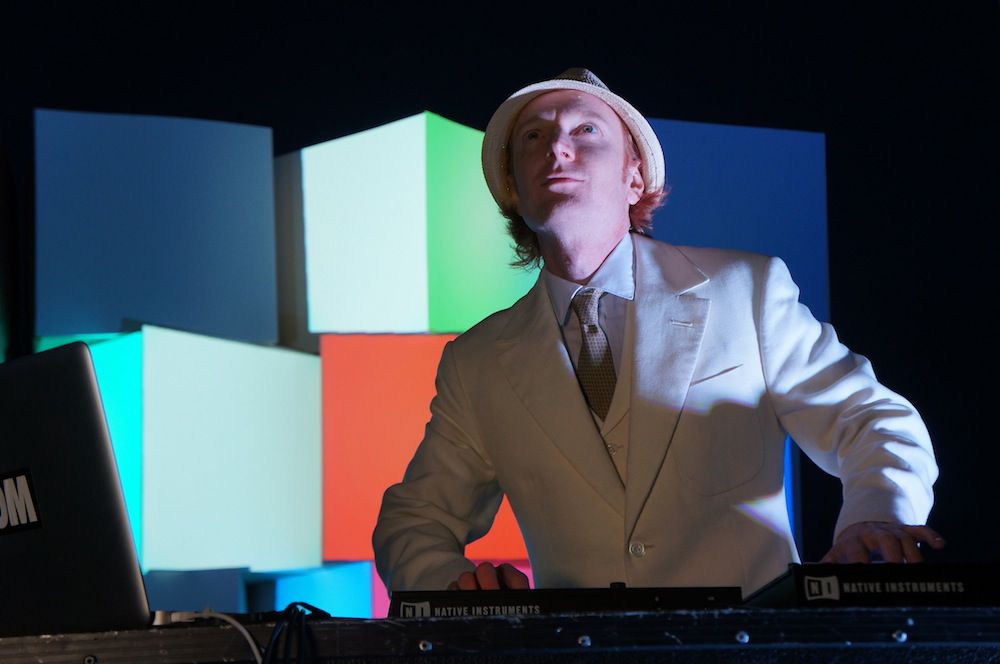 Jeremy Ellis: so fast you can't see his hands moving.

Who is the real Jeremy Ellis? When did music start taking over your life?
Well the real Jeremy Ellis is a pianist in his heart! I grew up in a classical piano style family that was always working on various musical things. My father was a band, orchestra, and choir director... so, we were always doing musicals, recitals, everything non-stop. I think I probably saw 2,000 concerts by the time I was 17. OK, I'm sure I'm exaggerating... but it feels like that!

I was at Band Camp for high-school students when I was 5 years old. That's where the marching band gets together for a week in the summer and prepares their show for later on in the year. My father was the main director of all of it: 130 people, 10 different instructors and drum instructors. So, I grew up there and followed the drum line around.

From being a piano player as a kid I evolved into Detroit Funk and Techno... and the drum machines oozed in, and all the things I had previously learned found their way back into some kind of modern performance style.

So, when did you get your first music hardware like an MPC?
I was thinking about this a couple of days ago. When I was in High School I realized I wanted to do it with computers and drum machines. This was around the time when Lenny Kravitz and Nine Inch Nails were coming out, and Prince was at his height of supreme powers! I was seeing these amazing solo artists doing their own albums and thought it was amazing. The Detroit electronic music came out, and so in the mid-90s I was out dancing quite a bit and I was in some Jazz and Funk fusion bands and were just trying to emulate what the DJs were doing. Drum machines were with me in High School, and so, my first MPC was about 12 years ago.

You mention Prince. Are there any other artists who have had a creative or inspirational impact on you and and your music?
There are certain artists... but it's really experience that has shaped me. Particularly rooms and the energy when they're full of people dancing, that's the most important thing for me. Most of the amazing experiences happened in Detroit, whether it was amazing House music parties or listening to the creators of Techno playing until 7 in the morning. These kind of things were the most influential for me.

I also like that these people came across as poor musicians who could get on a plane and play for thousands of dollars and rock out for hundreds of people. Then they could come back to a town and be regular guys. I thought, OK. That's what I want to do!

Tell us about your studio and live gear setup.
My set has been evolving throughout the years. Four years ago, I was just completely in the MPC and then shooting MIDI out to Waldorf Micro Q and playing keyboards with my Roland synths. Then I dumped all my samples into Reason - where I was working mainly for a number of years. Then a couple of years back, Maschine first came out, and I began using it first as a MIDI Controller, because it's an amazing MIDI Controller. Then more recently, most of my new creations have been coming out of Maschine, and with some of my older work in Reason, it's kind of all finding its way into Ableton. For me Ableton has the greatest sequencer, and I'm looking to do more live sequencing in my future shows.

Do you control Ableton using Maschine when playing live?
Yes! In fact three Maschines. My current setup today is: Maschine MKII, Maschine Mikro MKII and a custom Jeremy Ellis old-skool Maschine.

So what do you think about the new Maschine MKII?
I've been playing around with them since before they were officially released. The main thing is the new color feature and being able to assign colors to groups of pads. It's not just that. The pads themselves have been updated and they feel better to play, and the new Maschine pads feel more sensitive.

We've been talking about this all week. Adding colors seems like such a simple, subtle thing, but it really changes your setup and especially if you have a chance to program stuff for your set.

Is there any other hardware (or software) gear that makes Jeremy Ellis particularly happy?
Well, I'm a child of synthesis. So, I'm really drawn to that kind of stuff. Specifically, I still love all my analogue keyboards. But, most of the work I have done in soft synths would've been in Thor (in Reason) and Massive. And most of the time when I'm doing that I'm just trying to create Stevie Wonder sounds to be honest with you.

I'm fascinated by that: listening to my favorite songs and trying to re-create the sounds from scratch. Sometimes it takes hours, sometimes minutes, but it's really gratifying to be able to play on the same instrument.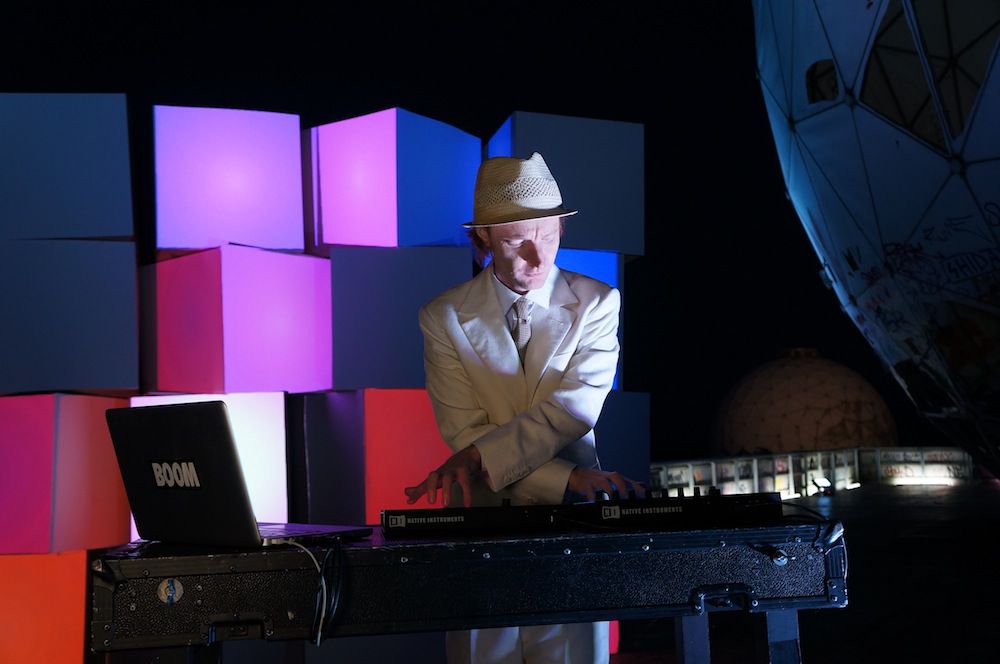 Even with two Maschines and a laptop on the go, Jeremy continues playing kick-ass beats, all the while hardly breaking a sweat.
So where can we hear these sounds in action? Are tunes you've made using these sounds something you'd like to share?
I would like to share. I've been holding out because I haven't had any new music out in a couple of years... so I have more than a hundred songs stockpiled right now. So, I'm just going to see which ones are the best and need to come out. You can really allow people to remix your tracks right now, like just putting out a session on the net which includes everything!

Maybe from that it'll become an EP or an album. We'll see how it goes... You know, I'd rather have fans than sell records at this point. I don't care if it makes any money.

With the tools you use when playing live, do you or your audience consider you a DJ or a performer?
No, I'm not a DJ at all. Sometimes I get annoyed when I'm performing and people think I'm a DJ, but to be honest most people are not in the culture - they don't really know about the differences. It seems so obvious to us, but to your average person who has never seen all these Maschines with flashing lights... I might as well be a DJ to them - or a spaceman.

How did you become involved with Native Instruments?
It was one of these amazing days, when I was doing a James Brown tribute party for someone I'd been working with for a very long time, Daz-I-Kue. Rich Medina, a famous DJ, was standing next to me yelling and throwing dollar bills at me... like it was a Greek wedding. Within two minutes he introduced me to some contacts and within three days I had a Maschine. It was one of those six degrees of separation, but it happened in ten minutes.

So how did Mostly Robot come about? It is really a Super Group.
I think each of us is at the top of our game. I've never seen anyone do what Tim does, Jamie is my favorite singer in the world, Shiftee is simply a world champion! You really can't get that much better with individual talent in a group!

It started when NI sent me an email containing the other members asking me if I'd like to be in a group with those guys. I was like 'Oh, my God. This is a dream come true!' These guys are my heroes, so it's awesome.

What's the dynamic within the group like now that you've been together for a while?

We're all really nice guys. We have fun and it works well. It doesn't feel like anyone is trying to out battle anyone for supremacy. There are egos, and they're flying... but flying together in a friendly way!!

Can you tell us about everyone's gear setup in Mostly Robot?
Wow. I'd like to try [laughs].

So, Jamie is to my left and he has at least 6 keyboards. He's basically using scenes to switch between a bunch of Razor and FM8 patches. Then you have me and I'm coming out of Ableton Live. I have 3 physical Maschines as I mentioned. Then Jamie is singing into the S4 DJ controller, and he's basically using Traktor to run a bunch of crazy effects on his voice. He also uses the F1 to trigger some samples. Shiftee has a pretty standard scratch DJ setup: he also has the S4 and two turntables. Then Tim Exile's setup includes 10 little drum machine things - and I have no idea what's going on over there!

Do you sync up all your gear?
No, not at all. We have been discussing it for a couple of different things. But, for the most part it's all free-style!

As Native Instruments brought you all together, do they have any input in terms of the creative direction of the band?
It's always good to have a bunch of different ears in the room, and when someone can walk in after a whole set and suggest that a song could fit better in a different place, so the end of the show could feel hyped up or something. It's thing like that. Most of the guys are in the Marketing team and artist relations and they're very helpful.

Mostly Robot is an incredible band, not just for the music, but also the collaboration aspect. If you could choose any artist, dead or alive, to collaborate with... who would you choose?
I've always wanted to work with Prince or Stevie Wonder. It would be amazing to go back in history and work with an insane genius like Mozart. I think it'd be awesome to party with that dude!

I think they would like me finger drumming to his compositions... and who knows... maybe he'd write some magnificent pieces for it!

As a virtuoso finger drummer, do you have any tips for the less dexterous amongst us?
Yes! I'd recommend my videos! Even the simple ones on YouTube are helpful... and my upcoming macProVideo.com titles are definitely designed to help everyone become better finger drummers.

I also recommend people take piano and drumming lessons. Really, so much of it is about building independence and it's down to your brain. It's important to build up the skill of being able to play different rhythms with each finger...

So, what was your philosophy behind working with macProVideo.com to produce finger drumming videos? How did it all come about?
Well, Steve H contacted me about it and because education and sharing is a huge part of my background... as you know my family have been playing music and teaching it for almost 100 years now! I just like to share and I'm pretty secure in my own playing that when people catch up, I'm confident they'll be ok with it. They will. I know they will. I envision a bunch of Indian children for example playing tabla and then switching to Maschine or iPads... then wow... watch out!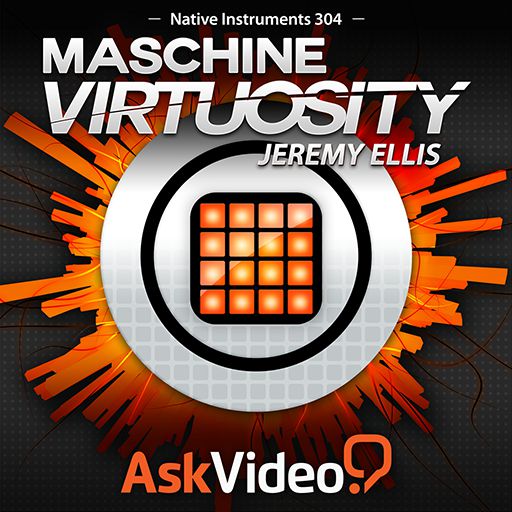 Learn the secrets of drum pad performance in this exclusive course from the world's foremost finger drumming virtuoso...
Can you tell more about your process in creating the videos?
Absolutely. It's been a very interesting process. What I set out to do is make a course that, specifically on the finger drumming and harmony sections, really stand alone for a number of years. So it won't matter if you're using Maschine or another 16 pad controller or a controller that has more than 16 pads. The ideas, concepts, and exercises will transcend space and time.

So basically you could be learning and playing along using cardboard boxes, tables, anything?
That's for real. In some of my YouTube videos, I put out a series called desk-banging, where I just use a desk to show the millions of different exercises you can do at work... and then when you come home you can transfer them to your drums.

Another really interesting part of my macProVideo.com course is I started out being really ambitious. I planned that every two minutes I'd put a tech tip and a musical tip and then I'll reapply this tip and... etc., etc. Although each video did stand on its own, when I went back and watched it later, I realized that a Maschine expert wouldn't need me to tell them how to load patches for example.

You know recently, I gave a brief Maschine lesson to an amazing blind musician called Jeremy Jeffers - Stevie Wonder's main keyboard tester, and an amazing LA Gospel musician. So, we thought how can we teach you how to use Maschine well. We found it was quite easy to teach him to move around the hardware. So, what I've done in an extended intro section for macProVideo is to describe all the basic functions of Maschine in a detailed way. I've tried to make it really accessible to everyone.
I'm really excited about it!

You mentioned iPads briefly before. Have you considered adding touch screen tablets to your setup?
I've not included it in my setup yet. But, I'm quite interested. I've seen my friends using OSC to control their DAWs and to do MPC-style pad work. I can't wait to begin using an iPad. You know I'm kind of stuck in my old little world, but will be branching out into the iOS world in the future.
Find out more about Jeremy Ellis.