Interview: Jean-Michel Jarre on Sampling, Delays & Keeping Music Fun
In part two of this excellent Native Instruments video interview series with living legend of electronic music, Jean-Michel Jarre, the focus is on sampling, delays, and how to keep music making fun.
Watch Part 1 of this interview with Jean-Michel Jarre here.
Berlin, February 25, 2016 – Native Instruments today released the second video in their two-part feature on pioneering composer, performer, songwriter, and producer Jean-Michel Jarre. The video continues the conversation from the first, in which Jarre traces his musical history, and in so doing, the history of electronic music. Now, coinciding with the upcoming release of Part 2 of his Electronica album project, Jarre takes us through the evolution of sampling and delay technology throughout his decade-spanning career.
Watch Part two of the Jean-Michel Jarre feature here:
In part two, Jean-Michel Jarre first talks about the origins of sampling. As a young musician, Jarre started with analog tape recorders – the most advanced technology available at the time for recording, manipulating, and playing back sound. Jarre explains how the Fairlight sampler inspired his pioneering album Zoolook, for which vocal samples were chopped and arranged to create the sonic bed. Another major development in sampling technology, says Jarre, was KONTAKT. He explains how KONTAKT "is not only a sampler, it is also the platform from which you can create new instruments." He also stresses the importance of sampling one's own sounds, insisting that "even if it's not as good technically, it will have something personal which can't be replaced."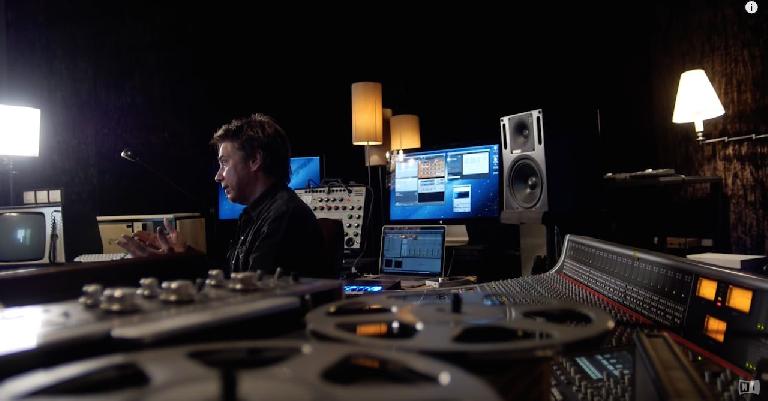 He talks about his favorite delays, using "two Revox's to do delays with analog tape," and how this texture makes up nearly half of his seminal album Oxygen. Jarre also explains how he was never able to find the clarity and space of these analog systems with plug-ins until he heard REPLIKA, replacing some of the plug-ins he was already using on final mixes with the NI delay. At the end of the video, Jarre shares advice acquired over decades. He talks about how the different solutions and fresh inspiration he gets from Native Instruments products make him feel like "a kid in front of new toys". And it is this challenge of mastering new tools that keeps music making fun.
Part One of this interview can be read and watched here:
https://ask.audio/articles/interview-jean-michel-jarre-on-evolution-of-music-technology