Interview: interSonic, Jordan Rudess & Steve Horelick On Their New Album
The debut album from audio experimentalists interSonic is an expressive musical journey with unexpected twists and turns. Jordan Rudess & Steve Horelick reveal how it came about.
interSonic is a beautiful and haunting collection of electronic/acoustic compositions, the debut album of longtime collaborators Jordan Rudess and Steve Horelick. With a focus on experimentation, creating sonic worlds and using highly expressive technology both traditional and futuristic, the album is cinematic and brimming with emotion, performed largely in real time with few edits made afterwards. We caught up with the duo to discuss their inspiration, working process and how this collection of songs came together.
Steve Horelick is an experimental musician, composer and musical adventurer. Known for his soundtracks, songs and scores for TV, film and games, his TV credits include more than 350 episodes encompassing such award-winning productions as PBS's Reading Rainbow (featuring the world's 1st all electronic theme song). Rolling Stone called Steve's theme song for Reading Rainbow "…one of the catchiest tunes in theme-song history."
He currently performs ephemeral minimalist and often outrageous electronic 3D Surround Immersion soundscapes on his Buchla 200e and Easel, extensive Eurorack system. He's also partner/publisher for NonLinear Educating, Inc. (macProVideo.com. AskVideo.com and Ask.Audio.)
Jordan Rudess was voted "Best Keyboardist of All Time" by Music Radar Magazine and is best known as the keyboardist/multi-instrumentalist extraordinaire for platinum-selling Grammy-nominated prog rock band, Dream Theater. Jordan's interest in state of the art keyboard controllers is another area of his career in which he has achieved success. Jordan owns the successful App development company Wizdom Music which as well as creating a number of leading music apps for iOS has also built apps for Intel, Microsoft and RIM.
He is Chief Music Officer at CME Music, creators of the acclaimed XKey mobile keyboard, as well as the Director of Music Experience for the London-based technology company, Roli Labs, creators of the Seaboard. He is also the author of 2 keyboard technique books and several courses at macProVideo.com AskVideo.com and Ask.Audio Academy.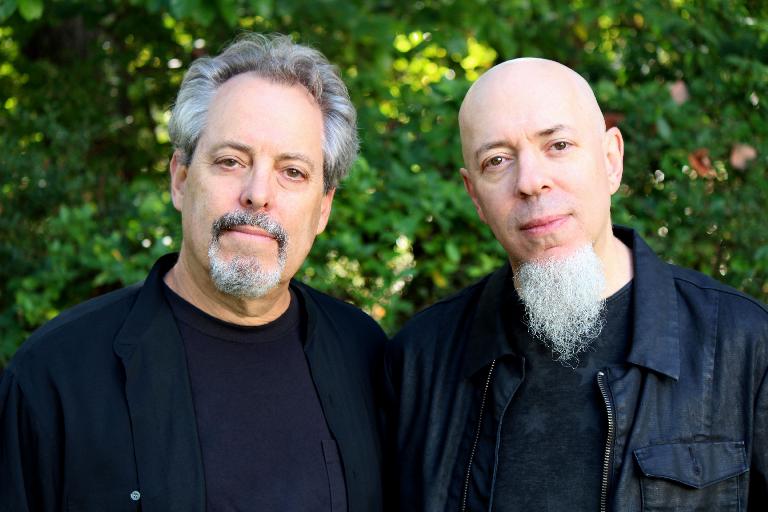 AA: Can you tell us a little about how you met and ended up working together?
SH: It was through macProVideo!
JR: Yes, I was watching the macProVideo tutorials on Logic and Steve's were really meaningful to me, his whole approach was very personal and informative. So I reached out and found out that he was actually pretty close to me in terms of where we live. So we ended up getting together and we discovered we had a lot in common.
AA: What was the first major collaboration that you guys did together?
SH: I think I asked Jordan to join me in doing a masterclass at Purchase college. Or it could have been the performances I was setting up with the Apple Stores. We were showing off what Logic Pro could do and how you can use it in live performance. I've always gone into the back doors of Logic to try to get it to do things that most people don't - I rarely use it as a linear program. I'm using the Environment to create algorithmic happenings and experiments inside of Logic which I think Jordan found pretty inspiring.
What's interesting is that Steve would spend a lot of time on preparing his sonics, his patches and Euroracks so that when I walked in he would have a lot of it set up and ready to go.
AA: Had you been planning to make an album together for a long time or was there a particular trigger to do it now?
JR: We've been playing together off and on for a number of years. We're both very busy so our times together were really spread out. But recently we were enjoying getting together to make music and one day we looked at each other and realized we had a lot of really great music and that we could put it out there. A guy called Scott Shore at Lazybones Records who I know was really interested in putting it out. So then we really looked at what we had, if there was anything we wanted to change and so on. But it was never our intention to create an album, we were just really enjoying making music together.
AA: How did the mechanics of collaborating work given that you are both so busy?
JR: What's interesting is that Steve would spend a lot of time on preparing his sonics, his patches and Euroracks so that when I walked in he would have a lot of it set up and ready to go. If I was playing the piano then I'm really vibing with it and not worrying so much about the electronics. Sometimes I'd also be playing the ROLI Seaboard where I can do a lot with expression, and so we'd prepare our sonic world a lot, but in terms of the notes, it's all improvised.
SH: Yeah, so Jordan would come to my studio which was set up, like a sonic canvas, and start recording. A lot of it is based on improvisation which is very dear to both of us. When you find someone who listens, responds and interacts in a way that really turns you on as a performer, as we do for each other, it's a special thing.
AA: How did it break down in terms of who played what?
SH: I spent a lot of time playing the Zendrum controlling my Eurorack system, my Buchla 200e and Buchla Music Easel and my favorite Logic Pro patches . I also played the iPad apps Finger Fiddle, Thicket and Animoog.
JR: There is quite a lot of piano on the album as well. One of the things we really wanted to explore is that mix of acoustic and electronic sounds. I also really enjoyed playing GeoShred and also the Eigenharp.
SH: No matter what we're playing, it's important for us to choose instruments that allow you to be very expressive. All of the instruments that we used on interSonic really react and respond in a beautiful way to how we touch them - the loudness, the timbral spectrum - that lets us express the music.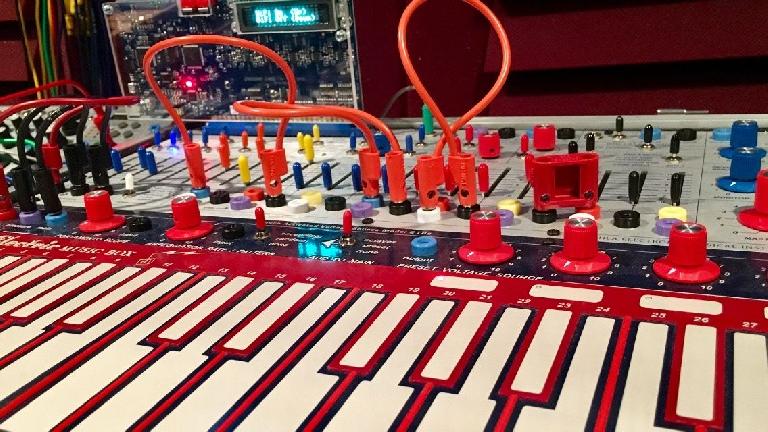 JR: We used the Seaboard a lot on this album, mostly connected to Equator which is ROLI's own software synth. It uses MPE MIDI so I could for example vibrato one note, change the pitch of another. It has way more depth than regular MIDI. I also used the SWAM audio modelling instrument for certain things.
AA: The album spans a lot of sonic ground from relatively conventional compositions all the way through to very experimental stuff. Was there an element of thinking about movie scores in your minds when you were working on it? Because it feels like it certainly has some of the qualities of a score.
SH: It was never in the back of my mind - I was always more in the moment in terms of creating the sonic worlds that we do. But listening back to it, I think what Jordan and I do would be perfectly suited to that world. There's a lot of emotion in this music and one of the key things in designing soundtracks is to be able to identify the emotion in every moment of a scene without stepping on the scene. But helping people feel what they want to feel at that moment. I'm gratified that you felt that emotion come across.
JR: Also a lot of the music is about opening the sonic space and allowing it to breathe. For us, getting together was like healing, letting the sonics wash over us and literally heal us. So in that sense I think that allows it to feel very cinematic as well.
AA: From a production point of view, how much work was it to get it mixed and mastered and who took care of that?
SH: When we go into record I was careful to set up Logic projects in a way that really preserved the live performance aspect of what we did. So what we were experiencing as we recorded it is pretty much what you experience when you listen to it. There's not a whole lot of magic that happened after the performance. The record company did send it off to be mastered but it was key to leave a lot of dynamic range in the finished product.
JR: It was a guy called Larry DeVivo at Silvertone Mastering.
There's a lot of emotion in this music and one of the key things in designing soundtracks is to be able to identify the emotion in every moment of a scene without stepping on the scene.
AA: So you didn't do much audio editing?
JR: Very little. There were some tunes where we decided to do some overdubs when we realised we were making an album. So we added bits here and there but 90-95% of this was totally live.
AA: Some of the tracks are really freeform and others much more rhythmic. How much of it was recorded to a click?
JR: Definitely no clicks! Steve would have his sequencers rolling and that did provide some reference.
SH: It would be hard for anyone to beat map these tempos!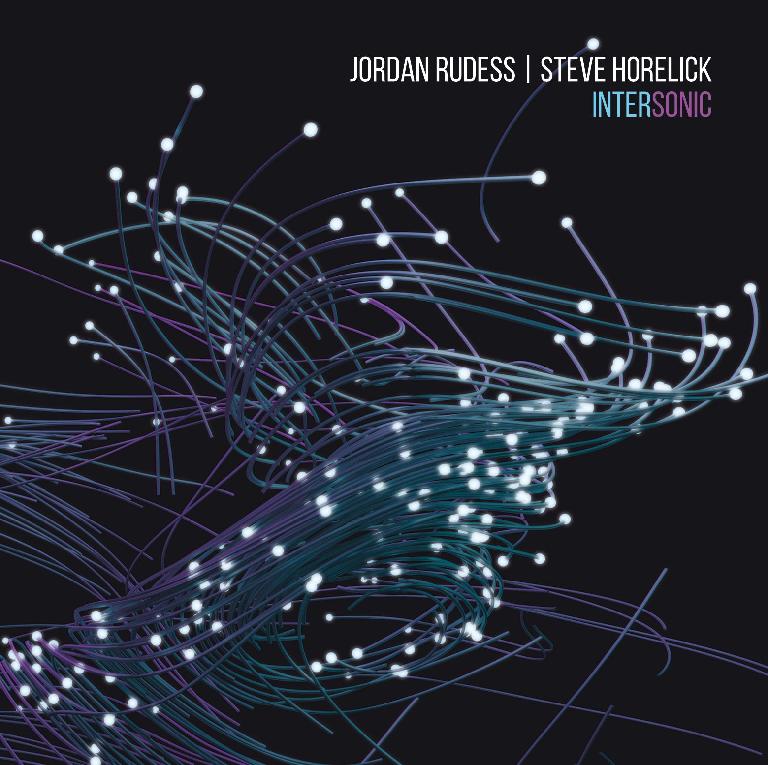 AA: Do you have any plans to play these tracks live in front of an audience?
SH: We would love to. There are some opportunities that are just now presenting themselves. The fact that all of these sonic worlds we created were performed live means there's no reason they can't be recreated.
AA: But maybe you'd be one of those acts that reinterprets the work each time it's played?
JR: I think so, otherwise it would be too painful! And go against the whole spirit of what we're about.
AA: It seems like music that would suit live visuals as well?
JR: Absolutely - we're actually starting to talk about this at the moment. I guess we would work with someone who was of like mind. Maybe manipulating live visuals in real time, that kind of thing.
It's interesting how we really stayed away from traditional synth sounds for this album.
AA: Can you tell us something about the synths you have used on the album?
SH: I perform using mostly Buchla instruments because Buchla always had a unique approach to designing timbres. Rather than putting sawtooth waves through filters he's much more into wave folding and shaping and creating much more expressive sounds. The Buchla 200e and Music Easel are designed for exploration.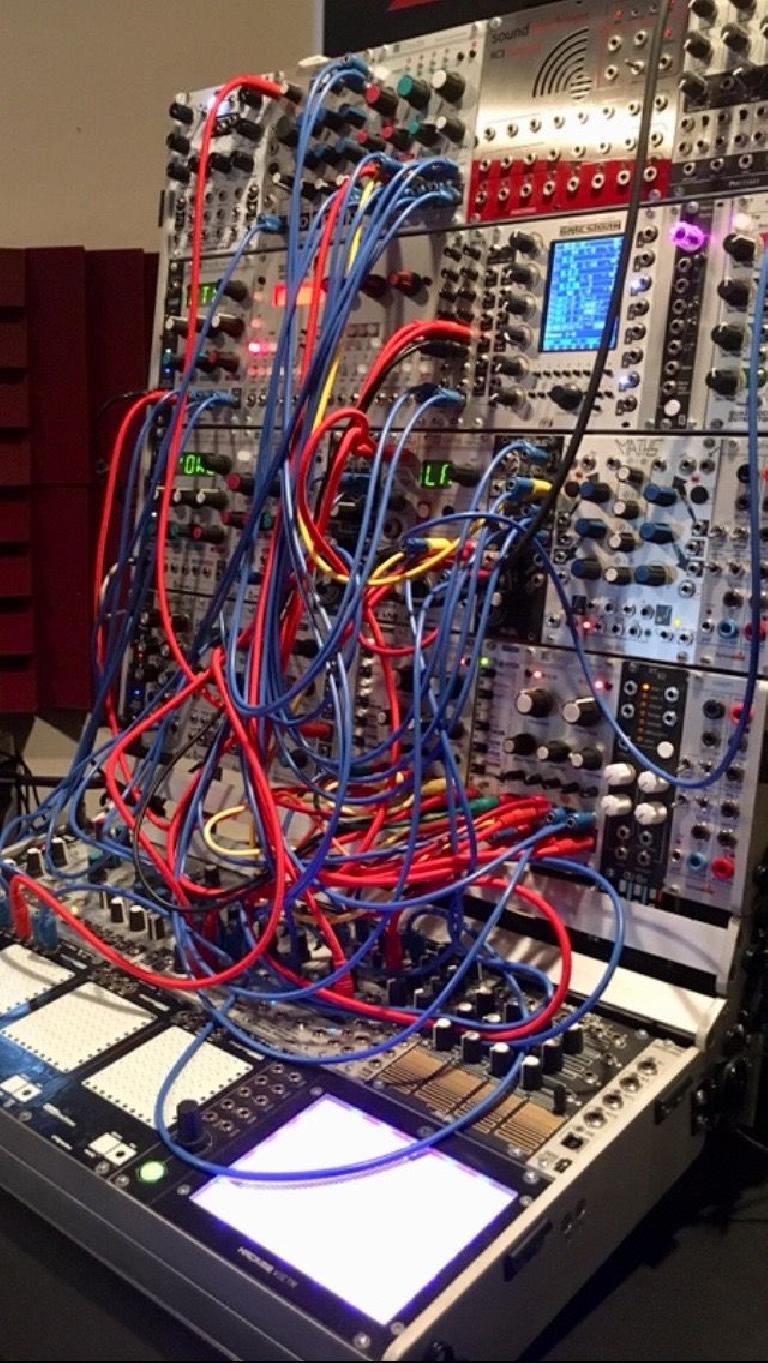 JR: Even in my Julliard days I was turned on to people like Morton Subotnick or Tomita and when I discovered what Steve was doing it was the first time in years I had heard anyone using synths like that. He has this amazing ability to come up with these sonic worlds. I have a company called Wizdom Music that was set up to build next-generation expressive instruments. The first one we made was called MorphWiz and that was designed with the idea of bringing together the worlds of audio and visual. Every note is expressed on a vertical axis so you can use things like the accelerometer to manipulate tone.
We used that on the album and also GeoShred which is much more current. It allows you to go between the fretless and diatonic worlds really seamlessly. You can set the different axes to whatever tonal parameters you want so it becomes very expressive.
SH: It's interesting how we really stayed away from traditional synth sounds for this album. I was using my Eurorack system as a giant physical modelling instrument. The sound was generated by these incredible modules called Rings by Mutable Instruments. When I control their parameters with my Zendrum it gives me a world of expression, and that's what this album is all about. It's about creating electronic music with timbres that are more organic in nature, and doing it in realtime.
JR: I played my ROLI Seaboard and some acoustic piano but also a lot digital piano on the album. My digital piano of choice is Ivory by Synthogy. I tend to gravitate to it because I find to be so beautiful. It allows us to have that acoustic sound and yet we can also process it so easily because it's a virtual instrument. I don't think anyone could tell it wasn't a real piano. At Steve's place I used a Korg SP250 to trigger it.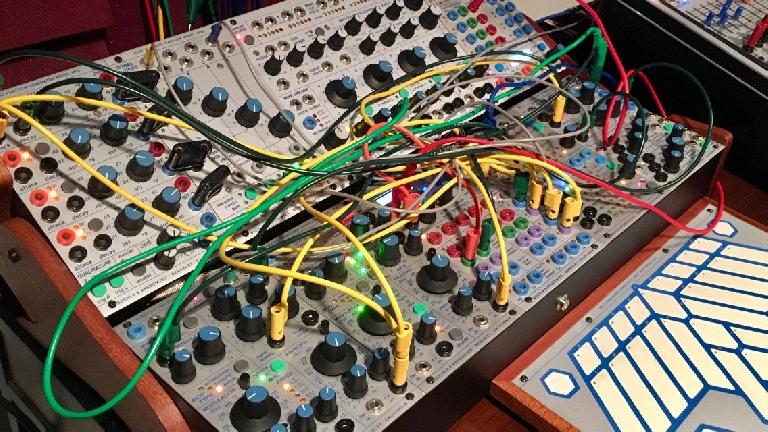 AA: What's next for you as a duo? Will you work together again?
JR: For sure. The reason we got together wasn't for business but because we like to work together and hang out. One of the reasons to put this album out was that it was a way to solidify what we have been doing together. Whether we do another album is hard to say at the moment but we will definitely continue to work together. We're looking for opportunities to work together and work with visual artists, surround sound and more. In 2018 I'm going to be an artist in residence at CCRMA at Stanford University. I plan to have Steve there and we're going to do something with their 56-channel surround system. So we're actively putting the word out!
SH: When you create something like interSonic that comes from a purely artistic place you never know where it's going lead, whether it's live performances, film soundtracks, more albums or who knows! We've got some great feelings about this project and future projects whatever they may be.