Ask: Your new album, No Chains on the Moon, is out now. But, you've been active as a sound designer, producer and DJ for some time. Tell us about some of your favorite and most well received music projects.
Histibe: I've been doing electronic music for around 10 years. It all started with a huge love of drum & bass music, and then grew into a wider range of electronic music. At the moment I can't even tell what genre I prefer more. I just enjoy the diversity and freedom as an artist. Freedom is the main theme of my new mini album No Chains on the Moon.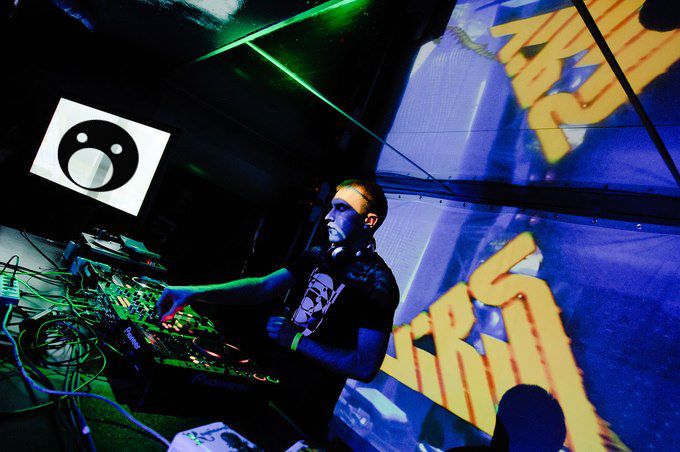 Histibe playing at a recent live show.
I was fortunate to work with Joe Perez during the project. The fact that he participated in the creation of covers of my favorite albums of artists such as Kanye West made me work as hard as possible. It was a kind of competition for me, a kind of test. But most importantly, Joe really reflects my ideas in the form of visual images and as a visual artist. The experience of our cooperation is valuable to me. As far as other recent projects, it was really interesting to have the opportunity to work on the project with Ali Lacey for Impact Soundworks as well as for other labels such as 5Pin Media, Loopmasters and Samplephonics. The art of sound design enables me to develop and move further as an artist and as a producer of electronic music.

Ask: Tell us about your hardware studio setup…
I represent a generation of homemade / selfmade producers with limited hardware and a large number of virtual devices. I think it's some kind of value to our generation. However, I would like to mention my favorite studio speakers from KRK and my audio interface from Line 6. Almost every track was tested using their equipment.

Ask: And what about your software music setup? What DAW and plug-ins do you rely on most?

I've used FL Studio almost all my life. More rarely I use Ableton Live too. As I mentioned above, I am a big fan of virtual devices… As for plug-ins, I am a huge fan of Native Instruments and Waves. The high-quality of their products always pleases me. In addition, I would like like to mention Arturia, reFX and of course products from Image-Line. But also, sometimes I like to use some old plugins, such as Albino. Each of my plugins has their own style, which I manipulate, depending on my mood. It all depends on the creative ideas and needs.

Ask: What challenges have you encountered in producing your current album?

Overall it was a good experience to work with artists from different parts of the globe. I think the biggest challenge for me was myself. However, on this album, I was trying to show myself from different angles, including as a vocalist. The project was moving smoothly and naturally. I just followed my instincts and ideas. There are no limitations on the Moon. There are no chains. Whether it's gold chains or heavy metalic chains. Even if they are on the Moon, they will be 6 times lighter than on Earth. Track by track—it's a journey of self-expression and freedom.

Ask: Tell us about the creative and production side of your collaborations with Balkansky on "Young Diamonds" and Whensday & Ant-Live on "Mask Movement".

We started "Young Diamonds" over a year ago based on samples from my sample pack (which has been recently published under the title "Histibe: Electronic Ukraine"). He did a very good foundation, I developed it and added vocals. This was our second collaboration. Our first collaboration "Late Night 2.0" with the participation of the video director Renato Marques received international digital reward "Vimeo Staff Picks". As for Whensday & Ant-Live, both of them are young and gifted rappers from US. Their energy reflects the main idea of "Mask Movement" which consists of passion, unity and new opportunities for like-minded people and creative enthusiasts from different part of the world. But this track was just an introduction. Get ready for the new chapters and projects with Mask Movement in the near future!

Ask: Any tips you can provide for emerging sound designers and musicians/producers?

If opportunity doesn't knock, build a door. If it's on the Moon, build a rocket!
An example video showing Histibe's sound design chops:

Web: www.histibe.com