Hiroshi Watanabe is a definitive force in modern Japanese electronic music. His signature style of colorful, lush, and shamelessly emotional electronics has been claimed by house music, techno, trance and more obscure electronica fans as their own, yet transcends those fickle definitions into something truly timeless. Sublime is a word often used to describe his productions under an array of aliases such as Quadra, Tread, or the most celebrated, Kaito.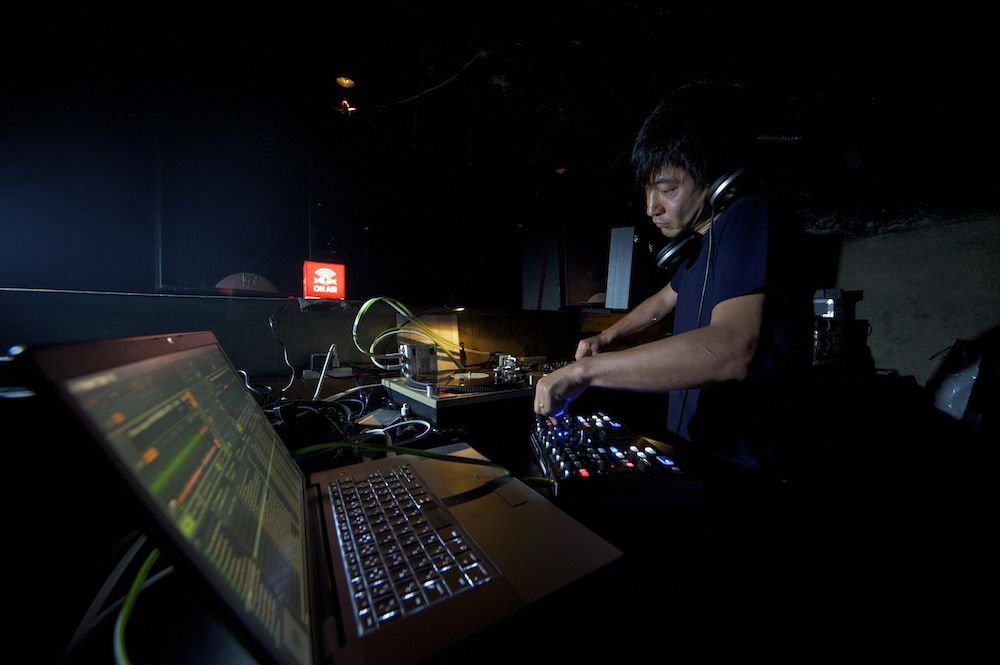 Photo by Osamu Matsuba

Educated at Boston's Berklee College of Music, with a major in Music Synthesis, Hiroshi started his career in New York's celebrated club circuit, at places like Twilo and Save The Robots. His work, including several critically acclaimed full length albums for labels such as the leading German imprint, Kompakt, has lead to a constant international touring schedule with performances at Sonar Music Festival and Popkomm. Hiroshi maintains a busy studio life aside from techno, producing theatre soundtracks, jingles and video game music, including the theme from "Beat Mania" a Japanese arcade standard and Sony PlayStation release.
A long relationship with Vestax and Native Instruments eventually led to the production of Hiroshi Watanabe's signature controller for Traktor, the TR-1. I had a chance to talk with Hiroshi on a variety of TR-1 related topics and found his thoughts on this unique machine quite interesting… as interesting perhaps as his music itself.
Rennie Foster: What was the initial inspiration behind designing the TR-1?
Hiroshi Watanabe: If someone already knows Vestax controllers, they will know the original DJ controller called the "VCI-100", I was using this machine for a couple of years since they released it around 2006 and I felt I needed to modify some things about it for my DJ performance.
I want to feel music more. When you try to make a track on a computer, you might need a controller as well, because you want to keep the physical feeling and want to put some more energy in what you do by touching a knob or fader physically. It's the same concept for digital DJ tools. I don't want to DJ with just a laptop computer at all. I need to have that physical feeling with all my DJ tools, not only my controller.
RF: What was the focal point of the TR-1's visual design?
HW: It is gear, it is a tool, a machine. It must have a strong concept. When I was producing this machine, I felt this product should not need to prove itself to everyone or satisfy every customer. I wanted the TR-1 to be a very special tool, different from the others. Otherwise there is no meaning for the TR-1 to exist. The strongest point of the concept was that the product must have a good shape, and be beautiful or even sexy. But please don't misunderstand this meaning... The functionality must be perfect, this is the basic thing, after this, the design.
RF: How and when did you connect with Vestax?
HW: As you know, the Vestax company is very famous for DJ equipment and the tools they develop for the whole world. I have known them for a long time. Ever since I was living in NYC, they were already supporting me. I loved using their stuff, so we have been working together since 1997.
RF: The TR-1 is remarkably suited to use with Native Instrument's Traktor software. How did Trakor play a part in the design process and how does the TR-1 function with other DJ software?
HW: Yes, basically I designed the TR-1 for Traktor. When I was provided this product, Traktor was at version 3. I designed the TR-1 top panel, placement of pots, knobs and buttons to match the same position as the Traktor software. Of course, not all is exactly alike, but when you see the top panel of the TR-1 you can very easily recognize what is the meaning of each part in relation to Traktor. The TR-1 is just a MIDI controller so you can use it for anything, any other software. Every action on the TR-1 has a MIDI control number as a normal MIDI controller.
RF: How has the TR-1 Impacted your own personal DJ performance?
HW: I designed it for my own performance, so of course after they provided me the physical product I was so excited! I could perform much more impressive actions and feel more free DJing with a laptop computer. There is big difference between digital and analog style, I totally understood that point from the beginning so I was trying to take full advantage of digital DJ performing with a controller and not using timecode tools.
RF: What made you decide to exclude jog wheels, popular on other Vestax controllers, in your design?
HW: Yes, this is the most strong and different point from other popular DJ controllers. TR-1 and TR-1 MK2 users must accept to use the sync mode. I set up this product to make the best use of that. Jog wheels always take up a big space on the panel but are not useful and not sexy. When people are tweaking small jog wheels it doesn't look good. I stuck to a strong concept for this product, so if you still want to use jog wheels, then you really should use a real turntable or CDJ. Those products have a 100% perfect design for using wheels. A DJ controller doesn't need to just be an emulator for those. In my opinion, it looks uncool if there is jog wheels on the panel for a DJ controller... and I took out the crossfader too. I made design a priority for this concept. If you really want to use a crossfader, then you can use a real DJ mixer with the controller. TR-1 does not need to be just a standalone controller, sometimes it needs other tools, but sometimes not.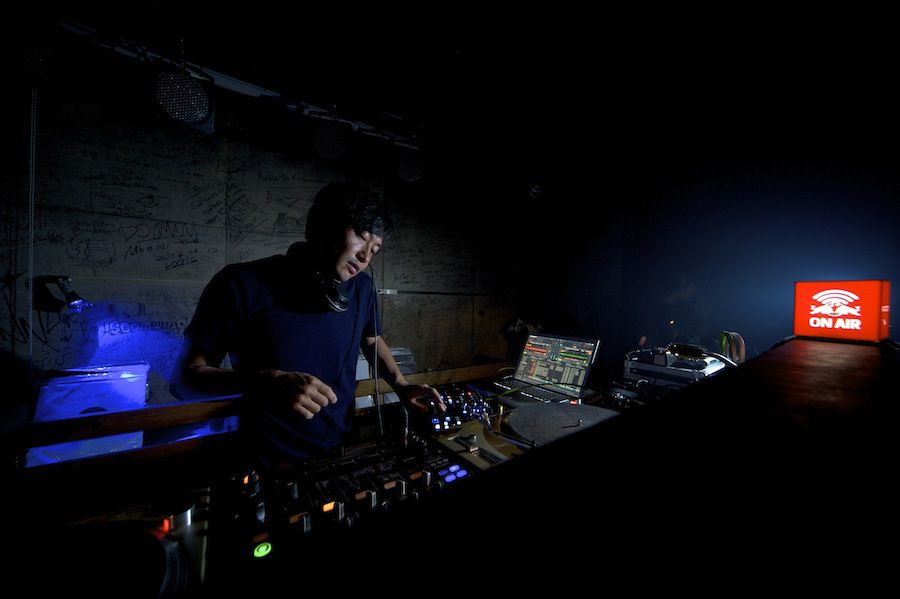 Photo by Osamu Matsuba

RF: I have heard about a MK2 version of the TR-1, any truth to that rumor?
HW: Vestax has released the TR-1 MK2 but it's available in Japan exclusively at the moment. The MK2 has two different fader modes. One is the original TR-1 mode, but the other is for the new four deck fader mode in Traktor. Sometimes you might need to tweak the pitch fader by hand, but most Traktor users are using sync mode. So you can assign the pitch sliders as volume for decks and control decks A,B,C and D with separate sliders. This fader was working as only a pitch fader before, but by switching, you can decide now for yourself how to use it, pitch or volume for extra decks. MK2 has an original back panel too, on the original TR-1 there is volume curve knob in the front side of body, this fader curve will be effective for C and D faders too! The MK1 couldn't do this.
RF: With so many new digital tools on the market, what are your thoughts on the future of DJ performance and equipment?
HW: My personal opinion is that it's totally the same situation happening as in the photography scene. Digital and analog, people still want to chose both or one of them. For me, a DJ is a DJ and a live act is a live act. Both are not the same. I want to keep the very simple process that is DJing, with music someone already made. I don't want DJ gear and tools going too much in a futuristic or crazy direction toward actual music production. I like to keep it simple and go with the same concept as DJing was in the past, the basics.
Digital and analog, those are different processes to provide the sound, but for the DJing process, it is the same. The important points are totally the same. Especially for the younger generation, I really want them to understand what DJing is, but if those tools and gear are going way too far in the direction of production, then people will very easily lose the point.
Discover more about the Vestax TR-1
here
.