Interview: Francesco Mulassano Founder of Torino Synth Meeting 2016
Brining together musicians and synth lovers in a friendly, accessible space in a beautiful European city is exactly what Torino Synth Meeting is all about. The founder reveals more in this interview.
If you're suffering from not having been to Superbooth16, or want to discover the next BIG synth fair in Europe, then you don't have to wait long. Torino Synth Meeting, now in its sixth iteration, is coming to the cultural Northern city of (yes, youb guessed it) Torino very soon. To be precise, the 28-29th May, 2016.
It's going to be big! We chatted with Francesco Mulassano, one of the founders of Torino Synth Meeting (TSM) about the exhbition/show/event and why synth lovers (and musicians and producers in general) will love the 2 days in Torino.
Spoiler alert: This is a trade show where you will be able to talke to others without being drowned out by ambient noise... but will still be able to demo and try out all the synthesizers on show. It's an obvious solution, that more events should consider. Read on to find out more...
AskAudio: What is the main philosophy behind The Torino Synth Meeting?
Francesco: We at Torino Synth Meeting are musicians. With this in mind we ask ourself: What i want to see on a music fair? What I don't want to see? Is the fair for musicians or is it a market place?
With this question, we tried to create something that does not exist in Italy and something we would like to see.
We only want to work with the Brands or their italian dealer, we don't work with retailers. If someone wants to buy an instrument they have thousands of options to choose from, but if they want to try it with their hand and ears, they should come to an event like Torino Synth Meeting.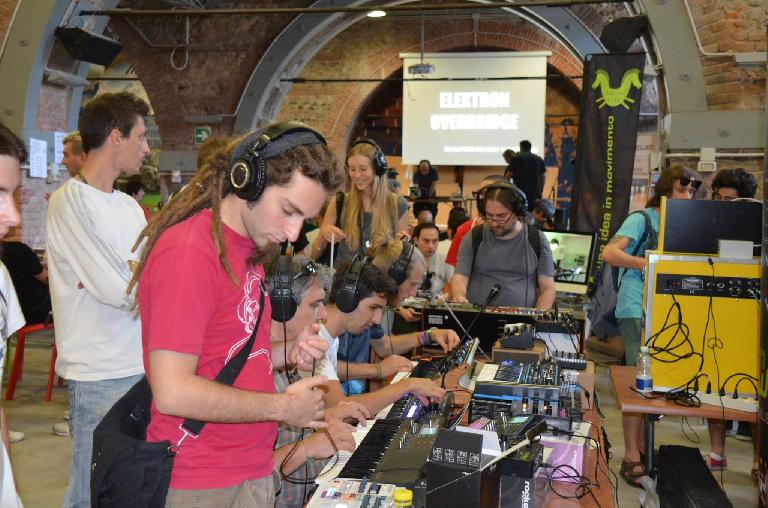 At TSM every demo must be via headphones, we don like the noise in the other fairs. If i want to try an instrument I need to hear it properly, if I want to talk with other musicians i don't want to scream :­), some companies told me: "This is something that I appreciate very much" and "we would not have come otherwise."
We started in 2011 with a tiny event in a tiny club. There were only 10 to 12 synthesizers from my private collection.
Ask: This year it looks like it will be bigger and better than ever! Did you predict it would grow and become more popular like this when you first had the idea?
Francesco: No, we started in 2011 with a tiny event in a tiny club. There were only 10 to 12 synthesizers from my private collection and from Luca Torasso's Studio (Luca is my synth partner since 2008), a few instruments and a few good people, some who became very good friends.

Year after year we tried to grow, we have no idea how.. beacause.. we are musicians, not business managers but we tried to contact the Italian companies, Grp synthesizers, Sound Machines, Kinetik Laboratories... then the dealer and finally the companies around the world, It was a slow and steady growth and then it became exponential last year in the fifth edition where we had 1000 visitors, over 25 brands, live sets, concerts and workshops thanks to the support of disconet.it our technical partner... Let's say that I was hoping it would go well, and it went even better!
Ask: So, there's not just boutique, small synth makers at Torino Synth Meeting. You've got large companies and non­instrument companies too. Why are these (non­-synth) companies getting involved?
Francesco: It was a natural choice, a musician needs not only synthesizers, but needs to understand how to use them (and then have the schools), what to do when they have produced a number of songs they deem valid (which is why there are also record labels ) and then many musicians have become DJs... and many DJs have become producers (which is why there is also DJ equipment).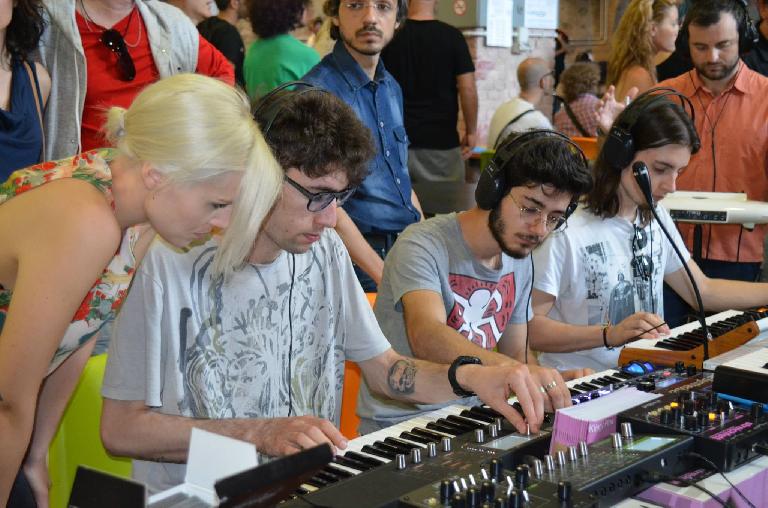 Ask: In terms of your audience, what types of musicians, producers, synthesists do you except will attend?
Francesco: Last year we had professional musicians, recording studio managers, DJs, students of conservatory, sound designers, enthusiast of all ages, junior synthetists who wanted to touch real machines, senior synthetists who want to understand how to switch from old sequencer to modern daw, newbies and gurus! I think we have the the most diverse audience.
Ask: Is there an event during the Torino Synth Meeting (workshop/talk/concert) you're particularly looking forward to?
Francesco: This year is 'a year of preview' and i want to see everything! (but like the other years probably we are busy and can't touch any instruments :­( )
I want to see and hear the new Arturia Matrixbrute, the CS15 from Nonlinearlabs and i know that GRP synthesizer will be at the meeting with a new synthesizers and some eurorack modules... the Roland's system 500 is very attractive... for us every single instruments is important in the meeting and for me if it were possible, I would buy everything! For the workshop, our audience come to TSM also to attend Enrico Cosimi talk, a guru of synth with over 30 years of experience, who will present the Moog's, GRP's and Frap tools products and, we have the pleasure to host Elektron with his endorser Cenk Sayinli who will perform Saturday as Projekt Dataline.
Ask: What benefits does Torino Synth Meeting have over a trade show like Musikmesse in terms of the audience and the exhibitors?
Francesco: The wine and the food? heheeh! No seriously, I think Torino is one of the music and cultural centers in Europe, we have many music festivals, events during the year, a jazz festival, a film festival.. whoever visits Torino experiences a multicultural city with events almost every day, museums and historical places to visit. For the audience it's an occasion to meet other musicians and discover instruments and companies. For the exhibitors it's a good place to make connections with people who are at the meeting with a specific interest. It's not an all ­purpose fair, our audience is a very specific audience.
Ask: Why do you feel more and more music makers are becoming attracted to physical music machines in this age of digital software that can do almost anything?
Francesco: I do not know, but I can speak for myself. I grew up musically as a guitarist, bassist, and then keyboardist. I just can't get any pleasure from the idea of playing on a touch surface, while on the contrary I am comfortable with vst. If you think about it, it is the same thing ... but I'm not attracted to this type of interface. Perhaps the 'digital' natives are most familiar with these devices? However, after experimenting with lots of software I felt the need to have direct control with my fingers ... In fact, what better way is there to control cutoff that with a knob between your fingers?
Torino Synth Meet (TSM) is held in the beautiful, historic city of Torino, Italy from May 28th to May 29th, 2016.
For more information for visitors or to exhibit visit: http://www.synthmeeting.com