MPVHub: Tell us about your background and how you began your musical journey.
Erik: I started playing piano when I was 8 years old, and then I studied guitar and wind instruments in school, eventually moving back to a pure concentration on the piano at the university. I really connected with rock music when I was a kid, particularly British progressive rock and the lush, studio productions of the 1970s. Synthesizers always enchanted me, and I really got into their sound through the albums of Emerson Lake and Palmer and Electric Light Orchestra (who of course sound nothing alike except that they are both synth heavy!). I worked some after-school jobs in high school and was able to buy my first synthesizer, a terrible little Roland organ-strings synth. But it was a start! There was no turning back from there.

MPVHub: How did you first come into contact with Moog synths? Was it love at first listen?
Erik: That's a good way to say it. Especially in the '70s, the word "synthesizer" was synonymous with Moog. We all know the famous "Lucky Man" solo from Keith Emerson, but I think it was really the ELP "Pictures at an Exhibition" album where Keith played the modular Moog live in a rock setting that had a greater impact on me. And of course the Moog synthesizer sound is dominant across the prog rock genre. From the modular to the Minimoog to the Taurus Pedals, even on to later instruments like the Rogue and the Source, those classic instruments really changed not only the world of synthesizers, but the world of music in general.

MPVHub: What hardware and software do you use in your current studio?
Erik: In addition to my modular Moog synthesizer, aka "The Wall of Doom," I use a Moog Voyager, two '70s Minimoog Model D synths, a rack-mounted MIDIMoog (a Model D conversion, basically) and a Moog Rogue. I also use the Alesis Andromeda (I was actually one of the designers of this instrument) and some Oberheim instruments such as my modularized collection of SEM units. I have a Hammond Model D organ from 1939 that is also a favorite, and of course my grand piano … the most important instrument in the orchestra.
I also just recently bought my first Mellotron. I had only hired them in the past for particular sessions and live gigs. On the more modern side, I use the Yamaha Motif XS extensively. That is a wonderful digital synthesizer and sample playback instrument. I've built up a very nice custom library for it from my personal archives. The Waldorf Blofeld is another digital favorite; I love its PPG Wave legacy and how Waldorf has brought that classic sound into the 21st Century.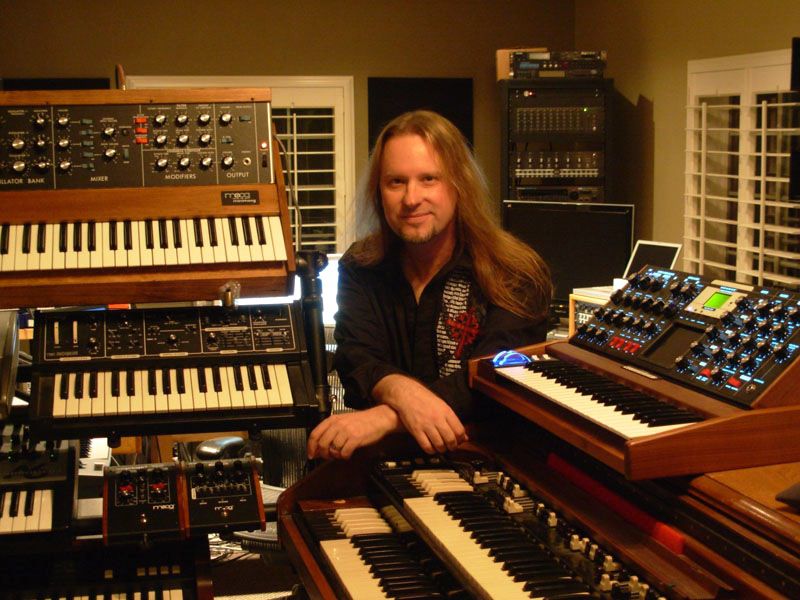 In the studio with Erik Norlander.
My DAW of choice is MOTU Digital Performer. I've been a Performer user since 1987! For soft synth and virtual instruments, I use the SampleTank - based instruments from IK Multimedia including SampleMoog (an instrument for which I provided a lot of the sampled content), the Arturia synths including their great new Oberheim SEM V, and the Spectrasonics instruments, especially Omnisphere, which is just magnificent. I was honored to be asked to contribute some samples of the Wall of Doom to a Bob Moog Tribute Library for Omnisphere a couple of years ago. For mixing plug-ins, I use the IK Multimedia T-RackS plug-ins, the Universal Audio UAD-2 plug-ins (with an Apollo Quad interface, spectacular) and the Waves products.
MPVHub: You joined ASIA in 2007… what is this experience like? Are you recording new albums / touring soon?
Erik: There are two versions of the band, actually. When the original lineup reformed in 2006, the current version of the band, led by vocalist John Payne, decided to continue on their 15-year legacy as "ASIA Featuring John Payne." The original keyboardist, Geoff Downes, left this band to reform with the original members, and John Payne asked me to be the keyboardist in this new incarnation. It has been great fun, and we have played probably over 100 concerts. We just finished a long summer run, and we're getting to do some additional fall dates in California and Mexico.
We have been working on an a new studio album, and music from that will see the light of day soon. In addition to the new music, the band plays songs from the entire history of ASIA, so I get to cover quite a bit of musical ground. I also play a nice solo spot in the middle of our set with a couple of songs from my solo albums where the synths get an extra-intense workout.

MPVHub: What exactly is your famous "Wall of Doom"?
Erik: The nicknamed "Wall of Doom" is a 22-oscillator analog modular Moog synthesizer that started its life as a IIC system from April of 1967. It is a modular instrument, so of course it can be patched into infinite combinations. I have it physically configured as 5 individual voices that are meant to be used monophonically. Two of the voices are set up as stereo monophonic voices, meaning that the oscillators are separated into a left and right audio path with two separate filters but controlled from a unified CV source. This is a configuration that I have not seen others use, and I have really made it a core element of my own "sound." The instrument has a multichannel MIDI-to-Control Voltage interface so that it can be played remotely either by MIDI keyboards, digital sequencers or both, as is most often the case. I have also commissioned several custom modules including three 16-input oscillator mixers with sub oscillator circuitry built-in. This allows me to take multiple waveform outputs from a single oscillator, such as a sawtooth wave plus a pulse-width-modulated square wave, and mix in an octave below the fundamental. This really makes a single oscillator sound like three oscillators. And when you have 22 of those to work with, you can imagine how massive this instrument can sound!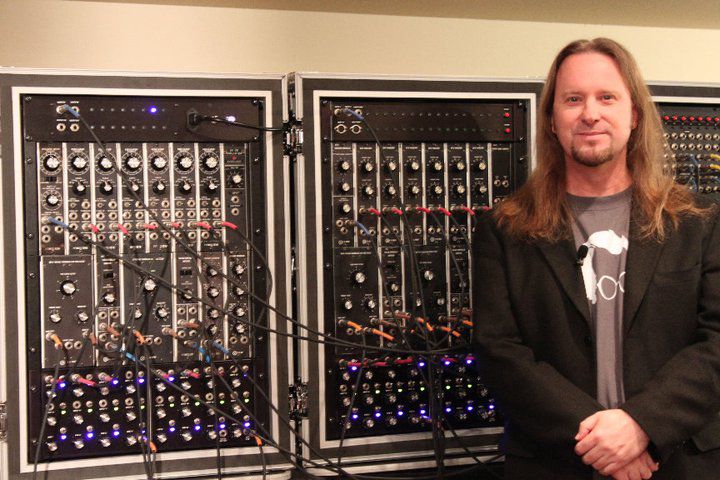 Erik stands next to his Wall of Doom.
The instrument was first built into a giant triple-wide 36RU rack case that was around six feet high by seven feet wide. I actually did several tours with the instrument in this configuration, and that's of course how it got its nickname as the Wall of Doom. Then in 2010, The Bob Moog Foundation helped me re-configure it into six smaller rack cases making it considerably more portable.
We debuted the new configuration at our Moogus Operandi event in May of 2010. I have also just released a DVD/2CD product called "The Galactic Collective - Live in Gettysburg" of a full concert I played with the instrument last year in Gettysburg, Pennsylvania. Michelle Moog-Koussa was the mistress-of-ceremonies for the show and provided a very nice introduction that we included on the DVD. I also released a parallel DVD/2CD product called "The Galactic Collective - Definitive Edition" that documents the creation of an entire studio album in 2009 using the instrument. There's a fun bonus featurette on the DVD for synthesizer enthusiasts called "Behind the Wall of Doom - The Synthesizers of The Galactic Collective." You can find information, videos and music from those two releases (and all my other music, of course) on my web site at www.eriknorlander.com.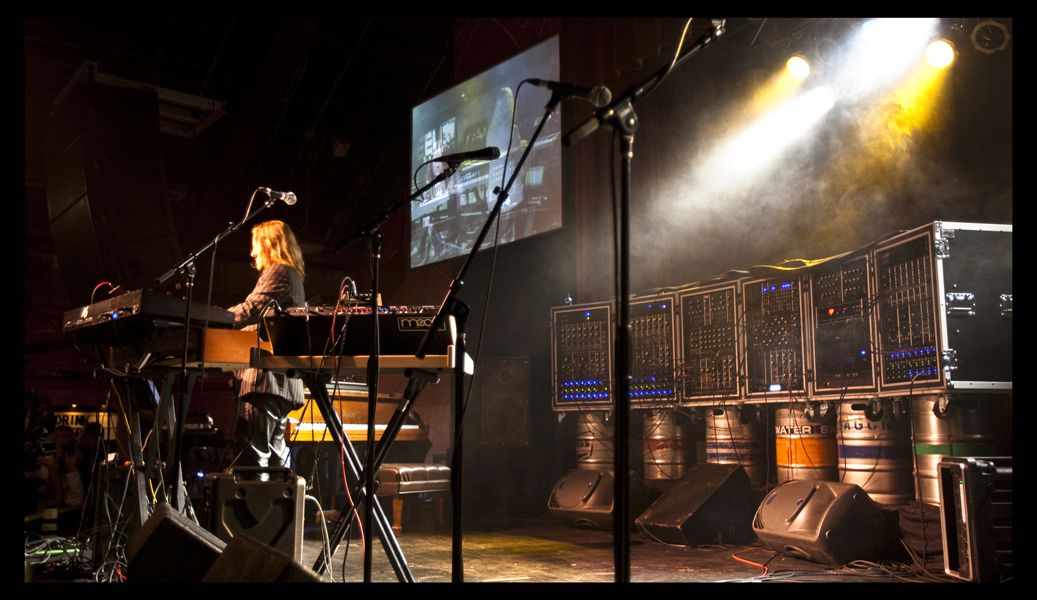 The Moogus Operandi 2010 where the "portable" Wall of Doom debuted.
MPVHub: You're doing a lot of work with the Bob Moog Foundation in schools. What is the reaction amongst students?
Erik: I met Michelle Moog-Koussa in 2007 when I played Moogfest in New York City. I had known Bob Moog casually prior to that, and when I was working on the design the Alesis Andromeda synthesizer in the late '90s, I tried very hard to get Bob to be the electrical engineer on the project. Who better, after all? In the end, he couldn't do it because he was already working on the then-top-secret Moog Voyager. When I met Michelle some 10 years later, we had so much in common that it was no surprise we became instant friends. I contribute to The Bob Moog Foundation how I can, whether it is by performing as an artist, lecturing as a teacher of synthesis or just as a cheerleader to spread the good mojo of the Foundation's excellent ongoing work.


New Foundation of Synthesis series courses (left to right): 104: Control Voltage, 105: The VCA & Other Tools, 106: Designing Timbres.
MPVHub: And from schools, to online video teaching! Tell us about your role in the BMF and macProVideo.com Foundation of Synthesis series.
Erik: I am so impressed with Marc Doty's video courses on synthesis for the BMF and MPV. These are both entertaining and informative – exactly what I love to see in educational videos. So when he and Michelle Moog-Koussa asked me to contribute some segments with my modular synth, it was really a privilege to join the production.
I don't consider myself much of a teacher, but I have nevertheless found myself writing and lecturing quite a bit in recent times simply based on the many years of life experience using synthesizers in day-to-day studio and touring work. In that sense, I feel like more of a storyteller than anything else. But I've learned so much from other synthesists, engineers and touring crews over the years just from them telling their various war stories and giving little insights into their empirical uses in real-world situations, perhaps this angle is just as valuable as a sort of companion method. I hope my contributions will be a worthy addition to this truly excellent series.
MPVHub: Thanks so much for your time Erik! Much appreciated.
Check out the latest Foundation Of Synthesis video course by BMF and macProVideo.com!