Interview: Canadian Producer The Mole Digging Deep
Hailing from Canada but now based in Berlin, Colin de la Plante AKA The Mole is known for his eclectic blending of electronic and other styles. We caught up with him to ask what makes him tick.
Hailing from the Canadian quadrant of the Pacific Northwest, Colin de la Plante has built a global following with his infectiously left-of-center house productions as The Mole. Equally renowned for his adventurously mixed DJ sets full of rarities and classics, he manages to bridge everything from minimalistic acid house and groovy hypnotic techno to hidden disco gems with effortless ease, making him a regular favorite at Panorama Bar, Rex, Fabric, and beyond. With his latest full-length, De La Planet, out now on his own Maybe Tomorrow imprint, we caught up with him at his Neukölln flat to discuss everything from collaborations with Mathew Jonson and Cobblestone Jazz, to why he builds his own synthesizers.
AA: So when did you first start producing electronic music? Do you still have your first piece of gear?
Let's see, I bought an Akai S900 from the Captain in Vancouver around the early-mid '90s. Almost immediately after that I got an Atari 1040 to run Cubase. It came highly recommended. Tight. That was the word they used: tight. I still have the S900, it's sitting beside me right now in fact. And I probably could dig up a disk of the Cubase, but I can't guarantee it'll run.
AA: Makes sense your first piece was a sampler – to this day, your tracks feature creative use of samples, sometimes looped, sometimes artfully arranged in an almost collage sort of style. What can you tell us about your sampling process? How do you like to record and edit them? What's your approach when using them in your sets?
I tend to record all the time. I have an archive of random things I found interesting. Bits and pieces from records and movies and whatever. Then, when I'm working on some grooves, I have this giant pile or palette to dig through and find what fits. Laborious and perhaps even a stupid system, but somehow it works for me. Separates my listening and creating, which often happen in different rooms anyway. Using the samples in my live sets is the same as in my songs. I just dig around until I find something that fits. The only difference, in the live sets I don't have to worry about copyright – they only live in the moment.
AA: Sounds sensible enough to me. But do you ever hit record shops specifically looking for samples? Do you have a strategy in the record store, or is it more of a freeform process?
My shopping habits are pretty free, very vibe-based. If it feels good, I'm going for it. I did a lot of dollar-bin digging back in Canada, even had a few routes, back when I was skating, that were a line of thrift and charity stores all going downhill. There was always a bar at the bottom of that hill. Celebration beer and a bus back home to check out the finds. These days I wing it. Sometimes I think, this is perfect for an edit, then it sits on my shelf for years, waiting, sleeping, sometimes coming out to play, but never getting that edit. Moral is: I never really know. Vibes bro.
AA: Fair enough – although planning for a bar at the bottom of the hill sounds like a strategy to me. So how do you approach production in the studio? Where do you like to start with a track? Any primary tools or guiding philosophies?
"Write drunk, edit sober." Isn't that what Hemingway said? Not my philosophy but it sounds funny. I try to change it up all the time, my methods. I want to stay interested – break out of my comfort zones while still making something that comforts me. But I do work some trends sometimes. Say I have two weeks in the studio, and I decided to make three songs a day, real fast, challenging. Maybe I'll start everything with the Dr. Böhm. As a theme: Dr. Böhm and effects. I haven't managed to sync mine yet, so starting with it makes sense. But again, these are just themes I choose and run with for short periods. I was never too thrilled about the whole chance in music thing. I love Cage but I'm not for the universe deciding. But I do like to change things up pretty drastically. Spend the whole day only working with the right side of the room. That kind of thing. My own little ching. Mole-ching. More like Mole-chong though. That part is pretty consistent. More Chong than Cheech.
The Mole's Going With The Hat Man from his latest album:
I want to stay interested – break out of my comfort zones while still making something that comforts me.
AA: Heh. Nice to try different approaches and change it up. But it seems these days everyone loves starting tracks, and a key difference between hobbyists and professionals seems to be who can finish them. Any tips or strategies for wrapping material?
The toughest part is the finishing. And it can be 90% of the work. I like walking away for weeks then coming back and seeing if whatever it is really deserves the time. One friend told me her time was 18 days, so specific. And listening to it over and over, making corrections. That's my system at least, making sure there's nothing about it I hate. Over and over. No question I've heard my albums more than anyone else – just wish I could remember them. I also like getting lucky and finishing in one day. That's my favorite.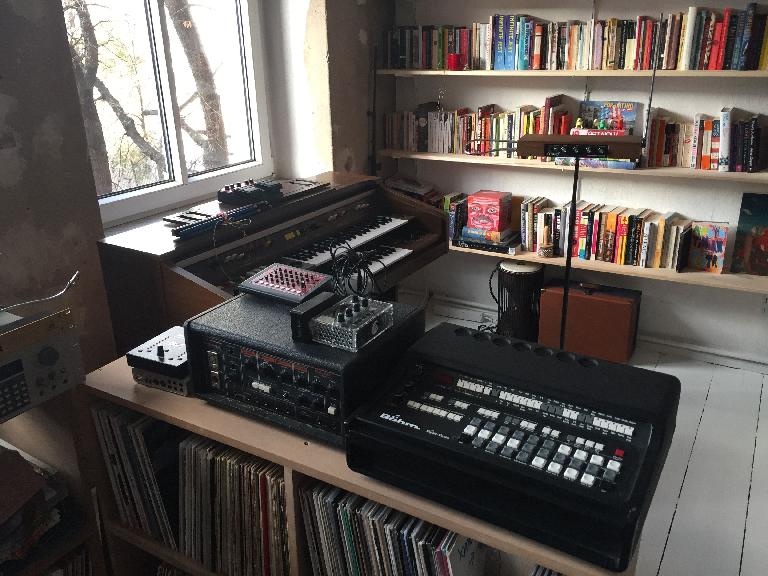 AA: But so your latest album features a variety of tempo and styles – was this something you set out to do, or just the inevitable result of a wide array of influences and a varied approach from day to day?
De La Planet was mostly recorded in the same short period of time. So the variety is my explorations during this stretch. Trying new things to keep myself entertained. I don't like being too goal-oriented in my studio time. I like to let the music do what it wants. And for sure sometimes that thing is terrible. But it's also important, to go through that, and find the good that's waiting next in line. It only takes one home run to score a point.
The Mole mixing a set for Boiler Room a few years back.
I like to let the music do what it wants. And for sure sometimes that thing is terrible. But it's also important, to go through that, and find the good that's waiting next in line. It only takes one home run to score a point.
AA: The last track on the record, called Mods In The Living Room, was presumably recorded on your home modular rig. Can you describe your approach to modular synthesis? What are your favorite modules? How do you like to use them? And do you have any guiding philosophy as you acquire or swap new modules?
My favorite moment is when the modulars are empty. Or when I'm pulling all the cables out. That fresh palette, so much potential. Shopping for them is a little more complicated. Sometimes I lust after things late in the night. I trawl Matrixsynth watching the news, watching the market. But lust for modules is akin to lusting for love, rarely satisfying once achieved. So now I try and be less impulsive. But there's always something missing, something needed. Another station in my train set.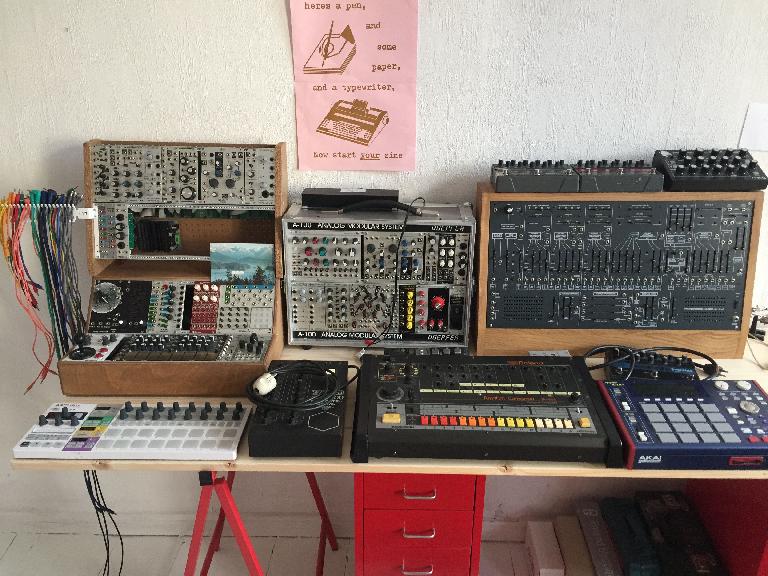 Part of Colin's modular rig
AA: That's funny – (Thomas) Fehlmann used that same train set metaphor for modular rigs in a recent interview. You recently built an Arp 2600 clone – what did you get out of that process? How did it change your approach to the instrument? And how has the Arp you built featured in your productions since?
Super rewarding experience. I love that thing. Somehow I'm apprehensive with it now. My precious. Feels all Gollum. But yeah, I love it. It taught me a lot already. It really has everything you might need, and it sounds huge! Awesome instrument. Now it's all over my music. Playing bass and drums and weirdo noise. It does it all well. Mathew (Jonson) got one as well so now's there's one at home and in the studio. Perfect!
AA: Right – you share a studio with Mathew. So aside from your solo work, you've also produced and toured with Cobblestone Jazz as the Modern Deep Left Quartet, and recently collaborated with Mathew (Jonson) and Hreno as Units and Measurements. Can you talk about what you might get out of collaboration that you don't get solo, and vice versa?
Sex vs. Masturbation. I love the interaction, the confusing new directions, the dialogue. I ended up working and performing solo begrudgingly. Out of desperation. The music forced me. Thankfully computers. There's a one-man band called Captured By Robots. This guy built actual robots that play instruments. Drums and guitar and bass. He jams with his robots on stage. They apparently captured him and force him to play with them on stage. I recommend it. That robot smashes his drum face. Did he build the robots because he was lonely, or because he's awesome? Goddamn impressive either way.
The Mole with Mathew Jonson and Hreno as Units and Measurements
AA: I'll have to look him up. So what other music or artists are you most inspired by at the moment? Discover any unsung heroes in your latest digging spree?
Good question! I can't stop listening to (Thelonious) Monk and Gil Scott Heron. Stevie Wonder and Marvin Gaye. Funkadelic and Eddie Harris. Madlib and Willie Nelson. Caetano is also crazy popular at my house. Some new digs, I just got a lovely album by Gary Bartz and a killer from Kowalski, a Conny Plank production. Also a killer Tim Maia reissue. Tonetta's "I Need A Job" was on repeat for a while as well. But I don't have that one on wax. Not sure it's even on vinyl. But maybe these are all well-sung heroes. My real pick would be Harco Pront. He deserves a lot more praise – genius.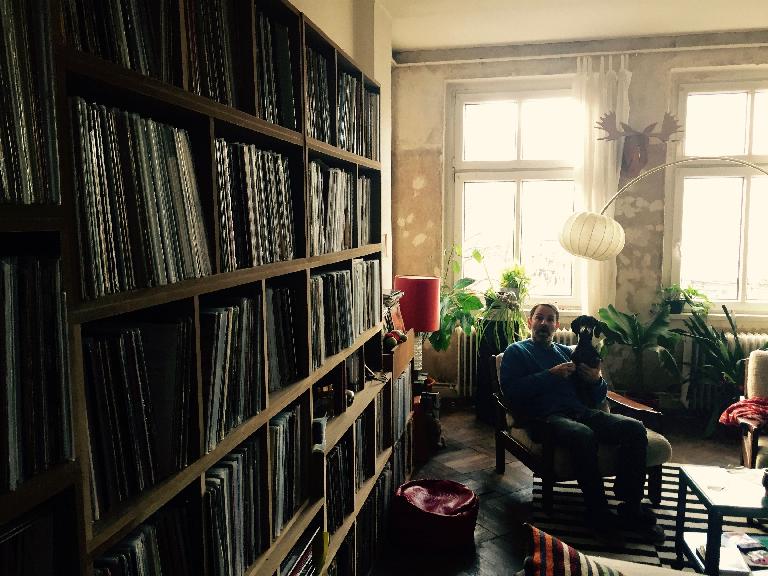 AA: And so what gear are you most excited about these days? And where do you see music technology heading? Or where would you like to see it head?
Interesting question. The computers are very fascinating these days. The software just gets better and better and it really sounds great now. Took me a long time to admit that. I'm very interested in the new Serge clones that are coming out. And Verbos Electronics is making super nice modules. 4ms as well. Very interesting stuff. There's too much stuff to be honest. I'd love to see the Synton keyboard come to life. That prototype with the wiggly 3D keyboard. Especially if the parameters are assignable.
AA: Yeah, the recent profusion of gear can definitely feel overwhelming. Any last tips for Ask Audio readers?
Gosh. I'd say if you read to the end of this interview, you must be determined. So maybe I'll just quote Bernie Worrell: "Please try to do hands on, as opposed to the machine. We're missing the human touch. We need to feel vibration of the fingers … Use the machine to some extent, but we need to get back to basics. And then you'll find a whole 'nother world."
The Mole's De La Planet is out now on Maybe Tomorrow. More information: https://www.facebook.com/MaybeTomorrowRecords