At the NAMM show last January, I met Michelle Moog-Koussa who is the daughter of Bob Moog and who runs the Bob Moog Foundation. We talked about creating a video series produced by the BMF on synthesis to help raise money for the foundation.
After many months of hard work by the foundations lead educator Marc Doty, the six part series on The Foundation of Synthesis was delivered. As we are publishing the first three courses this week, I thought this would be a great time to catch up with Michelle and talk about the project, her dad and what the foundation was all about!
SteveH: Growing up in the Moog household must have been a unique experience. What are some of your fondest sonic memories?
Michelle Moog-Koussa: It was certainly a unique experience, however there is some irony in my answer. Dad didn't listen to much music in the house. I never asked, but my guess would be that he needed a sensory break after working in sound all day. My mother used to play lots of classical music and she was a big fan of Switched-On Bach.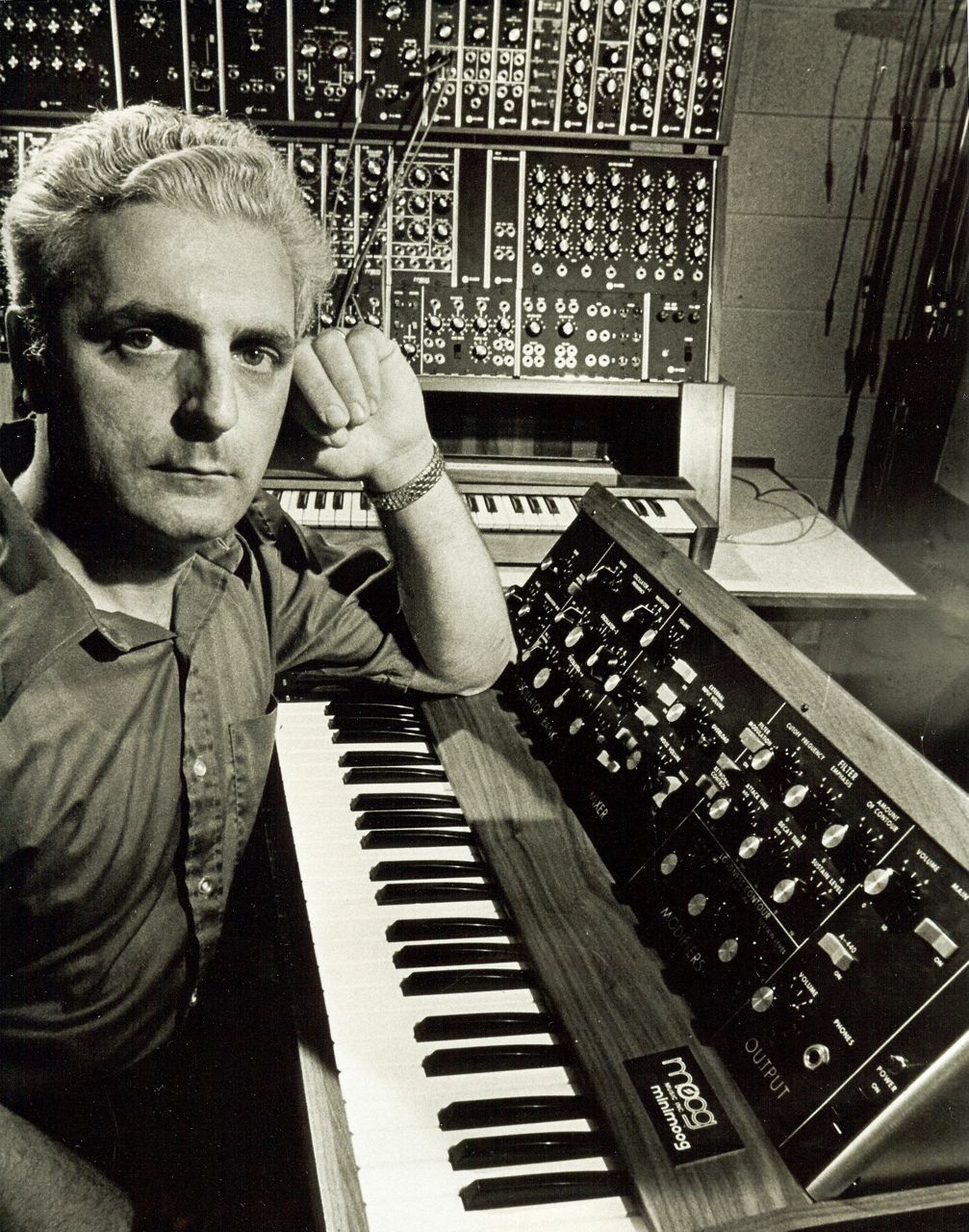 Bob with the much desired MiniMoog.
Outside of playing recorded music, I have fond memories of listening to Dad play the piano. It didn't happen frequently, but when he did sit down at the piano, he always unveiled these sublime sonic surprises. I was fascinated by this talent that he seemingly kept hidden most of the time. Every once in a while, he'd make a mistake and then show his displeasure by loudly uttering "Awww, futz!" I don't think he estimated himself to be a very good musician, although those around may have had a different opinion.
A couple of times I accompanied him on my violin. I loved the collaboration but I quickly realized that his musicianship was on a completely different level than mine.
Perhaps my fondest music-related memories are when Isao Tomita, Eddie Harris, Ikutaro Kakehashi (the founder and president of Roland), Wendy Carlos, Tom Rhea and others came to visit. They never played music, but somehow they easily integrated into my family and the conversation was always fascinating.
SH: Your dad was quite the inventor. Are there any inventions you saw that never made it into production.
MMK: There are many. The most important is the Eaton-Moog Multi-Touch-Sensitive Keyboard. This keyboard was commissioned by avant-garde opera composer John Eaton in the late 1960s. John remembers that there were probably 50 prototypes before Bob finished it in 1989. His goal was to create the most expressive interface possible. What made the keyboard unique for its time was that each key, irrespective of all the others, sends out 5 different control voltages depending on the following specifications: How far it is depressed
, where your finger is vertically on the key
, where it is horizontally on the key
, how much area it covers, the pressure you put on a completely depressed key (aftertouch).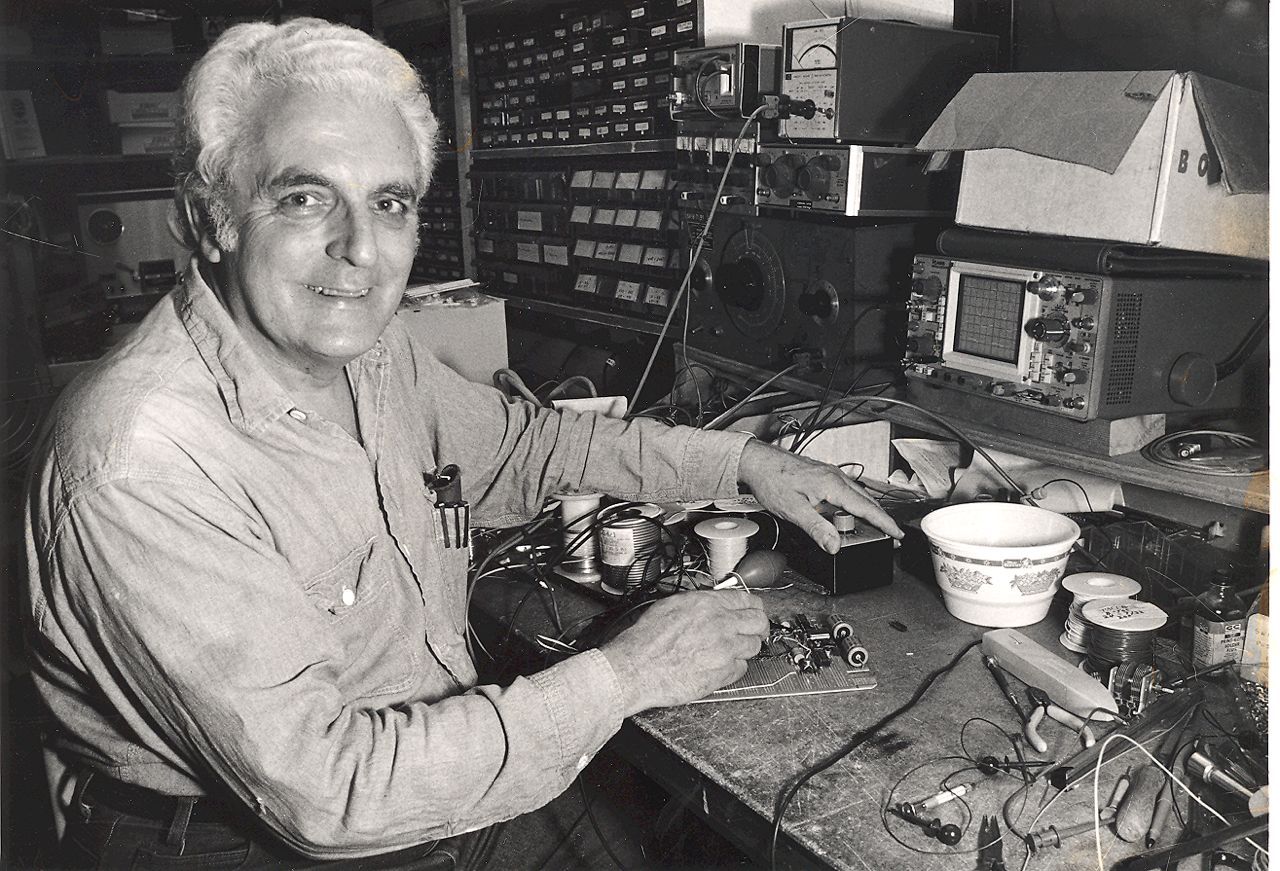 Bob Moog at his workbench.
There were only two of these instruments ever made. Bob mentioned to people that he thought this instrument was his biggest contribution to the world of music.
Bob also worked on a mixture Trautonium/synthesizer for Austrian composer Max Brand, a saxophone synthesizer for Eddie Harris, a trumpet synthesizer for Ben Neill, a synthesizer kit design for Heathkit, and many others. He was passionate about creating one-off instruments – he loved the challenge and the chance to do something new.
SH: Tell us about the Bob Moog Foundation. How did it come about? What is the foundation's mission and how does it tie into education and Bob's legacy?
MMK: The Bob Moog Foundation was created by family and colleagues just after Bob's passing in 2005. It formally launched on August 21, 2006. Rather than an act of grandiosity on our part, the creation of the Foundation was prompted by over 80,000 visits in 7 weeks time to a website page for Bob, set up on the CaringBridge.com. Thousands of people left testimonials on the page speaking about how Bob influenced and sometimes transformed their lives. From that point forward, we understood that the profound nature of his legacy made it a powerful vehicle to inspire future generations.
The mission of the Foundation is to ignite creativity at the intersection of music, science, history and innovation. We do this through our three projects: Dr. Bob's SoundSchool, the Archive Preservation Initiative, and the future Moogseum.
Dr. Bob's Sound School is an innovative 10-week curriculum at the 2nd grade level in which we teach kids the science of sound through the magic of music. We use acoustic and electronic instruments, including theremins and synthesizers, to engage kids in the physics of sound. Having just completed a pilot program in 8 local classrooms in the spring, we are now expanding to 25 classrooms this academic year. Our goal is to be in 100 classrooms in our region by 2014 and to grow the program nationwide in the next 3-5 years.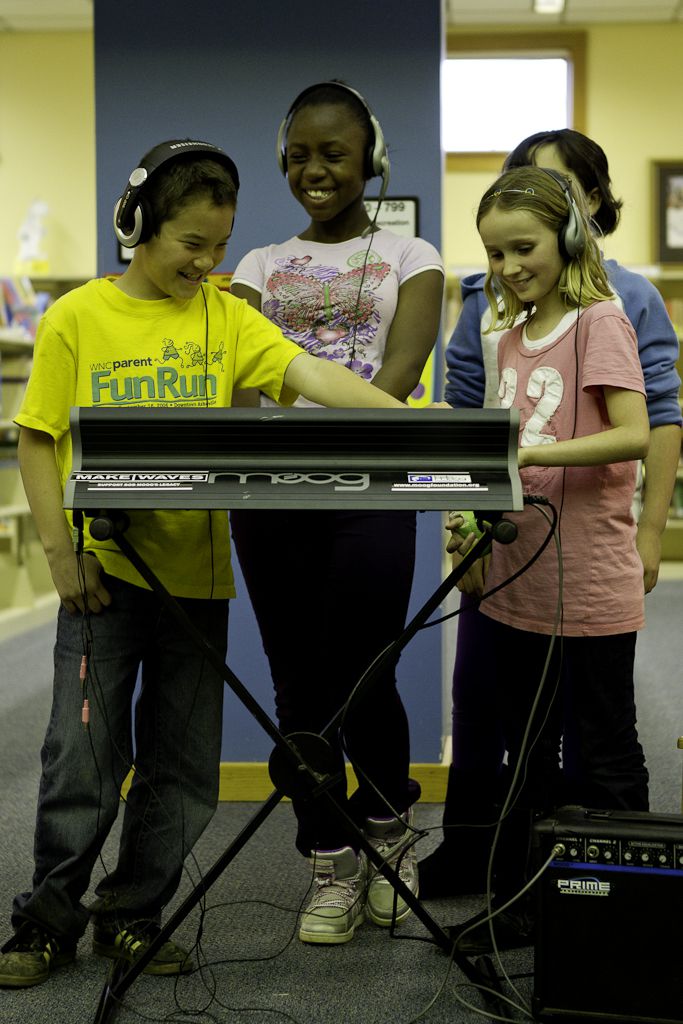 Learning and enjoying at the Dr. Bob's Sound School.
SH: Many years ago Bob created wonderful liner notes for my album with the noise band, The Electronic Art Ensemble. Now as publisher for macProVideo.com, I'm honored to be collaborating with the BMF in creating an exciting new series of video courses on synthesis. Tell us more about these courses being led by your in-house expert synthesist, Marc Doty.
MMK: We are delighted to have someone with such expertise on staff. Marc has been an invaluable resource to us and his skills, talents and knowledge are impeccably suited for this series of tutorials, The Foundation of Synthesis.
Our goal with this course, which is made up of over 7 hours of information, is to bring the basic building blocks of synthesis alive for people with a variety of knowledge bases. These tutorials will form a basis of information from which to gain a deeper understanding of how to sculpt sound.
The course is a manifestation of our mission to educate people at the intersection of music and science, empowering them to become more creative and inspired.
SH: Let's talk about Moogfest. What is Moogfest and how can folks get involved?
MMK: Moogfest is the annual music festival held in Asheville, NC that honors Bob's pioneering legacy through an eclectic collection of forward thinking musicians. The festival is not bound by genre, but rather by talent and innovation.
This year's festival, taking place on October 26th and 27th, features Primus 3D, Orbital, Santigold, Richie Hawtin, Squarepusher, Miike Snow, Thomas Dolby, Explosions In The Sky, The Magnetic Fields, Four Tet, Divine Fits, Shpongle and more. People can find out more information on www.moogfest.com.
SH: I know that you have plans for the Moogseum. Please share with us what this awesome sonic museum is all about and how we can contribute to help guide it to its completion!
MMK: The Moogseum is our hallmark project, where our education and historic preservation projects will converge. It will be a state of the art interactive facility where Bob's spirit comes alive through experiential exhibits based on the technology and history of electronic music. Because this is a multi-million dollar project, it will take 5-7 years to bring it to fruition. Everything we are doing right now with Dr. Bob's SoundSchool and the Archive Preservation Initative is working toward the larger goal of the Moogseum.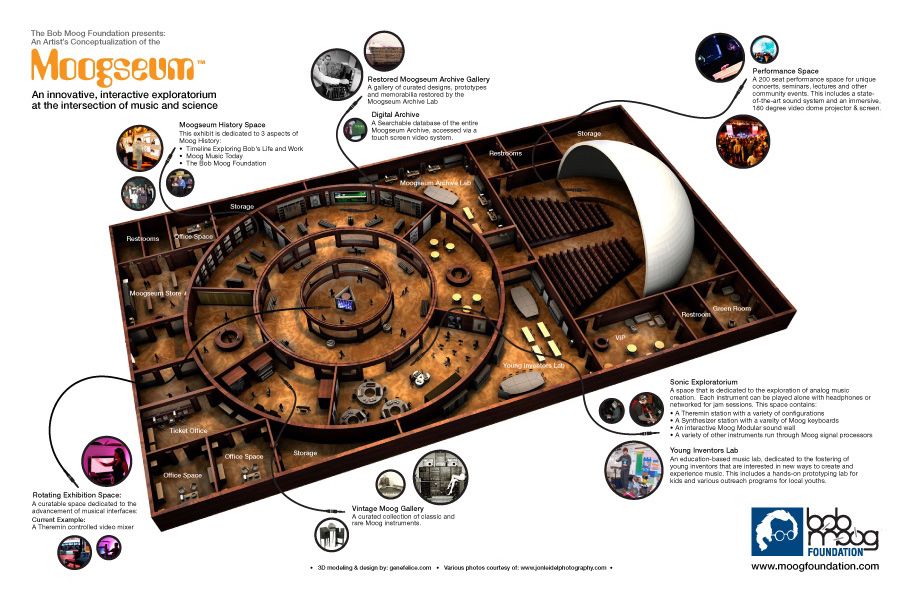 The Moogseum concept.
SH: Well thanks for spending time with me, Michelle. We are really excited to be collaborating with BMF on these synthesis courses. See you at the Moogseum!!
For more information on the Moogseum, please visit www.moogfoundation.org. To help bring the Moogseum to fruition please make a contribution at http://moogfoundation.org/supporting-the-bob-moog-foundation.
Discover more about synthesis with our Foundation Of Synthesis video courses. The first of which can be found here: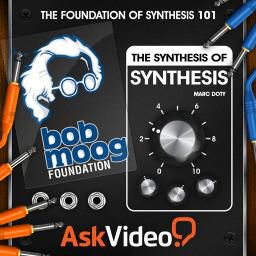 Foundation of Synthesis 101: The Synthesis Of Synthesis