Interview: Andreas Schneider on Superbooth16 & Modular Synthesis
If you know about synths and you Berlin, you've probably come across Andreas Schneider or his shop, SchneidersLaden. Also the founder of Superbooth16, Andreas chats about this new music event & more.
Andreas Schneider. Founder of SchneidersLaden, one of the coolest electronic and synth shops on the planet, and creator of Superbooth, where Machines, Music and Experimentation, Sound, Research and DIY, Synthesizers, Modular Systems, Discussions, Concerts & Daily workshops will take place in the impressive Funkhaus in Berlin, March 31st to April 2nd 2016.
We caught up with Andreas as preparations for the 3-day Superbooth event were in full flow to talk about modular synths and how this latest music machine trade show has caught the imagination of companies and musicians both big and small.
AskAudio: What were the main ideas behind Superbooth?
Andreas: The idea of my business in general was to help the small inventors and manufacturers of electronic musical instruments like there was Jomox, Future-Retro or Doepfer in the beginning to promote and to sell their stuff into retail, press, and media and to help them manage their sales in general. It turned out that my rep office became a shop and it happened that some of the brands needed a proper and quite specialized sort of distribution partner and some of these brands were not able to manage their own stands on exhibitions. So I did it, made it as simple and affordable as possible, and it became a success. We had many good times through all the years in Frankfurt exhibiting the small ones, made parties and concerts and had quite often the highest knob per square meter factor in the hall, resulting in the highest interest per square meter. Quite often, I had the impression that the whole innovation is coming from our booth resulting in copies on the big ones two years later. The impression is still there.
Some of the bigger companies have been following our (small modular synthesizer manufacturer) ways for a while.
Ask: Did you ever predict it would grow from a small stand at Musikmesse to its own 3-day event in Berlin?
Andreas: For a while already this was my hope and my vision, but I did not have the energy to realize it. Already in the very first year of a so-called Superbooth 2002, we had a secret meeting to collect the companies into a collective distribution pool for Europe, but most of them did not understand nor share this vision. Later on it worked out as a capital company. Perhaps all these ideas need to grow and need to be proved, so they can grow and sit on a stable foundation. I hope this step is now being realized at the right time. We can both look back to the answer in about five years hopefully.
Ask: I've always thought of Superbooth as being tailored to the smaller, modular, eurorack synth makers. This year you have the biggest music industry brands along side them. Why are the big companies so keen to be involved?
Andreas: Some of the bigger companies have been following our ways for a while. They've copied our path to produce and try to integrate their products into our systems or the other way around, why not? There are even more small companies doing the same, so the innovation is not defined by the size of the company in general. There are some more and some other less innovative inventors, but it always goes up and down on both sides. In the end we are all begging for the same customers and the innovative ones are appealing to the same customers as the others, but the success is the collective power that we generate with being at a place available, comparable and visible. In the end you will see the people behind the company or not, and some earlier big ones are also smaller than expected and the other way around.
Ask: In terms of your audience, what types of musicians/producers/synthesists do you expect will attend?
Andreas: With having all the European retailers and their pro clients on our guest list for the first few hours, we hope to have a resulting program in the end that will make it worth to come a bit later to be able to listen to all the events and concerts at night. For me personally, I am very much looking forward meeting all these international exhibitors, talking to our friends from Berlin, Germany and Europe and having the opportunity to listen to their point of view on the products. I expect a lot of experienced musicians, producers and artists that will like the atmosphere to feedback this way as they know it from our earlier shows and the shop I made. I hope we get it done the right way in this new venue.
Ask: The location, Funkhaus, looks impressive. What attracted you to holding Superbooth16 here? What benefits does this venue have over a traditional booth at a trade show?
Andreas: The benefits are clear to see: it is a building for the production of content in sound and text, it was made for messages and it was designed to be used to make music. So we are more than at home here. I have been begging for this building for at least three years here already, but only with the new owners, I got a concrete answer. The owner visited me in Frankfurt on the Musikmesse and saw the dimensions we had there. So he understood the potential faster than I did. This made me open up the Superbooth to become bigger than expected, what indeed happened now. The Funkhaus currently has a very smart sensible mix of people from earlier times and some new users with modern ideas.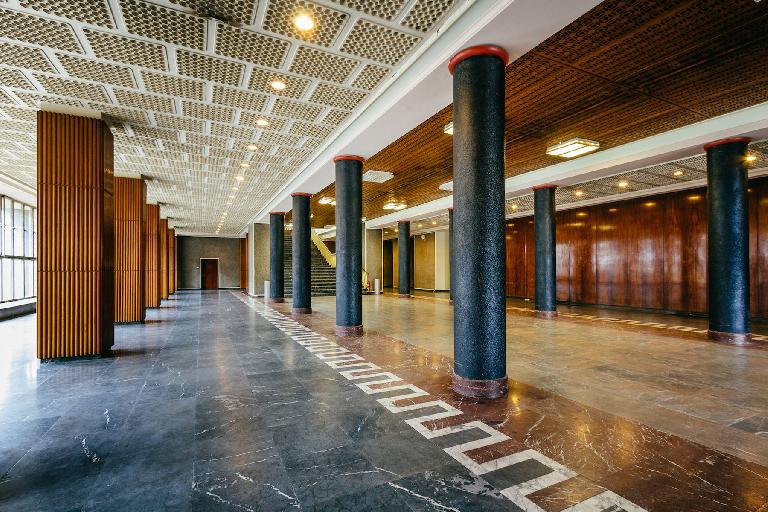 Funkhaus, Berlin, is a building for the production of content in sound and text... it was designed to be used to make music. So (Superbooth16) is at home here.
My biggest hope here is, that especially the veteran users with all their knowledge about the building and the history can survive and keep a bit of the shine and the karma of this outstanding place. I hope the location will attract a lot of people, also for the parties and events at night, but it must stay a respectful experience. Classic and experimental things have always been home here. I hope that the new owner can learn to love these to give them more respect than just the rent they can generate.
Ask: It's interesting to see the revival of hardware music instruments and synths happening now. Why do you think more and more musicians are attracted to analog hardware in this "digital" age?
Andreas: I don't see the digital age. I see more and more people searching for real tools to play on and these are more and more becoming a hardware copy of the existing virtual tools, but the audience is not stupid nor blind. So there is a big move on the way. With the big companies following the hardware nerds, there is a huge marketing power now forcing a lot of newbies into our range of products, I hope that not too much of them will be disappointed from their first rendezvous with a product of nowadays. You need to learn a lot, so you need education and this will filter the quick and dirty users out from those who will understand the real horizon.
But even if there will be many newbies left for the "real" products sooner or later, so … I hope it could become a good win for the small ones and still not really bad for the big ones. The only sad factor is that there will be many things produced that nobody will be using in the end.
Ask: With so many synth and hardware workshops, presentations and night concerts over 3 days at Superbooth16, do you have an event you're particularly looking forward to?
Andreas: Yes, this will be the 45 minutes presentation of the 88-year-old engineer Gerhard Steinke who managed the built up of the Subharchord in the GDR times at Funkhaus. The Subharchord was the East German answer to the Mixtur-Trautonium that Oskar Sala has been playing on many movie scores. Mister Steinke also was working on the acoustical design of the studios. We will be sitting in and he promised to present his knowledge with some power point sheets in English especially towards our international audience. I am mostly interested in his remarks towards the building that is now on renovation and modification here and there. In addition to this, we will hopefully have a walk-through with a limited number of participators on Saturday morning 11 am with another female engineer—Mrs. Elisabeth Heller, introducing all the open studios being able to explain the original functions and possibilities.
I don't see the digital age. I see more and more people searching for real tools to play on.
Ask: Tell us about your own modular synth setup.
Andreas: With every system you set up you need to learn again from scratch, and even if you just exchange a single module you have the same situation again, you don't feel at home. I have a case with just an old drum machine, two old synths and a step sequencer, a boring old delay and two modules included, this is my only system that is fun to me.
Even after not having used it for half a year or longer you get it done to play on it even if you have just one hour to play around. It's like an old entertainment organ, there is one beat that you love and that's the one you start again and you go from there. Either you are in love with it again within five minutes to stay for an hour or you give up quickly. I had situations like this in the shop a while ago, but there is so much new stuff, so I gave up. My own system is just a mess, so mostly I take the units back to the shop after a while.
Ask: What advice would you give to musicians wanting to get into hardware modular synthesis, but might be intimidated by the sheer number of cables and options? ;)
The cables are not the problem, you need a few things to learn and to know, but mostly you just need to touch it and check it out yourselves: win an idea of the output volume and start with searching a signal with just one cable, the one end goes to the output, touch the tip and set the volume that you have a hum on your ear. Compare it with the hum from your tongue if you like, clean it on your jacket and then search a signal from the systems plugs—somewhere. Then find out if you could modify the art of a signal with the settings of the module that is doing something. You are in.
Ask: Thank you Andreas. We're looking forward to Superbooth16!
Superbooth16 will be held in Berlin on March 31—April 2, 2016
Visit:
www.superbooth.com
for more info.