In demand for his uniquely global sound, Alexander has composed music for Harpo Productions, the Food Network, Warner Chappell's Non-Stop Music, Universal's Music Group and other media. His music is broadcasted on major networks like ABC, The Food Network, SABC and other European broadcasters.

Alexander Adhami is also an impressively talented instrumentalist and MOTU Digital Performer trainer! We chatted with Alex about his musical background and projects, video DP8 courses and his latest album.
Tell us about your musical background. When did music become more than a passion?
I first began to explore music when I was around five years old. I remember the day when my parents bought a baby grand piano and had it delivered to the house. A whole room was dedicated to it so I understood that it must be important. The piano tuner showed up and he tuned the instrument. I remember when he tested it to see if his work was accurate. I had never heard anything like that in my home before. Soon, I was sitting by the instrument trying to make sense of how playing note clusters could change the way the music sounded. Then, I took piano lessons and joined an elementary school choir. Things really got interesting when my brother brought home an acoustic guitar. There was something about the portability that got me interested - not to mention all the Beatles songs that showcased that sound. I tried to learn tab, moved onto notation and made some sense out of the sheet music. It was so satisfying to make the music that I heard on the album my own. This inspired me to write my own music, get deeper into guitar and take music more seriously.
I started to explore different styles. I studied jazz, orchestral and choral music. I travelled to New Orleans several times to compete in a Jazz Festival for High School aged competitors. My confidence grew. In college, I put together a band called Tenth Planet Ensemble. This was somewhat like a workshop for me to experiment with my varying musical tastes. From Miles Davis, Frank Zappa, Jimi Hendrix, George Harrison all the way to Shakti (Zakir Hussain & John McLaughlin).
Later, I was so inspired, that I travelled to India to learn more about this mysterious fusion of jazz and Indian classical music. I still keep this style close to heart, even though my recent album, Take It Slow, is more of a pop/rock/reggae style production. Those haunting melodies and intricate passages influence my songwriting. I also think it must have been that some of those Beatles album and George Harrison's Indian influence that had a profound effect on my musical esthetic.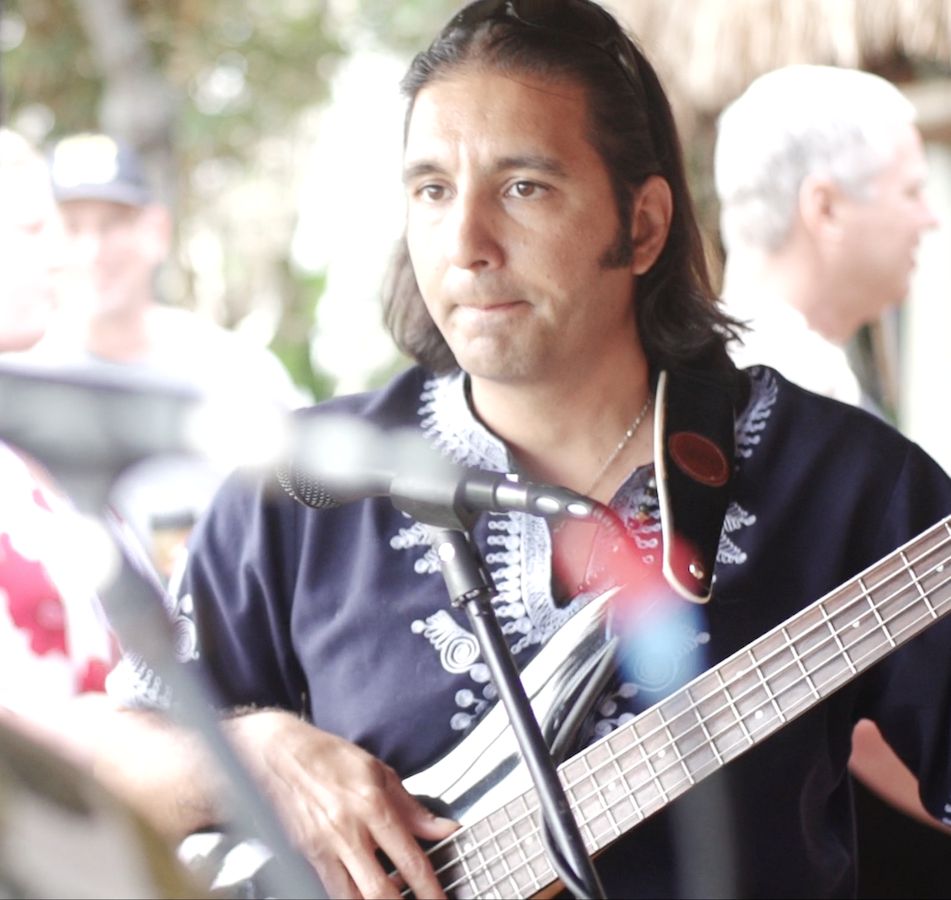 Alex Plays!
You've used a number of different DAWs, what caused you to settle on DP8?
There are a couple of reasons why I like DP8. As a composer, I feel that I have access to my audio and can achieve the results that I would like with great facility. I am really found of DP's events list. Such an easy way to deal with midi. Most importantly, I have always been happy with the results.
What 's changed from the first version of DP to the current version? What features should users be excited about?
There are a whole bunch of new themes. This is great if you are in front of your computer and you want the UI to look different each time. It changes things up. There are also a bunch of new mastering plug-ins that come straight out of the box. I am happy that there finally is PC and 64-bit support. For those of you that migrated to Logic for this reason, watch out! DP8 is here.
Your DP8 courses for macProVideo.com / AskVideo.com are not only excellent, but also endorsed by MOTU! Tell us more about your philosophy behind teaching and making your video courses so accessible and easy to learn from.
I always assume that my audience doesn't know anything about the task at hand. Guys who know will just scroll through the tutorials or go to the help menu to figure it out. I am here to help those people who are lost with help. I start from the most simple ideas and build to the more complex ones. I give my viewers seeds of information so that they can start expanding the concepts for themselves.
What other gear do you use in your studio? (hardware and plug-ins/software).
I like IK Multimedia's Amplitude 3, Universal Audio Quad Card DSP plugins, AKAI's excellent controllers, MOTU Traveller, Spectrasonics Omnisphere and Stylus RMX, Reason 6.5, iZotope plug-ins, Ableton Live, and the list goes on.
You've worked on a impressive number of projects, from Kitaro to Cirque du Soleil, and Joe Cocker to the Oprah Winfrey show. Can you tell us more about some of these projects and how you were involved?
I have been known to have taken the study of music much like an ethnomusicologist would. I passionately dive deep into the culture, the essential sound that it has and try to get to the root of things. This was recognized when I did some composition for a documentary on Cirque EOS. I play an instrument called the Santoor. It is an ancient mystical sounding hammered dulcimer. I would say that it has a unique sound and inspires conscious thinking. Because of this, I had been asked to work with a variety of well-known artist once they caught wind of my skill. Most of the real artistry on the instrument was polished during my long trip to India. I don't want to sound cliche or Russell Brand - like, but that trip infused some great musical awareness. I met and studied with some of India's greatest artists including Zakir Hussain from Shakti!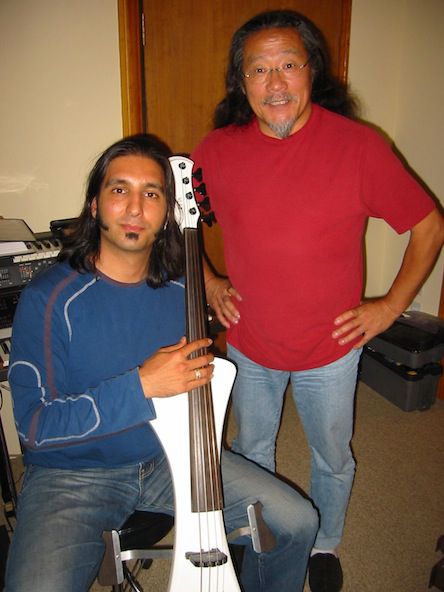 Kitaro and Alexander in the studio.
After India, I met Joe Cocker's producer C. J. Vanston and told him what I was up to. At the time, I was touring with a group called Dreamscapes. It was a bunch of former Cirque people, members of Supertramp and the Rippingtons. I sent him a reel and he called me the next day and had me record on a title called Every Kind of People. I was amazed to learn that some really big cats were on the album like Eric Clapton.
From there, I was approached by various production houses to compose music. I had a whole library of electronic music. I wrote a variety of cues for Oprah via Alex Wurman. They got picked up and this led me to Groove Addicts which is now Warner Production Music. I wrote over 200 cues for them. I also hooked up with Universal Music group on a production compilation called Global Drama. Somehow, I even hooked up with Kitaro and was nominated for a grammy on the album that we worked on.
Later, I was reunited with Cirque on two projects. With Cirque du Soleil you can hear me as a guest artist on the Album Totem. I was also a multi-instrumentalist for a brief period; however, I had other commitments that I needed to take care of so my time was shortened. I also helped arrange, program and create music for Franco Dragone's INDIA in Germany. Franco created the show O for Cirque so you can imagine what an Indian Cirque would be like.
Your new album was released on February 14 2013. Tell us more about the style and approach you had to making it.
My previous release as Alex Plays was very global electronica. I used live world instruments, samples and loops and wrote some really convincing hybrid melodies. Over the years, I have gotten back into playing guitar again. I just plug my electric into an amp and make that the main thing. I have also been listening to some great bass players like Verdine White and James Jamerson. Somehow, the songs that I started to write were more in the pop rock R&B genre. I have been singing a lot of classic R&B songs and I enjoy using the techniques that I learned in Cirque and India for vocals. So, since this felt authentic to me, I decided to go full force with that. The first track, Take It Slow has all the elements and even makes reference to some of my world sound that I previously stayed close to.
This time, I did everything myself. I didn't let anyone listen to it until I was done. However, I did let some of the MPV & AskVideo subscribers get a sneak peak during my DP8 tutorials. Those tutorials were produced right around the time I was in the middle of the album creation. I was kinda in a creative mode during that time. Didn't leave the house much.
They say money can't buy you love, but it can buy you a download. Here's the link for that:
https://itunes.apple.com/us/album/take-it-slow/id601567139?ls=1
Thanks! I'm assuming DP8 played a big part in the creation of this album?
DP8 made so many things easier on me. Believe me, I use and even teach the other DAWs. From midi to mixing, DP is a pleasure to use. The pitch correction is excellent especially for background vocals. Sure, some people use melodyne. Why add more to your mix and an extra layer when DP's pitch correction utility is so easy and effective. My goal was to sound as natural as possible. So only minor pitch correction was necessary and not everywhere. Things just sound good in DP.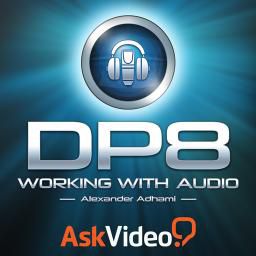 Digital Performer 8 101 - Working with Audio
What advice would you give to those looking to choose a new DAW... why choose Digital Performer 8 over Logic, Cubase and Pro Tools?
First off, 64-bit will give you more VIs at your disposal. DP's workflow is so ergonomic. There are so many ways to view your audio files and midi data. DP is so powerful, that it can be used as a studio and live production tool. It can even run the lights and special effects for your live show. And when you get that film score project, DP can handle that too. One tool for everything.
Check out Alex's new album here.
Learn more about Digital Performer 8 here.