Despite the abundance of software effects and instruments, something about the character and tactile interface of a real instrument will always appeal to musicians. Luckily, Ableton Live is more than capable of integrating them. In this article, we'll show you how.

Basic Requirements
The most important requirement for using external hardware effects or instruments within Live is a multiple input/output soundcard. Every signal that needs to get in or out of Live will need its own dedicated inputs or outputs on the soundcard. Let's take a look at a simple but typical setup: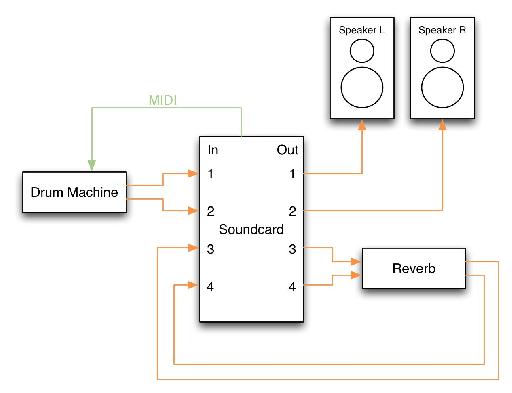 All hardware must be connected to the soundcard before it can be used in Live.
In the example above we have a soundcard with 4 mono inputs and 4 mono outputs, a drum machine, a reverb unit and a pair of monitors are connected. The orange lines represent an audio connection and the arrows indicate the direction of the audio. The green line represents a MIDI connection. The more gear you have, the more inputs and outputs you need on your soundcard.
Setting Up Live
Assuming correct hardware connections are in place, there are a few things to check in Live itself. Head to the Preferences' Audio tab and ensure that any required input and outputs are enabled by clicking the Input Config or Output Config buttons.

Audio inputs and outputs must be enabled in Audio Preferences.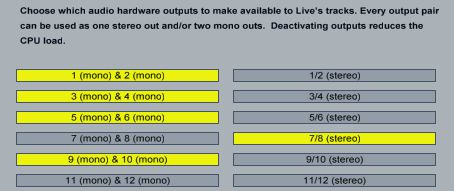 You can choose to use inputs and outputs as mono or stereo pairs.
Any synths and drum machines that are connected via midi will need the relevant MIDI ports enabled in the Preferences' MIDI tab.

Enabling MIDI hardware ports.
Here we can see two ports enabled. The leftmost ON button enables that port to be used for MIDI output. The middle ON button is used to send MIDI clock signal to that output which is useful for any instruments which can sync to clock, such as drum machines.
Creating Custom Devices
Now that all the relevant audio and MIDI ports are enabled, let's take a look at a couple of simple but extremely useful Live devices which will get any external instruments and effects working within Live. The beauty of these two devices is that when properly setup, they will allow hardware instruments and effects to be dropped into a project in exactly the same way as a native Live device, or VST/AU plugin.
The External Instrument Device
The first of the two devices is the External Instrument Device. Head to the Live Device Browser, open the Instruments folder and drag the External Instrument device to a new MIDI track.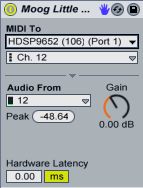 Live's External Instrument device.
Its job, as you might have guessed, is to handle all the routing of audio and MIDI from a particular external instrument. It's quick and painless to setup:
In the 'MIDI To'